About this Event
Purpose:
The effect of the stigma towards DID and OSDD can lead to shame, guilt, and the fear that you are broken; set up for failure in life. This conference is created to show your system otherwise by surrounding you with other systems on different paths of life that STILL made their dream career happen, healthy marriage, children, system communication, education, and the continuous journey of improving mental health possible. You all ARE entitled to life.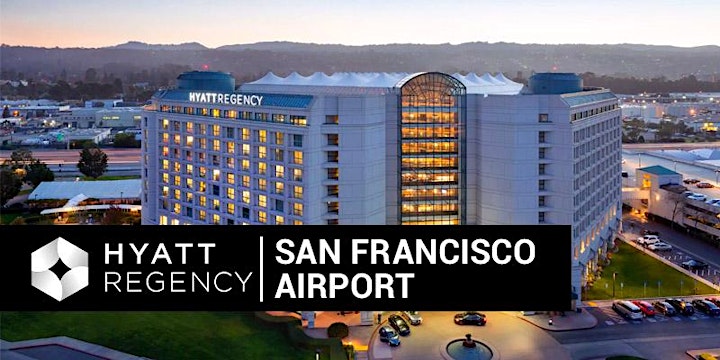 Where?
San Francisco, California
Hyatt Regency SFO Airport
1333 Bayshore Highway, Burlingame, CA 94010
Nearest Airport: SFO (Closest within 5 minutes) (FREE shuttle to and from SFO for those who are guests at the Hyatt hotel)
Second Closest: OAK(Within 45mins-1hr away from venue)
Transportation: Walking, Lyft, Uber, and other forms of rideshare including SF Ferry, etc. are great forms of transportation in San Francisco. Parking is on the venue property for a fee with the hotel.
When?
November 6th-November 7th, 2020
Breakdown:
Conference Day #1 Nov. 6th- 5:00pm-8:00pm (PST)
VIP Meet & Greet- Nov.6th 8:45pm-10:30pm (PST)
Conference Day #2 Nov.7th- 12:00pm-3:00pm (PST)
VIP Gala Dinner- Nov. 7th 7:00pm-11:00pm (PST)
This Event Is For You If...
You have been diagnosed with DID or OSDD and have felt shame & fear towards your diagnosis.
You have been diagnosed with DID or OSDD and feel a sense of isolation due to not having a community of friends who can relate to you & your system.
You suspect you may have DID or OSDD; You are a caregiver; You are interested in learning more about DID.
You are a student learning or a mental health professional who treats those with DID. You would like to better understand your patients with DID & start realizing different issues they may be facing internally (system communication, etc.)
You fully embrace your system and/or those with DID or OSDD, and would like to celebrate that confidence/ proud acceptance in a setting that encourages community, non-judgement, and happiness.
Who Will Be There?
This Event Consists Of...
2-Day Conference that covers the following topics: MUST BE 18 or OLDER (body)
Nov. 6th My Diagnosis Story & Turning FEAR into a POSITIVE SAFE-PLACE for Others
Various Systems will discuss their diagnosis story and the fear, shame, relief, or isolation they felt from getting their diagnosis. To close out, they will also share with you how they turned their situation around & decided to be the change they did not initially see when bringing positive awareness to DID or OSDD.
Nov. 7th Personal Growth For Your System
(How to establish better communication with your system, Relationships or Marriage after Trauma, Integration, Flashbacks, Body Memories, and more on these topics discussed by licensed mental health professionals & diagnosed systems.)
Cocktail Hour (Appetizers & Beverages) provided by one of the Top 10 Catering Companies in San Francisco (Vegan, Vegetarian, Gluten-Free, & Meat Options Available All "High Quality Seasonal, Locally Produced and Sustainably Farmed Ingredients from the San Francisco Bay Area."
Grounding Room for Littles & Anyone Who May Need to Relax (Always Accessible)
VIP Gala Dinner- Before you leave to go back home, celebrate with the speakers and newly-created friendships made through the conference to an elaborately decorated venue in San Francisco, 3-course meal (high-quality food, sustainable & locally sourced, vegan, vegetarian, gluten-free, and meat options available at your request), fun trivia games, motivational music/dance, and live comedy from DID Mental Health Comedian Fragmented Psyche (Monarchy of Roses), all in an INCLUSIVE & inviting space full of people who relate & understand you. (NO alcohol will be at this event.)
VIP Meet & Greet with our speakers (photos, autographs, questions, etc.)with Multiplicity And Me, DissociaDID, Team Pinata, The Entropy System, and more!!
E-Conference & E-Gala Live Stream Access- The full event will NOT be on YouTube. This event will be recorded live on Zoom Webinar for those who would like to experienced both days of encouragement & excitement with us. You will be able to re-watch the conference/gala through Zoom with this ticket or any other conference/gala ticket.
Note:
If you buy any e-ticket(livestream) and later decide to go to the in-person event, you can email us at entitledidconference@gmail.com BEFORE you purchase your new ticket and we will transfer the amount of your previous ticket onto the new ticket.
Tickets:
Tickets sold before Jan. 31st are pre-sale tickets at the lowest price we will offer; tickets sold afterwards will go up. If tickets sell out on pre-sale, there will be a waiting list & those on that list gain priority(will know about the 2nd round of ticket launch first).
FOR STUDENTS: AFTER JAN. 31ST, THERE WILL BE AN EXCLUSIVE PRICE FOR STUDENTS LISTED. PLEASE EMAIL BEFORE. PURCHASE, entitledidconference@gmail.com to show us a current student ID, or any paper confirming that you are a current student.
MENTAL HEALTH PROFESSIONALS/STUDENTS:
CEUS are currently not offered at this event.
Advisory:
YOU MUST BE 18 or OLDER to attend this conference/gala dinner. If under 18, a parent/guardian 18 or older must accompany you & sign the proper forms before check-in at the venue on Nov.6th/7th.
You must have a valid I.D., Real I.D. driver's license, or passport in order to enter the conference. The name on your ticket MUST match the name on your provided identification.
This is an inclusive friendly & diverse event. We do not encourage discrimination,violence, etc. of any kind, therefore, if we do have issues of this sort, you will be escorted out of the facility by security, not refunded for your tickets, and re-entry will not be allowed for the remaining time of the event.
By attending this event, you are agreeing to take full responsibility for your system's actions. If there are any actions done(physical or verbal) that are a threat to anyone at the conference or gala dinner, you will be escorted by security, not refunded for your ticket(s), and re-entry will not be allowed for the remaining time of the event.
Trigger Warning: Any or the speeches, content, etc. at this event can be triggering, therefore, if you are someone who is easily triggered we do advise that you do not come to this event. You are fully responsible for your system's physical and emotional safety. All speakers,sponsors, security, staff, etc. are not responsible if our event, live entertainment, music, presentations, interactions, all content at the event is triggering. Please take the needed precaution of this before purchasing your tickets.
Ticket Procedure, ID, Refunds, & Re-Sale:
ALL of our tickets are not for re-sale.
Refund Policy:
0-3 Days After Purchase= Full Refund *excluding service/processing fees (2.9% per transaction)
4-14 Days After Purchase= 50% of refund is reimbursed *excluding service/processing fees (2.9% per transaction)
15+ Days After Purchase= No Refund; Tickets can be transferred to another person you have in mind, if needed.
The name on your ticket MUST have the exact name of your Identification card. We also ask that you keep your badge on during the entire event to ensure the safety of others.
Service Animals:
We do abide by the ADA, therefore service animals are allowed. We do ask that your service animal is under your control (the handler) by either voice control, harness, tether, or leash
Videography & Photography, & Audio Recordings:
By attending this conference you are agreeing to consent to be photographed, filmed and/or otherwise recorded(due to livestream; recording of event). Your entry constitutes your consent to such photography, filming and/or recording and to any use, in any and all media throughout the universe in perpetuity, of your appearance, & voice and any purpose whatsoever in connection with this event.
You understand that all photography, filming and/or recording will be done in reliance on this consent given by you by entering this conference/gala dinner.
If you do not agree to the foregoing, please do not attend the conference or gala dinner (or email us for more details as we will be live-streaming the event, re-posting photos/video/audio, and publishing media content in Toi Magazine, and more.