Tohoku Tomo: Film Screening & Panel Discussion on Resilience and the Great East Japan Earthquake

Thursday, March 12, 2015 from 5:45 PM to 8:00 PM (CDT)
Event Details
Tohoku Tomo: Film Screening & Panel Discussion on Resilience and the Great East Japan Earthquake
Thursday, March 12th, 2015
6:00pm to 8:00pm
Registration Opens at 5:45pm
325 N. Wells Street
Room 407/412
Chicago, IL 60654
2 CEs
*This event is co-sponsored by TCSPP's National Center for International Studies
Workshop Description:
As the world marks the fourth anniversary of The Great East Japan Earthquake (March 11, 2014), Chicago-based filmmaker Wesley Julian will share his documentary film, Tohoku Tomo (translated: "Friends of Tohoku") to bring attention to the ongoing efforts to rebuild the Tohoku region of Japan, which was directly impacted by the disaster. 
Julian, a graduate of Hampden-Sydney College, was in Japan on March 11, 2011 when the earthquake struck. Seeing the devastation first-hand and losing a close friend in the tsunami, he returned to the USA committed to helping bring attention to the ongoing needs in the areas devastated by the tsunami. In 2013, with funding raised from Kickstarter campaign, Julian and a small team traveled back to Japan to interview individuals and organizations that have been working in the Tohoku region since March 11. 
The film includes over a dozen interviews, footage from the impacted areas, and features J-Pop artist Maynard Plant from the band Monkey Majik; Stu Levy, producer of the film Pray for Japan; and host of Tokyofoodcast, Etsuko Nakamura. Tohoku Tomo is a story of true friendship and commitment to Japan's recovery by the international community following The Great East Japan Earthquake. 
The panel discussion will be based on the documentary, Tohoku Tomo and will explore how cultural and societal factors may have impacted the resilience and coping strategies among people in the Tohoku region of Japan.  In addition, the session will explore strategies for mental health workers to build cultural competency in disaster response. 
The film, Tohoku Tomo, will be shown during the first hour, and the panel discussion will be hosted during the second hour.  For more information about the film, please visit TohokuTomo.com or Facebook.com/TohokuTomo.
Learning Objectives:
After attending this introductory-level workshop, participants will be able to:
(1) Identify social and cultural factors that are associated with coping strategies among people in the Tohoku region of Japan after the Great East Japan Earthquake.
(2) Describe strategies and challenges for developing cultural competence in disaster response.
Professional Bio of Sayaka Machizawa, Psy.D.
Sayaka Machizawa was born and grew up in a suburb of Tokyo. She came to the United States after graduating from high school in Japan, and studied psychology at Cornell College in Iowa, graduating with a summa cum laude and a membership in the Phi Beta Kappa honors society. She then moved to Chicago and received a doctorate in Clinical Psychology from The Chicago School of Professional Psychology.
Sayaka works as an Associate Director of the Community Partnerships Department at The Chicago School of Professional Psychology (TCSPP), where she coordinates and oversees various community engaged scholarship activities.  She develops mutual partnerships with community organizations to address community needs and social problems. She leverages her research skills to implement community-based participatory research projects, aiming to provide the community with the tools and information necessary to enact change.  She is currently involved in a pilot study with JASC, UIC, and Northwestern University (funded by Northwestern University, Clinical and Translational Research Sciences Institute) that explores ways to increase colorectal cancer (CRC) knowledge and screening with educational materials among Japanese American parents and adult offspring.  In 2009, she helped TCSPP secure funding from Learn and Serve America Higher Education Grant in the amount of $581,000 to develop and expand community engaged scholarship between TCSPP and community partner agencies.  She recently received $13,800 from Japan Foundation to implement study abroad courses in Japan.
As a Licensed Clinical Psychologist, she works at clinics in the Chicagoland area where she specializes in neuropsychological and fitness-for-duty evaluation, as well as psychotherapy.  She works primary with adults with cognitive and/or mental disabilities.
Sayaka also works for the Japan Intercultural Consulting where she serves as a translator/interpreter as well as a facilitator for seminars on a range of topics including stress management, cross-cultural adaptation, effective management and leadership styles based on personality types, and corporate wellness.
She is actively involved in leadership roles in APA Divisions, Committees, and Task Forces. She currently serves as Secretary of APA Division 52 International Psychology and Membership Officer for APA Division 17 Counseling Psychology International Section.   Furthermore, as Chair of APA Division 35 Society for Psychology of Women, Task Force on Enhancing International Perspectives on Psychology of Women, she is organizing an international women's leadership summit at 2015 APA Convention in Toronto.
She considers herself as a transnational feminist psychologist and has collaborated with international feminist psychologists on multiple publication projects.  She co-authored a chapter titled, Toward Humanization of Birthing, in J. Chrisler (Ed), Reproductive Justice: A Global Concern (2013). This book examined the status of reproductive rights for women in global contexts, covering a wide range of issues such as women's rights to determine their own sexuality and choose their own partners, rape, sex trafficking, fertility treatments and other assisted reproductive technologies, contraception and abortion, maternal and infant mortality, postpartum support, and breastfeeding.  Recently, she co-authored a book chapter titled, Transnational Psychological Practice with Women: Perspectives from East Asia and Japan, in C. Enns (Ed), Psychological Practice With Women: Guidelines, Diversity, Empowerment (2014). 
Professional Bio of Cynthia Lubin Langtiw, Psy.D.
Dr. Cynthia Lubin Langtiw is a licensed clinical psychologist and associate professor of clinical psychology at The Chicago School of Professional Psychology. She has served as a supervising psychologist at Mount Sinai Hospital and currently consults with their doctoral clinical training program. Dr. Langtiw is also a volunteer psychologist and clinical supervisor with The Marjorie Kovler Center for Survivors of Torture. Her clinical work reflects a strong systemic/community sensibility that integrates a relational cultural perspective. Much of her clinical work has been helping youth, adults, families and communities utilize their own resources to heal from trauma. Dr. Langtiw has a strong passion for teaching and clinical training and enjoys supporting students in finding their voice in psychology. 
Professional Bio of Wesley Julian, M.A.
Wesley Julian graduated from Hampden-Sydney College with a degree in Religion and Political Science. He earned a certificate in the Wilson Center for Leadership's Public Service Program, and was inducted into Phi Beta Kappa. Upon graduation, Wesley took a post with the Japan Exchange and Teaching Program (JET) in Miyagi, Japan, where he taught English for two years. He was in Japan on March 11th when the earthquake and tsunami struck and was highly involved in the recovery efforts. Now back in the States, he has earned a master's degree in liberal arts from the University of Richmond. In 2013, he successfully launched a Kickstarter campaign and led a small film crew to Japan to make Tohoku Tomo, a documentary about friendship and commitment to Japan's recovery following the Great East Japan Earthquake. He is currently working as the Director and Producer for Tohoku Tomo & the 113 Project.org.
Workshop Schedule:
5:45pm: Registration Opens
6:00pm: Workshop Begins/ Tohoku Tomo Film Screening
7:00pm: Panel Discussion
8:00pm: Workshop Ends
Registration and Fees:
Free
References:
(1) Inoue, Y., Funk, D. C., Wann, D. L., Yoshida, M., & Nakazawa, M. (2015).  Team identification and postdisaster social well-being: The meditating role of social support.  Group Dynamics: Theory, Research, and Practice.  Retrieved at http://dx.doi.org/10.1037/gdn0000019
(2) Tsutsui, T., Hasegawa, Y., Hiraga, M., Ishiki, M., &  Asukai, N. (2014).  Distinctiveness of prolonged grief disorder symptoms among survivors of the Great East Japan Earthquake and Tsunami.  Psychiatry Research, 217(1-2), 67-71.
(3) Shiotani, Y. (2014).  The negative impact of psychological encouragement as enacted social support on the mental health of lightly damangerd victims of the Great East Japan Earthquake.  The Japanese Journal of Social Psychology, 29(3), 157-169.
CONTINUING EDUCATION:
Target Audience: All mental health professionals
Psychologists.  This program, when attended in its entirety, is available for 2 continuing education credits. The Chicago School of Professional Psychology is committed to accessibility and non-discrimination in its continuing education activities. The Chicago School of Professional Psychology is also committed to conducting all activities in conformity with the American Psychological Association's Ethical Principles for Psychologists. Participants are asked to be aware of the need for privacy and confidentiality throughout the program.  If program content becomes stressful, participants are encouraged to process these feelings during discussion periods.  If participants have special needs, we will attempt to accommodate them.  Please address questions, concerns and any complaints to Moira Jackson at 312-467-2364. There is no commercial support for this program nor are there any relationships between the CE Sponsor, presenting organization, presenter, program content, research, grants, or other funding that could reasonably be construed as conflicts of interest.
Non Psychologists: Most licensing boards accept Continuing Education Credits sponsored by the American Psychological Association but non-psychologists are recommended to consult with their specific state-licensing board to ensure that APA-sponsored CE is acceptable.
*Participants must attend 100% of the program in order to obtain a Certificate of Attendance.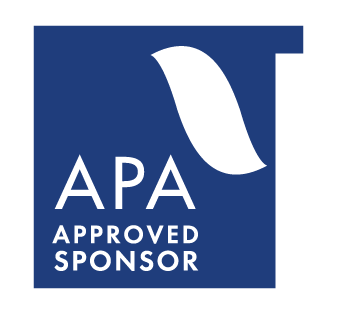 The Institute for Professional & Continuing Studies at The Chicago School of Professional Psychology is approved by the American Psychological Association to sponsor continuing education for psychologists. The Chicago School of Professional Psychology maintains responsibility for this program and its content.
When & Where

The Chicago School of Professional Psychology
325 N Wells St
Room 407/412
Chicago, IL 60654


Thursday, March 12, 2015 from 5:45 PM to 8:00 PM (CDT)
Add to my calendar