TogetherDigital Detroit + Michigan Association for Female Entrepreneurs Sho...
Description
TogetherDigital Detroit + Michigan Association for Female Entrepreneurs Shop & Meet
Want to get to know more of your TogetherDigital Detroit members?
TogetherDigital Detroit will be teaming up with a Michigan Association for Female Entrepreneurs to exchange our power and get to know each other through a Shop & Meet at Ferne Detroit. Michigan Association for Female Entrepreneurs (MAFE) provides opportunities for female entrepreneurs, in both new development and growth stages of their business, to build their entrepreneurial capacity through educational programs focused on sustainable business growth and development.
Who should attend?
Female professionals in digital + tech industries. Our members have a digital focus within the creative, marketing, advertising, or communications fields. From content strategists to designers, developers to social marketing pros and CMOs – you are all professionals in digital and all welcome at our events.


Please do not attend if you have a sales motivation. Soliciting our attendees and members for business or sales is strictly prohibited. If you do so, you will kindly be asked to leave OR you can officially sponsor us (a better option).

We welcome all female, female-identifying, and LGBTQ persons.

Men, we prefer you not attend our member meet-ups. Why? By nature, when faced with challenges, women respond by creating community. This is ours. If you would like to support us there are so many ways:


HUGE Thanks to Our Partner for Joining Us!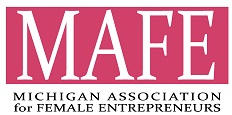 MAFE is an award-winning non-profit organization committed to supporting and promoting the economic growth and advancement of women entrepreneurs in Michigan. MAFE supports the entrepreneurial development among women at all levels of entrepreneurship - from startup to mature businesses!
Accessibility & Accommodations:
Do you have an accessibility or accommodations request for an upcoming in-person event that you'd like to discuss? Please fill out this form and we will be in touch soon!
Buddy Request
Sometimes, showing up to an event when you don't know anyone can be hard. Would you like to be assigned a "buddy" for an upcoming Women in Digital event? For more information or to request a "buddy" please visit this form.


Would you like to sponsor?
If you are interested in sponsoring an event, woo hoo! Contact us at detroit@togetherindigital.com or info@TogetherInDigital.com.
Follow us on...