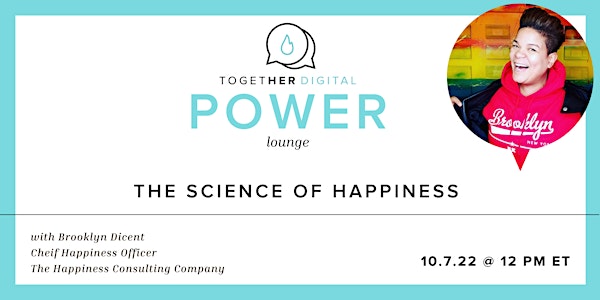 Together Digital | Power Lounge: The Science of Happiness
Learn how to consider cultivating happiness habits to achieve outstanding results.
About this event
ABOUT TOGETHER DIGITAL
We are a collective of influential women in digital –who choose to share their knowledge, power, and purpose by coming together to make meaningful connections and deeper conversations happen.
We are a safe space to speak about and seek out the changes we want to see in ourselves – and the world.
ABOUT THE LOUNGE
Looking for more purpose, fulfillment, and professional and personal development?
Be a part of our LIVE podcast audience and end your week with Together Digital's Chief Empowerment Officer, Amy Vaughan as she hosts authentic conversations with women in digital who wish to see change or be the change within their industry.
Register now and reserve your seat.
THIS WEEK'S TOPIC:
Let's shift how you think about what is possible in your life. Consider cultivating happiness habits to achieve outstanding results in work and life.
Learn how you can:
Change the results change the picture.
Learn why courage is the result of action.
And, have anything you want.
Brooklyn Dicent, AKA The Chief Happiness Officer, teaches s how to become culture curators by creating positive and energized work environments. She's appeared on ABC, NBC, CBS, and dozens of podcasts championing the power of a positive mindset as a critical component for brain health and wellness. Brooklyn will help you to make shifts happen.
JOIN OUR COMMUNITY & GET:
Your first month for the price of a cup of coffee ☕️ (just $2.79)
Access to our 24/7 online community
Enriching virtual & in-person events nationwide
Access to Member-Exclusive Ask & Give Circles
Solutions & support via our Asks & Gives Exchange
Lasting, lifelong friendships and connections