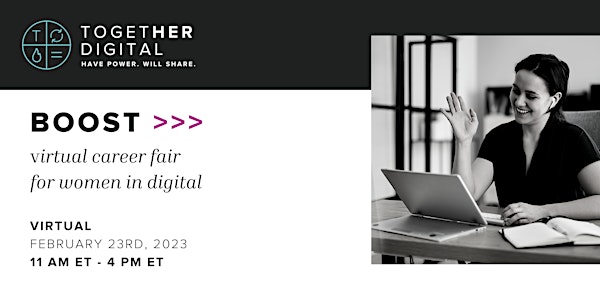 Together Digital | BOOST >>> 2023 Career Summit & Job Fair
Give your career the BOOST it needs with a day full of workshop content to help you advance your career.
About this event
>>> Nothing accelerates your career like a community. Meet ours.
ABOUT TOGETHER DIGITAL
We are a collective of influential women in digital – who choose to share our knowledge, power, and purpose by coming together to make meaningful connections and deeper conversations happen.
Together Digital is a safe space to speak about and seek out the changes we want to see in ourselves – and the world.
ABOUT THE EVENT
Take advantage of virtual. Drop-in for a Workshop, then stick around to Network, and/or apply to take part in our Virtual Job Fair where you'll get the chance to meet employers and/or get selected for a one-on-one 15-minute interview.
More details are below:
Interested in being interviewed as a job seeker? Be sure to complete this application form in order to be considered/scheduled. Job fair applications close FEBRUARY 16TH.
Are you a company or recruiter interested in being an exhibitor and meeting talented women in digital who want to work for you?
Email us at info@togetherindigital.com.
AGENDA
11:00 AM ET Welcome
11:10 AM ET Keynote Panel (TBA): Why I Hire, Recruiters Speak
11:50 AM ET Break
12:00 PM ET Open Booth
1:00 PM ET Break
1:10 PM ET Workshop: Career Mapping // 1:1 Interviews
2:00 PM ET Break
2:10 PM ET Workshop: Career Branding // 1:1 Interviews
3:40 PM ET Ask & Give Exchange for Job Seekers

WORKSHOP // Mapping Your Career // Co-Founder of OwnTrail, KT McBratney
Kt McBratney (they/she) works in non-linear paths. They are an entrepreneur, community builders, recovering marketers, and the co-founder and chief community officer at OwnTrail, a new social network to own your story and achieve your next milestone in life and work.
Kt is an active voice in the startup community, advocating for life-work balance and people-first business including the 4-Day Week, which OwnTrail implemented in 2022. Prior to launching OwnTrail, Kt served as a chief marketing officer at Seed&Spark, rose through the ranks of an award-winning digital agency, and got her career start at one of the best zoos in the world. Her work has been featured in USA Today, GeekWire, Thrive Global, Insider, and more. Kt is also a visual artist, writer, parent, and occasional Muppet astrologer.
Workshop description: Journey Mapping for Work-Life
Your career growth doesn't exist in a silo. Bring your personal and professional experiences into focus in this interactive workshop with OwnTrail co-founder Kt McBratney. Explore and capture your unique journey across the past, and present, and where you might go from here and gain a new perspective on your strengths, values, and possibilities.
Youll walk away with a
A deeper understanding of what skills and internal resources you carry and how to leverage these strengths
A strong personal narrative that can help you build a powerful personal brand
Feeling of support and solidarity from others in the workshop
A renewed vision for how you will move forward toward your aspirations
Unique digital Trail on owntrail.com that you can keep adding to and expanding on as you go

WORKSHOP // Branding Your Career // Chief Personality Officer, Danielle Hughes
Danielle Hughes is the Chief Personality Officer of More Than Words Marketing, a branding and copywriting consultancy. She helps individuals and organizations to develop their Genuine Personality Brand, creating content that sounds like you and giving you the space to truly be yourself in your messaging. If you're looking to attract the right audience and repel the wrong one, you're in the right place.