Description
Welcome all Catholic Educators to the 2019 CEC in Boise!
Thank you for registering for this year's Catholic Educators' Conference. See below for the conference schedule. Workshop selections will take place onsite. Workshop details will be available to view in mid-May.
"Many miracles and wonders were being done through the apostles, and everyone was filled with awe. All the believers continued together in close fellowship and shared their belongings with one another. They would sell their property and possessions, and distribute the money among all, according to what each one needed. Day after day they met as a group in the Temple, and they had their meals together in their homes, eating with glad and humble hearts, praising God, and enjoying the good will of all the people. And every day the Lord added to their group those who were being saved." Acts 2:43-47
All educators in the Diocese of Boise are encouraged to attend this important event. Come
grow
in the knowledge of your faith,
reflect
on your ministry,
learn
new strategies, and
collaborate
with others throughout the diocese.
The mission of the Catholic Educators' Conference is to form our ministers rooted deeply in the Catholic faith to lead/guide their respective ministries. CEC is an opportunity for educators to come together from throughout Idaho and meet and share ideas with others who are serving in the same capacity in other areas of the state. We conducted a survey about what offerings attendees wanted at CEC this year (we had over 200 responses), and there were many commonalities. For that reason, we decided to offer fewer workshops centered on the high-demand areas identified in the survey. These larger workshops will bring us TOGETHER to learn, and then we will collaborate and reflect on what we learned.
Friday, Oct. 4 Jonathan Doyle, author of Tools and Fuels: How to help Catholics Become Saints, Beat Burnout, and Save the World will inspire us. His book is a practical manual for Catholic educators seeking to live their vocation with focus, positivity and grace. Jonathan is an international speaker and passionate about Catholic Education, empowering educators and changing culture for the better. Based in Sydney, Australia, Jonathan has spoken around the world to over 300,000 people and is passionate about helping people create change in their lives. Visit https://jonathandoyle.co/ for great podcasts and more!
Why should you attend?
Serving in ministry can be an exhausting, lonely job. Idaho is a geographically vast state, and we need to come TOGETHER routinely to reflect, learn, and collaborate. We want a large group to come from across Idaho to worship and learn together, so we can move forward as a unified Diocese of Boise. This will be an amazing experience, if we all bring our whole selves to the event. Remember the verse from Acts above: we eat together, we praise God together, we fellowship, and we will add to the body of Christ.
Thursday, October 3, The Penthouse at C.W. Moore, 250 S 5th St, Suite 200 in Boise:
6:00-9:00pm - Social/Gathering with live music, drinks and appetizers

Join Bishop Peter Christensen as he kicks off the 2019 CEC at this beautiful venue
Friday, October 4, Bishop Kelly High School
7:00am - Registration opens - Dutch Bros truck onsite

8:00am - Mass with the Bishop
9:00-10:00am - Keynote #1 with Jonathan Doyle
10:15-11:45am - Workshop #1
11:45am - Lunch provided by Open Table
12:45-2:45pm - Workshop #2
3:00-5:00pm - Workshop #3
5:00-6:00pm - Keynote #2 with Jonathan Doyle
Dinner on own in ministry or parish groups
Saturday, October 5, Bishop Kelly High School
7:00am - Registration opens - Dutch Bros truck onsite

8:00am - Mass with the Bishop
9:00-10:30am - Workshop #4
10:45-11:45am - Panel discussion with Diocesan Directors
11:45am - Lunch provided by Open Table
12:45-2:45pm - Workshop #5
3:00-4:30pm - Workshop #6
Attend local Mass at 5pm
See below for workshops and presenters.
For over-night accommodations, call Candlewood Suites Boise Town Square at 208-322-4300 and tell the desk agent you are in town for the Catholic Educators' Conference. Special group rate per night ($85.00 single and $95.00 double) if reservation made by Sept. 5, 2019. Candlewood Suites is located at 700 N Cole Rd in Boise.
Scholarships are available - Contact Jackie Hopper at jhopper@rcdb.org or Sarah Quilici at squilici@rcdb.org. Questions? Call Jackie, Sarah or Sheri at the Diocese of Boise at (208) 350-7551 or email sboicourt2@rcdb.org.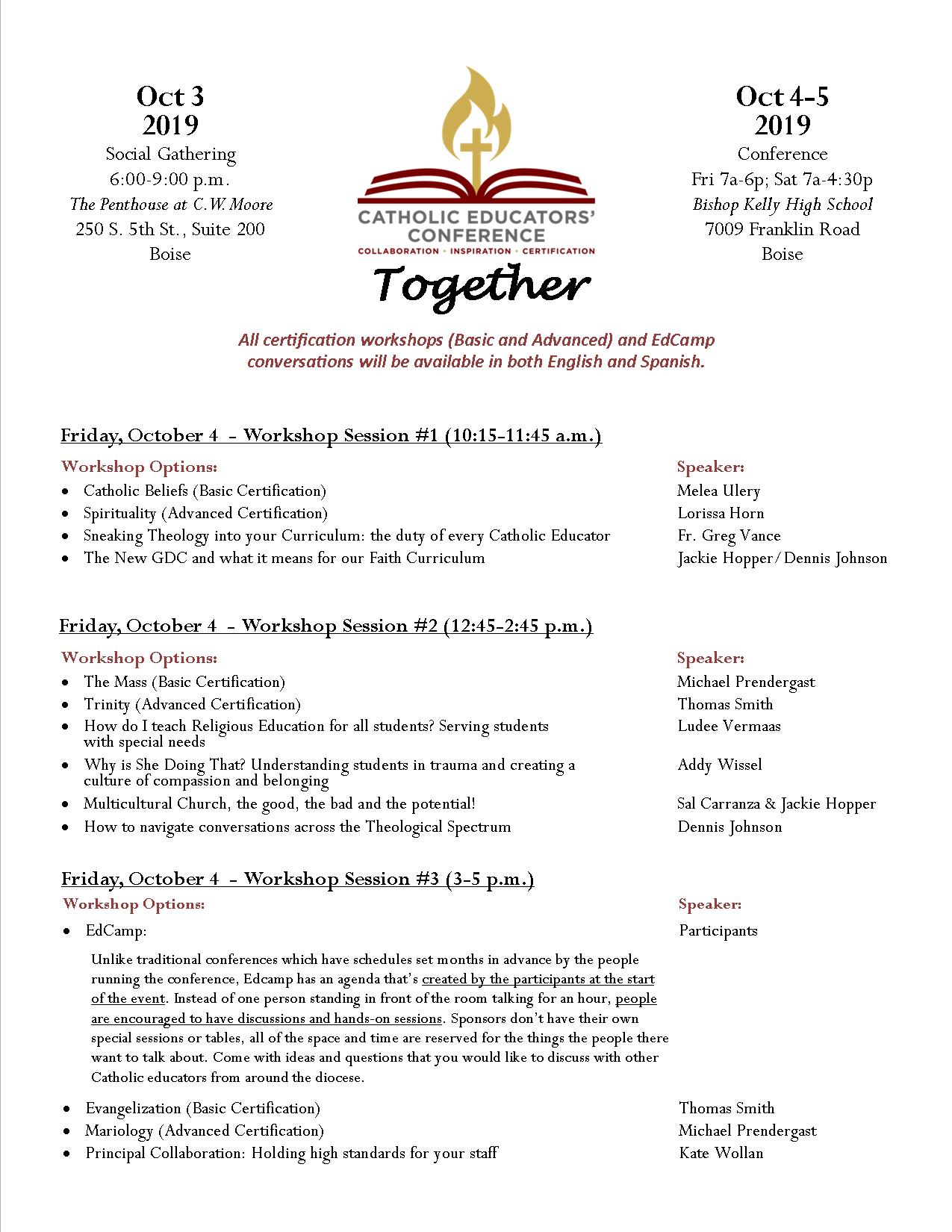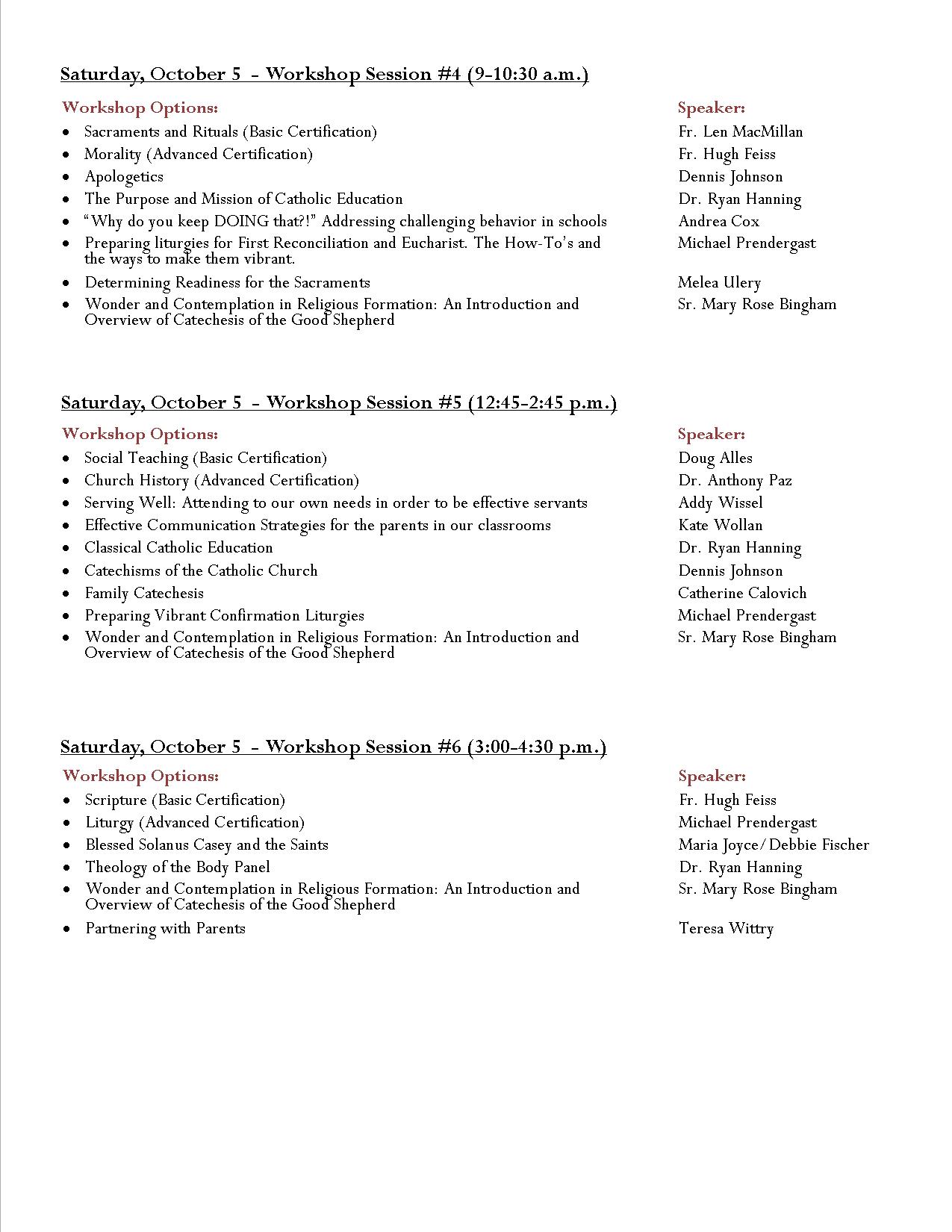 Date and Time
Location
Refund Policy