Refund policy
Contact the organizer to request a refund.
Eventbrite's fee is nonrefundable.
TOGETHER APART, a collection of new short musicals written, composed, directed by and featuring Brown University alumni.
About this event
Purchase Tickets to Watch On-Demand Now Through May 30th!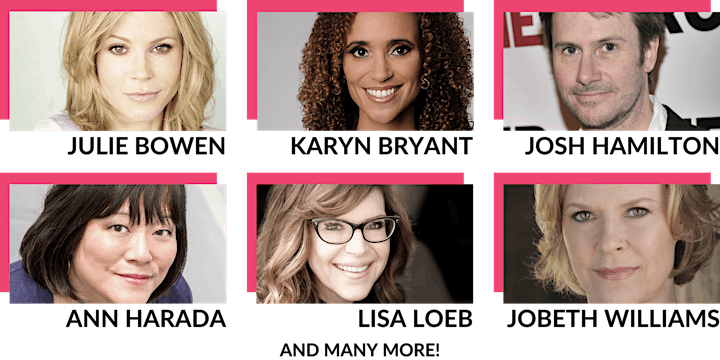 TOGETHER APART, a collection of new short musicals written, composed, directed by and featuring Brown University alumni, will premiere on May 27th to raise money for The Actors Fund, an organization that provides emergency financial assistance to members of the entertainment community.
Zoom-Inspired Collaborations
The musical evolved out of a true Zoom moment:  A Brown musical theatre reunion attended by graduates from the early '80s through the late '90s.  LISA LOEB, '90 Graduate and Grammy Award Winner, was energized by the digital reconnection, and inspired to write a musical about the experience.  She asked the group if they wanted to collaborate, and the creative process began.
Each of the 10 new short musicals will feature a variety of Brown University Alumni across industries.

Tickets
ONE ticket – FOUR DAYS to watch. All tickets include on-demand access through May 30th.
General admission tickets start at $25.
Options to make an additional donation and to sponsor tickets for students and artists are also available.
VIP Pre-Show
VIP Pre-Show event on May 27th hosted by ALISON STEWART, featuring LISA LOEB and special guests available for donations of $100 or more.
VIP ticketholders will receive a private link to join the preshow at 5 PM PT / 8 PM ET on May 27th.

Alison Stewart is the host of All Of It with Alison Stewart, WNYC's daily live afternoon program about culture and the culture in and around New York City. She is also the host of the monthly book club GET LIT WITH ALL OF IT. The Brown University graduate began her career in news as a producer/reporter for MTV News' breakthrough presidential campaign coverage "Choose or Lose"–which earned her a Peabody Award. The author of two books, she has spent more than two decades reporting and has anchored her own news programs on NPR, PBS, ABC, MSNBC & NPR.

FEATURING
Actors:
AKIN ADAMS, SYD ATLAS, JESSIE AUSTRIAN, KITTY BALAY, JULIE BOWEN (Emmy Award-Winner), ISABEL BRODSKY, NOAH BRODY, KARYN BRYANT, IMANI CAMARA, ALISON CARNEY, JUNE CARRYL, SARA CLARKE, MARIA DEASY, LAURA DE-OLIVEIRA, MIA ELLIS, ABBY ESPIRITU, DEBORAH DE FURIA, DUNCAN GALLAGHER, REBECCA GIBEL, OAMIYA HAQUE, ANN HARADA, JOSH HAMILTON (Emmy Award-Winner), LAURIE ISRAEL, CLAIRE KARPEN, ERIC KIRCHBERGER, PEBBLE KRANZ, LISA LOEB, TISOLA LOGAN, MEG MACCARY (Obie Award-Winner), DAN MACKENZIE, GILLIAN MAIMON, JOSEPH MEISSNER, LUISA PATINO, GABRIEL ROSEN, RHONDA ROSS, JONATHAN SCHAFFIR, MARCY SCHAFFIR, SIRSA SHEKIM, LAWRENCE STERN, DOMINIC TAYLOR, CHARLIE THURSTON, PACO TOLSON, ANTHONY WALLEY, JOBETH WILLIAMS, JOE WILSON JR., BETH WISHNIE and ARIANNA ZUKERMAN.
Special Appearances by:
NANCY BACH, CARL BELFATTI, LONI BERRY, KRISTA RIMPLE BRADLEY, LESLIE BUXBAUM, GORDON CHAMBERS (Grammy Award-Winner), BOB COHEN, JAMES CRAWFORD, JOEL DE LA FUENTE, JONATHAN FEINBERG, BRIAN HERRERA, JENNIFER HIRSH, MATT HOVERMAN, STEPHANIE ITTLESON, PETER JACOBSON, ALLYSON JOHNSON, DAVID LAI, KIM LINDSAY, DEREK LIVINGSTON, ALETA MARGOLIS, LOWRY MARSHALL, STEVEN MCELROY, ELIZABETH MITCHELL, TIM MURPHY, REGGIE NANCE, CHRIS OSANDER, GERHARD SCHULTE, MARIA SEIGENTHALER, LIZZIE SHAMMASH, BRYAN TALLEVI, JENNIE VERNON, and JEFFREY WINTER.
Writers:
CARL BELFATTI, JUNE CARRYL, JONATHAN FEINBERG, MATT HOVERMAN (Emmy Award-Winner), MARIA DEASY, DEBORAH DEFURIA, ERIC KIRCHBERGER, DEREK LIVINGSTON, LISA LOEB, MEG MACCARY, DAN MACKENZIE, SAM PHILLIPS, JONATHAN SCHAFFIR, MARIA SEIGENTHALER, LAWRENCE STERN and LORIN WERTHEIMER .
Composers:
JOCELYN ADAMS, CARL BELFATTI, JULES COHEN, JONATHAN FEINBERG, LISA LOEB, DAN MACKENZIE, ERIN MCKEOWN, MARIA SEIGENTHALER and LAWRENCE STERN.
Directors:
SETH BOCKLEY, LESLIE BUXBAUM, VIVIENNE BENESCH, SARAH CUSICK, MICHAEL LIPPMAN, DEREK LIVINGSTON, CRIS SALES, PAM SEIDERMAN and MARGIE ZOHN.
Produced by BETH WISHNIE (Tony Award-Winner) and LISA LOEB, and co-produced by The 24 Hour Plays. Musical direction by David Lai. Video direction and editing by Kevin Surace.

FAQs
When will I receive my ticket link?
All ticketbuyers will receive the link to the show on Thursday, May 27th in the morning. This email will come from Eventbrite.
How long do I have to watch? Can I watch multiple times? When can I watch?
Together Apart will be available to stream through the end of Sunday, May 30th. The ticket link will allow you to watch whenever you want, as many times as you want.
What if I can't make it to the live premiere?
While we're particularly encouraging people to join us for the premiere, all tickets allow you to stream on-demand through May 30th! If you can't make the premiere, you can watch at their convenience all weekend using the same ticket.
It's Thursday afternoon and I haven't received the performance link? What happened?
First, check your spam folder; it's possible the email was filtered out of your inbox. If you are still unable to find the link, please email office@24hourplays.com for assistance.

Benefiting The Actors Fund
All proceeds from ticket sales and donations benefit The Actors Fund.
As Broadway, TV and film productions, and performing arts venues across the country remain closed due to the COVID-19 pandemic, those in the entertainment community need our help now more than ever. Every day, the need for The Actors Funds services grows, so we're fundraising to help ensure that The Fund can continue to help the community through these difficult times. Your donation will help ensure that people who work in the spotlight and behind the scenes can pay their rent or mortgage, feed their families, find work and afford health insurance. Thank you for giving generously to help our entertainment and performing arts community.