Description
We are thrilled you are here and want to encourage you to register right away for the 2019 conference. This year's theme is:
The Great Commission.
This is the quintessential issue facing those outside and inside the church. We hope you can join us as we prepare for another great time of Reaching, Connecting and Training! Families are welcome and encouraged to attend. All tickets are $35.
We want to equip and encourage you to share the gospel in a variety of settings, from friends and family or in the workplace, to strangers in the marketplace and open air.
Jamie Terry Resurrect Your City. Paul Adams Open Air Campaigners George Ibach Pastor Lincoya Hills Baptist, John Swaim Music Artist, Leading Worship. More to come!
Register Now!
The T4E Evangelism Conference is set to be a combination of teaching, fellowship, and evangelism. Each morning we will have a few hours of worship, teaching, and prayer. After lunch we will have a panel discussion, some small group application time, then a couple hours of intentional evangelism. We will end the day by sharing our over dinner at the Nashville Rescue Mission.
Food (Light breakfast, full lunch, and dinner) will be provided both days. Lodging will be at your own expense.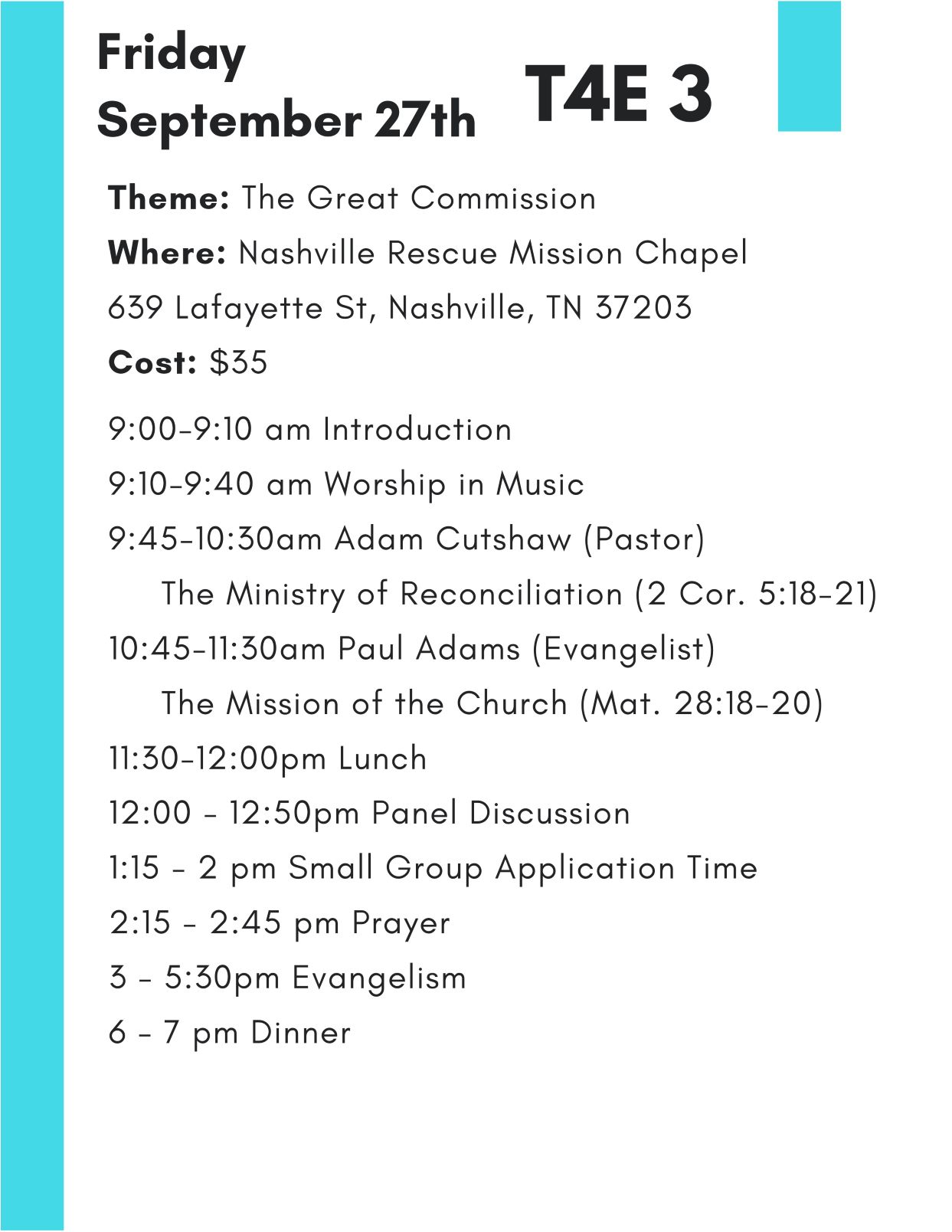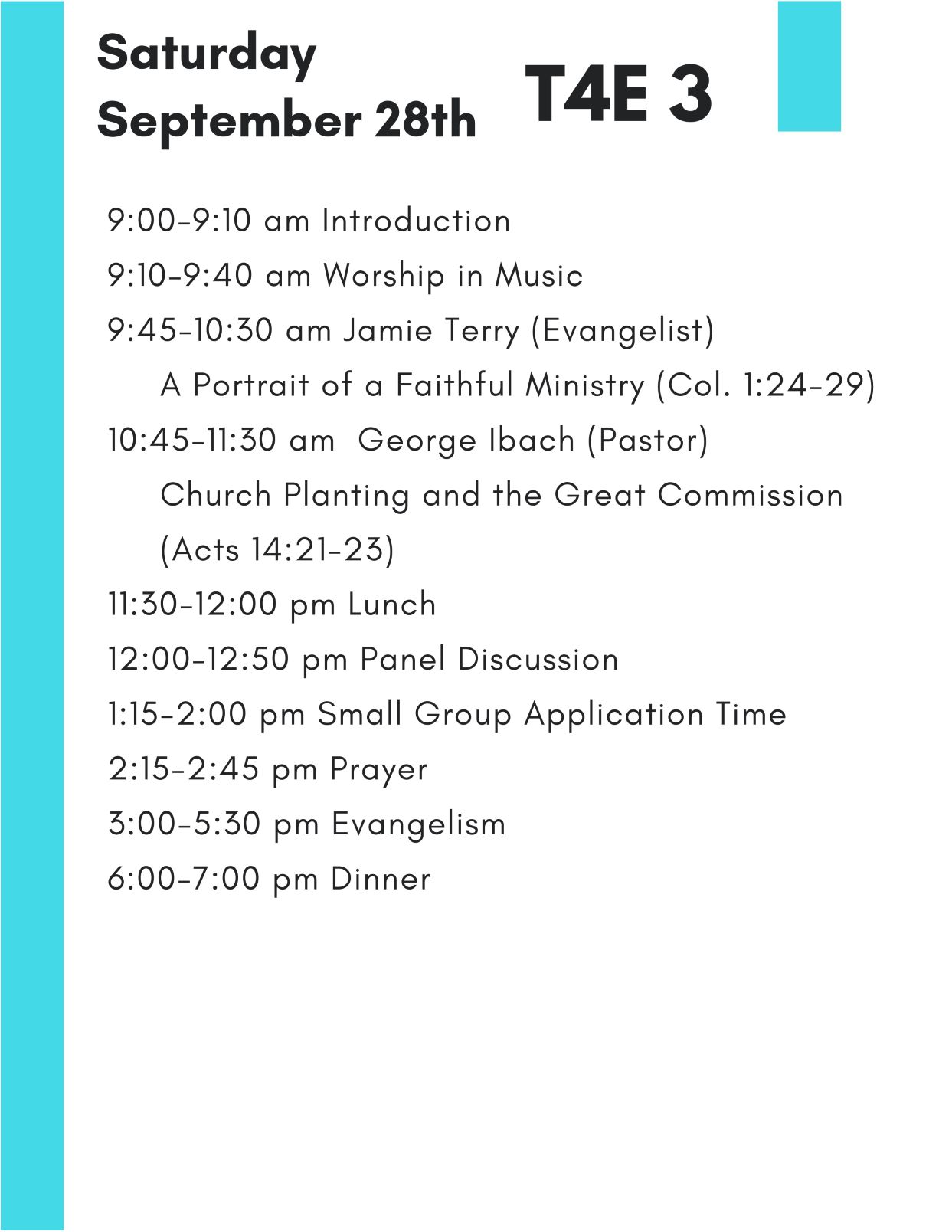 Please make sure you agree with the following:
God. God is the creator of all things (Gen. 1:1, John 1:1). He is perfectly holy, worthy of all worship, and will punish sin (1 John 1:5, Rev. 4:11, Rom. 2:5-8).
Man. All people, though created good, have become sinful by nature and have broken God's law (Gen. 1:26-28, Ps. 51:5, Rom. 3:10-12, Rom. 3:23). From birth, all people are alienated from God, hostile to God, and subject to the wrath of God (Eph. 2:1-3). God must punish sin and after death comes the judgment (Heb. 9:27).
Christ. Jesus Christ, who is fully God and fully man (Col. 2-9), lived a sinless life, died on the cross to bear God's wrath in the place of all who would believe in him (1 Pet. 2-24), and rose from the grave in order to give his people eternal life (John 1:1, 1 Tim. 2:5, Heb. 7:26, Rom. 3:21-26, 2 Cor. 5:21, 1 Cor. 15:20-22).
Response. God calls everyone everywhere to repent of their sins and trust in Christ and his finished work alone in order to be saved (Mark 1:15, Acts 20:21, Rom. 10:9-10 Eph. 2:8-9).
Source: Gilbert, Greg. What is the Gos-pel. Wheaton: Crossway, 2010.
FAQs
What are my transportation/parking options for getting to and from the event?
Parking is available on-site at the Nashville Rescue Mission.
Do I have to go out during the day and share the gospel?
We greatly encourage everyone that attends to be involved in the outreach portions of the conference.