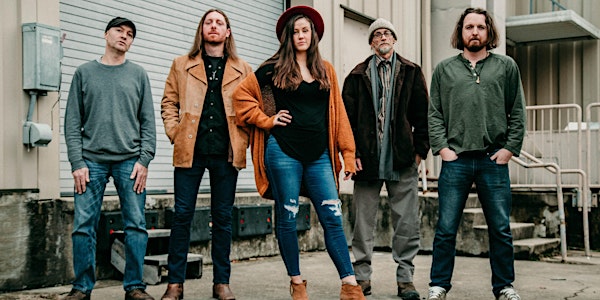 TOF Productions Presents: Magnolia Boulevard
Online Event: The TOF Nightclub is excited to welcome Magnolia Boulevard
Refund Policy
Contact the organizer to request a refund.
Eventbrite's fee is nonrefundable.
About this event
"What a righteous time to be alive / right here with one another," sings Magnolia Boulevard's Maggie Noelle roughly a minute into the joyous and jaunty "Ride." The words are ostensibly about a budding relationship between two individuals, but Noelle could just as easily be referencing the singular and special connection that exists between her and her Magnolia Boulevard band mates -- guitarist Gregg Erwin, drummer Todd Copeland, keyboardist Ryan Allen and bassist John Roberts -- or, as likely, their bond with the fans that for the last year have been packing clubs in and around the band's hometown of Lexington, Kentucky and beyond to shimmy, shout, and dance to the music.
When we're onstage we play with a lot of emotion," Noelle says. "And then we feed off the crowd's emotional reaction to us and we give it right back to them."
Central to the Magnolia Boulevard experience is a sound that flows easily and seamlessly from a multitude of stylistic tributaries. There's plenty of blues, soul and rock 'n' roll in the mix, but also elements of funk, jam band, folk, country, bluegrass and psychedelia. It's all fueled by the rhythm section's elastic grooves, shot through with Erwin's expressive and incisive slide guitar licks, and topped by Noelle's soul-stirring, powerhouse vocals.
Magnolia Boulevard's debut EP, which released independently on August 7th, 2020, is a four-track offering titled New Illusion. Produced by famed guitar maker and owner of PRS Guitars, Paul Reed Smith, who Erwin describes as the band's "champion," New Illusion is a pure indicator of the Magnolia Boulevard sound; stunningly fluid and versatile, yet never forced or unfamiliar.
"When I first heard Magnolia Boulevard, I thought 'this band deserves a shot,' says Smith, who discovered the band while on a trip to Lexington to conduct a guitar clinic and was so blown away that he subsequently took them under his wing. "So we flew them to the PRS Experience to begin helping them. The first time Maggie sang in my studio on 'Sister' after the band laid down the tracks, she nailed it on the first take. It was quite an emotional moment," Smith recalls.
Which brings us full circle to the communal experience that is at the very heart of Magnolia Boulevard's music. It's an intuitive and intense conversation between musicians that extends from the stage out into the audience – and that is now set to be shared with the world at large. In that regard, New Illusion is the perfect first sampler; an easily digestible listen that at once showcases Magnolia Boulevard's present-day camaraderie and musicianship, while hinting at a future full of promise and possibility.
The lines between rock, blues, and funk will blur when Magnolia Boulevard hits the TOF stage to rock your world. Their energy on stage is contagious and Maggie's vocals will make you forget all your worries and troubles for a just bit.
If you like good music, do not skip this show!
STREAM/PURCHASE 'NEW ILLUSION' EP:
Magnolia Boulevard's Merch is available here:
https://shop.bandwear.com/collections/magnolia-boulevard-shop