Toe Tag Monologues Fundraising Gala
Description
Toe Tag Monologues
Every day we hear of our youth being victims of some form of abuse; it could be physical, mental, bullying, sexual and the list goes on. During my 26 years as a Las Vegas Metro Police Officer, I witnessed so much of this. I felt that something had to be done to support these young people and get them through these tragic circumstances. With that in mind, I created the Toe Tag Monologues as a way for our youth to express their pains and issues. It shows our community why so many of our kids end up with a toe tag. It also gives a voice to kids who may not have one otherwise.
I have developed a program with a troop of talented young people to help kids communicate their issues, i.e., toe tags. We have traveled locally and across cities in the U.S. in an effort to deliver our message. The reception and response of our audiences have been overwhelming. To say the least, the messages in the monologues are unique, powerful, personal and emotional. We must continue to make these voices heard. Our Life Skills Workshop, Job Skills Workshop, Mentoring Program and Live performances are saving kids' lives one at a time!
On June 8, 2019, we will hold our 2nd Annual Fundraiser Black Tie Gala to raise funds to keep our message alive and strong. There are several ways you and your organization can help. We hope you will open your hearts and recognize the value of how much your participation will mean to so many.
Thank you in advance for your consideration, generosity and support.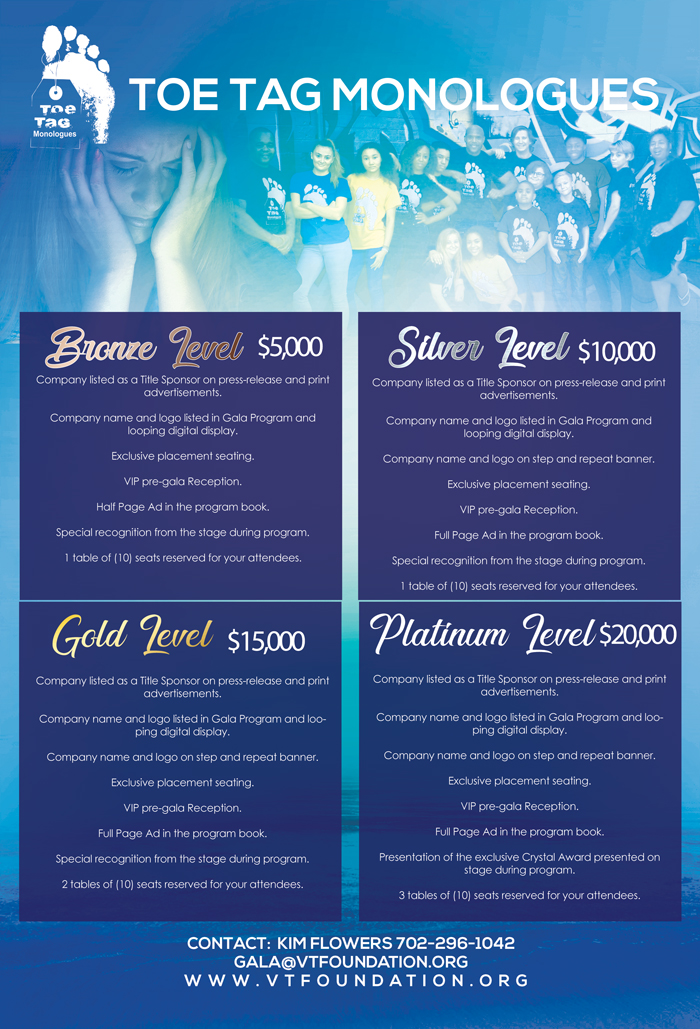 Contact: Kim Flowers 702-296-1042 or 702-834-3557 email GALA@VTFoundation.org
For level sponsoring and Gala book advertising please call 702-296-1042 or 702-834-3557
Featuring Internationally Acclaimed Artist Charles Bibbs. Partial proceeds of all sales will benifit Toe Tag Monologues.