Description
If I give my young child a tablet or an iPhone, will I erode their attention span? How much screen time is too much? How do I balance the value of tech while encouraging my young one to engage with the physical world?
Join us for a discussion on children and technology use and learn from our panel of experts in child development, app making, and education:
Iris Kaddis, M.D., Pediatrician with the Palo Alto Medical Foundation

Ann Rose Gavey, M.Ed, Owner and Co-founder of Rising Star Montessori School

Caroline Hu Flexer, Cofounder and CEO of Duck Duck Moose (now part of Khan Academy)
Moderated by Betsy Corcoran (Founder and CEO of EdSurge), the panel will cover considerations and practical implementation of helping very young children ages 2-6 engage with technology in a healthy way.
Meet other young parents in the Bay Area and bring your children for a slate of fun activities during the panel! We'll have coloring and art-friendly table tops to keep your kiddos busy while you enjoy the discussion.
We'll also have a few vendors joining us to share relevant children's products you might enjoy, including popular parenting app Winnie, childcare app Trusted, children's artwork and memento app Keepy, kids camera maker Pixl Toys and more!
Schedule:
11:30 AM - Registration Opens
12:00 PM - 1:30 PM - Panel Discussion including Q&A in Hahn Auditorium
2:00 PM - Event ends
*Childcare not provided; parents must chaperone little ones*
The Computer History Museum's NextGen Advisory Board is pleased to host this event in collaboration with The Parent's Club of Palo Alto and Menlo Park (PAMP).

Moderator and featured panelists: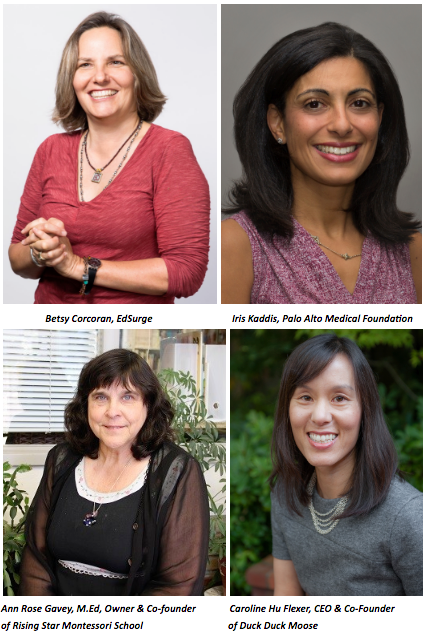 Moderator: Betsy Corcoran, Founder and CEO of EdSurge
Betsy Corcoran is co-founder and CEO of EdSurge, an award-winning go-to resource on education technology. EdSurge delivers news for educators and entrepreneurs, the most comprehensive index of edtech products, top edtech job posts and a vibrant conference program. Betsy has received national recognition for her work as a journalist. She's been a staff writer and editor for: Scientific American magazine, the Washington Post and Forbes. She lives in California where her children attend public school.
Iris Kaddis, M.D., Pediatrician with the Palo Alto Medical Foundation
Iris Kaddis is a general pediatrician with Palo Alto Medical Foundation Medical Group in Los Gatos. She has been with Palo Alto Medical Foundation since 2008. She was born and raised in the Northeast. She completed her undergraduate and medical degrees at Tufts University in Boston, Massachusetts, her first two years of residency at Massachusetts General Hospital then final year at Baylor Texas Children's Hospital in 2003. After practicing in private practice in Houston for a few years, she moved to the Bay Area with her family. She has three children, now ages 10, 12 and 16 years old. Her most recent favorite past time is bike riding (with and without them) so she will never leave the Bay Area!
Ann Rose Gavey, M.Ed, Owner and Co-founder of Rising Star Montessori School
Ever since she was five years old, Ann Gavey wanted to be a teacher. Her love of reading and life long learning started when she was a young girl, building her own library out of issues of National Geographic and running her own printing press. In 1982, her dream came true when she had the opportunity to co-found Rising Star. At the time she was teaching Alameda's first Montessori elementary class, having worked for six years at Berkeley Montessori and Diablo Valley Montessori schools.
Building a school that celebrates diversity and welcomes everyone has always been very important to Ann. During the summer she enjoys traveling with her husband Rex, to the National Parks and then coming back to teach about them to the children.
Ann received her Bachelor's of Arts from the University of Washington in Psychology, with a fifth year in Native American education. She is Montessori certified in Infant, Toddlers Early Childhood and Elementary, holds an Early Childhood Education Specialist Credential for K-12, and Masters in Education from Notre Dame de Namur University. In addition to her work at Rising Star, Ann also works as a Montessori school consultant, conducting teacher trainings and curriculum development and works with schools across the country.
Caroline Hu Flexer, CEO and Co-Founder of Duck Duck Moose
Caroline Hu Flexer is the CEO and Co-Founder of Duck Duck Moose, creator of educational children's mobile applications, and now a subsidiary of Khan Academy. Duck Duck Moose was founded in 2008 by three parents, who share a passion for education, design, music and play. The company has designed and built 21 top-selling apps, and has won 21 Parents' Choice Awards. Prior to Duck Duck Moose, Caroline worked as a design consultant at IDEO, and as a software product manager at Intuit. She holds an AB in Architecture from Princeton University, attended the Master in Architecture program at the Harvard Graduate School of Design, and received an MBA from the Stanford Graduate School of Business. She lives in Palo Alto, CA with her husband Michael and two daughters (9 and 11 years old), who are the real Duck Duck Moose product managers.