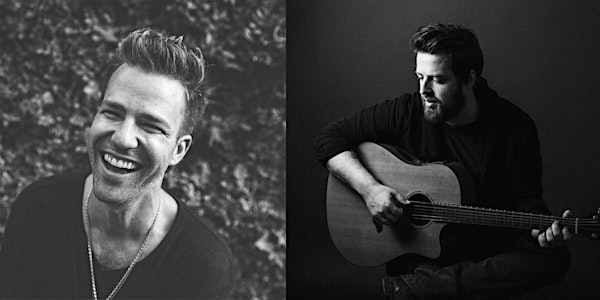 Location
Eddie's Attic
515 B North Mcdonough Street
Decatur, GA 30030
Todd Carey & Lee DeWyze at Eddie's Attic in Decatur, GA!
About this event
Lee DeWyze
Lee DeWyze has an earnest ability to create a delicate balance of harmony, melody, deep emotion and subtlety in his songs. His depth as a songwriter calls to mind some of his earliest influences like Simon and Garfunkel, Yusef Islam (Cat Stevens) and Johnny Cash.
There are no false notes in this new album, each song a unique light in the constellation of his imagination. He sings quietly, as if whispering secrets. His lyrics and melodies mesmerize, cycling like nursery rhymes, somehow soothing while also sharpening our alertness that something unusual is going on here.
Over the last 10 years, Lee has released five albums, including his critically lauded Frames (Vanguard Records, 2013), which included the top 40 Billboard Hot AC hit "Fight." In 2014, his song "Blackbird Song" (20M+ streams) was placed in the show "The Walking Dead." After signing with Shanachie Records in 2016, Lee released the album Oil and Water, which hit Number One on the iTunes folk and singer/songwriter chart, followed by Paranoia (2018), which hit Number One on the Alternative chart. As the winner of American Idol Season 9 in 2010, he made his major label debut with Live It Up (RCA). His latest release, Ghost Stories (Aug 2021), has over 3M+ streams. His video for Castles won 11 awards world-wide (Los Angeles, NY, and London) for best animated video with TIFF (The International Film Festival).
Lee's songs have appeared in over 75 movies, TV shows, and commercials.
Todd Carey
Todd Carey, who's 14 year career has spanned Chicago, Los Angeles, New York (and now Charleston), has dedicated his life to music. Maybe you first saw him perform alongside John Mayer, Train, or The 1975…..or more recently heard his singles with Sara Bareilles, Jake Miller, & Shwazye.
His now trademark brand of Beach-Pop-Rock is frequently covered by editorial teams at Spotify (New Music Friday, Orbit), Apple Music (New In Alt, New In Pop), and sync'd in films across the Hallmark and Lifetime channels.
As a songwriter, he penned Meghan Trainor's "3AM" from the 2015 triple-platinum album, "Title," but his true home has always been on the road.
Carey recently headlined a series of City Winery venues in the Northeast, and will be playing 5 more markets this Fall before he joins Train and Fitz & The Tantrums on the 2023 "Sail Across The Sun Cruise."
Listen to "Make Me Feel Good (w/ Kash'd Out & La Felix)" - out now!