Lecture by Aimee Lee, an artist who makes paper, writes, and advocates for Korean papermaking practices.
About this event
Hanji is Korean paper, and has a nearly milennia-old history of supporting creative, government, military, household, and ritual purposes. In this lecture, you will learn about the techniques behind making hanji alongside stories from the current landscape of papermakers who still labor in obscurity to produce a variety of fine paper that persists today.
About the speaker
Aimee Lee is an artist who makes paper, writes, and advocates for Korean papermaking practices (BA, Oberlin College; MFA, Columbia College Chicago). Her initial Fulbright research led to the first hanji studio in North America, an award-winning book, "Hanji Unfurled," and a studio practice that includes jiseung, joomchi, paper textile, botanical paper, and natural dyeing techniques. She travels the world to teach, exhibit, and serve as a resident artist while also building and enhancing studios for Korean and East Asian papermaking. She teaches artists' books at the Cleveland Institute of Art and is an Ohio Arts Council Heritage Fellow. Her recent Fulbright Senior Scholar research focused on toolmaking for hanji, and her artwork is deeply rooted in her ongoing investigations of traditions and stories from her heritage and lived experience.
This online event will take place on Wednesday, August 4th from 12 PM—1 PM EST. This talk will last approximately 40 minutes, followed by questions.
This program is pay-as-you-wish, with a suggested minimum donation of $5.00. After registering, attendees will automatically receive a registration confirmation from Eventbrite and a direct email from Zoom with the webinar link and password to join the program.
All Dieu Donné virtual events include the option of live virtual captioning. If you have any requests or needs prior to the event, please contact dieudonne@dieudonne.org.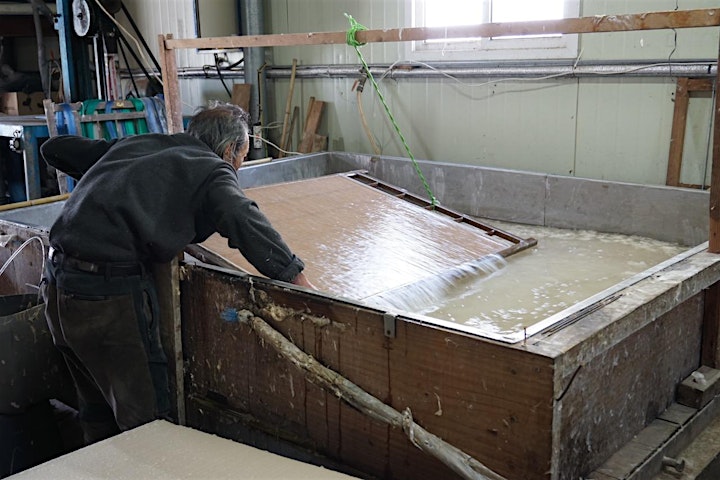 About the Series
"Global Perspectives in Hand Papermaking" is a virtual lecture series featuring papermakers from around the world. The series explores both historic and contemporary approaches to papermaking through talks by individuals with expertise in papermaking in Japan, Korea, India, Chile, and Spain. Among the topics discussed will be traditional fibers, tools, and papermaking techniques, as well as contemporary trends in production papermaking and artistic experimentation.
Date and time
Location
Refund policy
Organizer of Today's Hanji: Current Perspectives from Korea
For over 44 years, Dieu Donné has explored the untapped potential of hand papermaking as an art medium. We introduce artists from a wide variety of practices to the creative possibilities in hand papermaking, fostering experimentation and creating innovative works of art. Our work is realized through extensive collaborations with artists. We strive to teach a new visual language, providing a transformative experience that often leads to artistic breakthroughs. We are excited share this work with the community through these online artistic and educational programs.