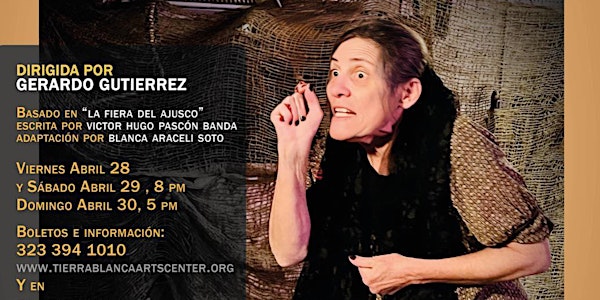 Varias fechas
TODAS SOMOS LUZ
formato de Microteatro, el publico se mueve por diferentes escenarios y se vuelve parte de la historia y descubre el porque TODAS SOMOS LUZ
Por Tierra Blanca Arts Center
Fecha y hora
vie., 28 de abr. de 2023 20:00 - dom., 30 de abr. de 2023 19:00 PDT
Ubicación
Teatro Frida Kahlo Theater 2332 West 4th Street Los Angeles, CA 90057
Política de reembolso
Contacta con el organizador para solicitar un reembolso.
La tarifa de Eventbrite no es reembolsable.
Acerca de este evento
Grupo de Teatro Sinergia y Teatro Frida Kahlo en Colaboracion con Tierra Blanca Arts Center Presentan:
TODAS SOMOS LUZ, basada en la obra de teatro de Victor Hugo Rascon Banda, La Fiera del Ajusco. (una obra basada en un caso de la vida real) y con la adaptacion de Blanca Araceli Soto.
Dirigida por Gerardo Gutierrez
Elenco:
Bella Kira Moreno, Azuay Esteban, Mercedes FloresIslas, Emma Mejia, Veronica Jacobo y la actuacion estelar de : Liane Schirmer
Con la participacion especial de : Blanca Araceli
There will be a Q&A session at the end of the play.
Acerca del organizador
We are TBAC, a nonprofit organization dedicated to bringing the art of music, dance and theater to the greater Los Angeles area. Serving the community since 2003, TBAC was founded under the firm conviction that arts and culture have the power to break down the invisible barriers that often keep our multicultural community from truly living in harmony. Our mission is to instill in our community a sense of pride, identity and unity. 
Through the resilient leadership of its founder and president, Blanca A. Soto, TBAC provides culturally sensitive programs and activities for low-income individuals of all ages and ethnicities.  We offer after-school and holiday programs that allow at-risk youth to better appreciate their heritage and to remain physically active during their leisure time. 
TBAC continually works to expand its services by supporting a variety of cultural events year-round. Our performers have showcased their talent in venues such as The Orpheum, The Montalban Theatre, The Downey Theatre, and The New LATC.

Our vision is to reach a greater, more diverse audience. While our focus is Latin American folk dance, we are committed to celebrating Los Angeles' rich diversity by engaging with like-minded organizations in order to raise cultural awareness and exchange