About this Event
Celebrating the New Moon (officially at 3:38AM on October 28)
TOC welcomes a night of intention setting, sound healing, and community.
Visuals by Jon Timm
Complimentary readings by Roxy Jones Tarot in Kinsman Hall prior to event. 
Sage Elaine Fisher is an American composer, performer and sound artist based in Portland, OR. She is best known for her performance project, Dolphin Midwives, which abstracts harp, voice and percussion using electronics, extended techniques and ritual processes. She explores themes of empathy, sustainability, vulnerability, transformation and technology through social experiment, meditation, psychoacoustics and ritual.
Dolphin Midwives has brought experimental harp to contemporary art centers and venues on the west coast, Pacific Northwest and Canada, including Disjecta, S1, Portland Institute for Contemporary Art, Coaxial, Zebulon LA, Red Gate Arts, and Columbia City Theatre, and shared her work at TBA Fest, Debacle Fest, PDX POP NOW, Olympia Experimental Music Festival, Treefort Music Festival, Subharmonic, The Wayward Music Series, Quiet City and the Improv Summit of Portland. In 2016, she released Orchid Milk, her first recording under the Dolphin Midwives moniker. Her installation, Naturaphones, was shown in 2017 at The Bison Building, as a culmination of a six month residency for PNCA+OCAC, and featured four large-scale acoustic sculptures, ambient performance, and several sculptural prototypes. She founded and directed Dröna Choir to perform her new choral work, invisibility ritual; performed on the new moon in total darkness, to explore the vast space between silence and sound. In 2018 she composed a new score for Night of the Living Dead, commissioned by the PJCE and supported by a RACC grant. Her sound art performance/installation, Break: preparations for the apocalypse, was shown at Variform Gallery in Dec 2018. Liminal Garden, Dolphin Midwives' debut studio album, was released internationally on Jan 18, 2019 by Beacon Sound/Sounds et al. In June 2019 she placed in Portland's Best New Band list in the Willamette Week.
Gamelan Wahyu is an American band.
Gamelan Wahyu Dari Langit (Gamelan Wahyu for short) is Portland's first and only Balinese Gamelan. The fast-paced, percussive style of Belaganjur (aka marching Gamelan) is rhythmically layered, metallically hypnotic, raucously defining a sonic ritual space. Our name means "Revelation from the Sky", named after a dear visitor that left this plane of existence far too early.
The instruments that comprise Gamelan Wahyu were brought from Bali to Portland in 2015 by the group's founders, Erica Fuenmayor and Vera Brink. Since then, the main focus has been on building a strong core group of members with which to develop a basic foundation for technical growth and stylistic evolution. As the group progresses, they participate in the Balinese tradition of creating new music with reverence for it's roots.
During the summer of 2019, many of the members of Gamelan Wahyu traveled together to engage in intensive cultural study with teachers and friends in Pengosekan, a village just south of Ubud. This concert will debut new pieces composed and taught in August 2019. They exemplify the constant overlap and dialogue between contemporary and classic music in modern Bali.
Snakes is a two piece grindcore/powerviolence act SNAKES aims to heal the world's soul through sonic violence. They will be playing their unreleased album "Amphibious//Omnivorous" in it's entirety, as well as debuting their protest anthem "Fuck I.C.E."
Mulva Myasis, also known as Noa Ver or half of the band Sea Moss, designs and builds analog feedback oscillators. The synthesizers are housed in found containers and produce a variety of sounds reminiscent of everything from chirping crickets to revving engines to ethereal drones. Mulva acts as conductor and orchestrator, encouraging her oscillators to converse with each other and sing together.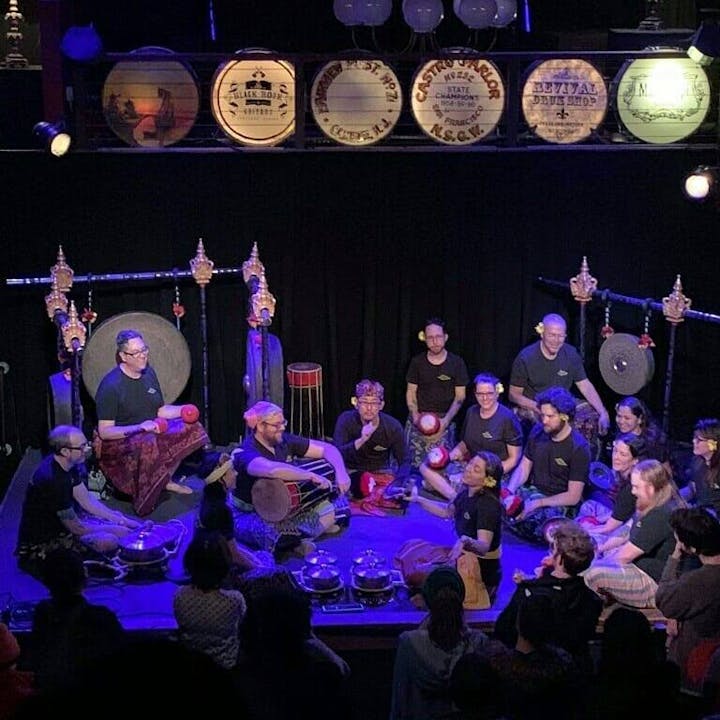 Performers
Date and Time
Location
Refund Policy