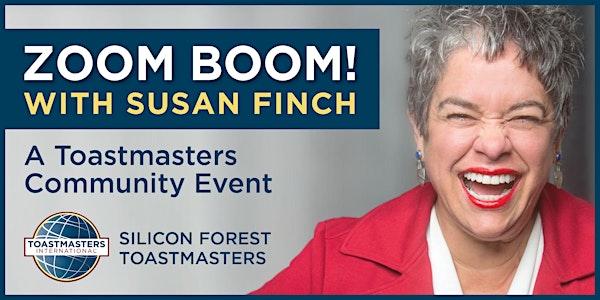 Toastmasters Zoom Boom!
You Zoom - but do you communicate effectively? Find out how Toastmasters can help you present better online.
About this event

Do you stand out on Zoom ... or wash out? Do you get the video job interview but not the call back?
Standing out on Zoom is a challenge. Take the first step to presenting better online by visiting this free Community Event focused on improving your Zoom communication skills.
Silicon Forest Toastmasters welcomes you to our "Toastmasters Zoom Boom" on May 12th at 12pm Pacific Time (-7 GMT/UTC). It will give you immediately usable Zoom presentation tips as well as information on how Toastmasters can help you become a more confident and dynamic online communicator.
Susan Finch is a marketing strategist and president of Funnel Media Group. You can learn more about Susan here - https://susanfinch.com/about-susan
Guests are encouraged to attend for free with no commitment. When you register, you'll be provided an "Access the event" page that will provide connection details no later than 2 hours before the event.
Silicon Forest Toastmasters has been helping people upgrade their presentation skills for over 25 years and is recognized as a Distinguished Club by Toastmasters International.
Come see how Silicon Forest Toastmasters can help you become a more confident presenter on Zoom!