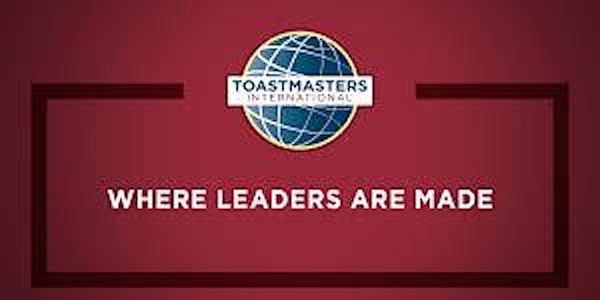 Toastmasters - Wilderness Toastmasters Virtual Club
Wilderness Toastmasters is meeting virtually until further notice. Our physical Club is located in Locust Grove Virginia
About this event
** Update **  All meetings will be held on Zoom until further notice.  Please email WildernessToastmasters@gmail.com or ToastofFredericksburg @gmail.com for the invitation.Public Speaking is the number one fear for everyone, until they overcome the fear of public speaking.  Sweaty palms, loss of voice, hives, stress, stuttering are symptoms and Toastmasters has created a simple program to help you overcome the barriers that are automatically placed around your body when you hear these two words in a sentence.
From the bathroom to the boardroom to the convention center, you can learn the tips and tricks for taking over and gaining confidence to speak to one person or 10,000. 
Join us for a meeting or three and visit several Toastmasters Club in an area convenient to you to discover how you can make friends with common interests no matter what city you are visiting.
Wilderness Toastmasters meets on the first and third Tuesday of the month at Lake of the Woods Community Center in Classroom 2. 
For more information email WildernessToastmasters@gmail.com.
Our sister club, the Toast of Fredericksburg meets virtually on the second and fourth Monday of the month and the physical Club is located at Salem Fields Community Church in Room 306 at 7pm. For more information email mlb5775@live.com or toastoffredericksburg@gmail.com.
Toastmasters International is a non-profit educational organization that teaches public speaking and leadership skills through a worldwide network of clubs. Headquartered in Englewood, Colo., the organization's membership exceeds 357,000 in more than 16,600 clubs in 143 countries. Since 1924, Toastmasters International has helped people from diverse backgrounds become more confident speakers, communicators, and leaders.
Here are the facts!!  There are: 357,000 members in 143 countries and 16,600+ clubs
These numbers are growing every week and with this much success internationally for a non profit organization, obviously they know what works.
Discover the secrets to public speaking at the Wilderness Toastmasters. We are ready to meet you.