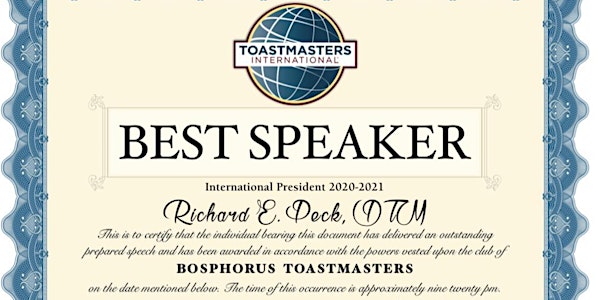 Toastmasters Public Speaking & Leadership
Welcome to Bosphorus Toastmasters where members invest themselves leadership and public speaking in a supportive and dynamic environment.
About this event
Welcome to Bosphorus Toastmasters Club, where you can improve your public speaking, communication skills and receive constructive feedbacks.
https://www.bosphorustoastmasters.org/meeting-registration
Further dates in 2021:
March 10 TMOE Al Frank Talamantez, "There's no fear in love, because perfect love casts out our fear."
March 24 TMOE Sercan Akdemir, Workshop Lukas Liebich
April 14 TMOE Dilek Bayhan, Workshop Haritosh Srivastav
April 28 TMOE Burcu Cansever Uygur
May 7 TMOE Serkan Gümüşpala
May 26 TMOE Ayşenur Özdemir
June 9 TMOE Yıldıray Karaarslan
June 23 TMOE Furkan Çomoğlu
July 28 TMOE Tuana Arıkboğa
Aug 11 and 25; Sep 8 and 22; Oct 13 and 27; Nov 10 and 24; Dec 8 and 22.
If you want to attend Bosphorus Toastmasters meetings either second or fourth Wednesdays of each month, you can also follow our sister Clubs in Turkey. Invite your friends or colleagues. We love distinguished guests. We are here to listen YOU and your experience. We are learning by doing.
There are more than 16,000 Clubs all over the world for public speaking. Enjoy helpful resources that will aid you in improving your communication and help you build leadership skills.
What's in it for you?
Toastmasters will give you the skills and confidence you need to effectively express yourself in any situation. Whether you are a tenured manager, student, young professional, someone looking to advance their career, or someone hoping to make an impact in your community, Toastmasters is the most efficient, supportive, enjoyable, and affordable way of gaining great communication skills. By learning to effectively formulate and express your ideas, you open an entirely new world of possibilities. You'll improve your interpersonal communication and be more persuasive and confident when giving speeches.
Bosphorus Toastmasters
Bosphorustoastmasters@gmail.com
Vice President Public Relations, Celal Bal:+ 90 530 343 94 26
https://www.instagram.com/bosphorustoastmasters
https://www.bosphorustoastmasters.org/meeting-registration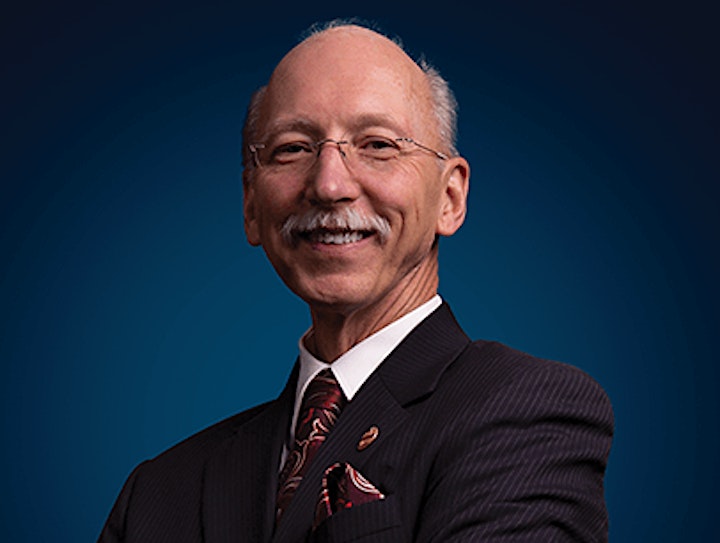 The 2020-2021 Toastmasters International President, Richard E. Peck, DTM was honoured a special guest speaker at our meeting on January 27, 2021 (7:10PM-9:30PM GMT+3:00 hours, istanbul time). We met virtually where the Asian and European Continents connect in Istanbul.
January 27, 2021 (117th meeting), featuring Toastmasters International, President Richard E. Peck visiting Turkey during his virtual World Tour (IPWT)
Title of the Speech : 'We Will Get Through This'
Turkey
Path: Presentation Mastery
Level 3, Elective: Inspire Your Audience
Intro: The global pandemic has placed a lot of strain, both emotional and physical, on all of us. However, during his "virtual" travels throughout the Toastmasters world he has seen many things that give him hope and inspire him. In his speech "We Will Get Through This" he will share what he has discovered in hopes that we will also be inspired. Please join me in welcoming our speaker, Richard E. Peck, with his speech titled "We Will Get Through This." This is a 5-7 minute speech.
Biography of International President Richard E.Peck is: For over 30 years, Richard E. Peck was a senior member of the network support division at AT&T. The Seymour, Connecticut resident led cross-functional teams to successfully deliver million-dollar high-tech projects.
Outside of Toastmasters, Richard has served as a club president and lieutenant governor for Kiwanis International, is a member of Lions Club, and has also worked in various capacities with the Catholic War Veterans. He is also a commissioner on a local government board. Richard is also a professionally licensed race car driver and in his limited spare time can be found at the racetrack as either a driver or spectator.
A Toastmaster since 2006, Richard is a member of Nutmeg Toastmasters Club in Woodbridge, Connecticut and is also currently a member of Park City Toastmasters Club in Stratford, Connecticut.
Welcoming the International President - Distinguished Toastmaster Richard E. Peck!
Toastmasters Turkey:
English Clubs (5): Istanbul, Bosphorus, Ankara, Ankara Business, Istanbul Assia
Turkish Clubs (4): Anadolu, Istanbul Türkçe, Izmir Türkçe, Ankara Türkçe
Corporate Club (1): My Shell Turkey Toastmasters Club
Bilingual Club (Tr-En) (1): Ankara Kollejliler
PR Lines Arabic Toastmasters Club (1)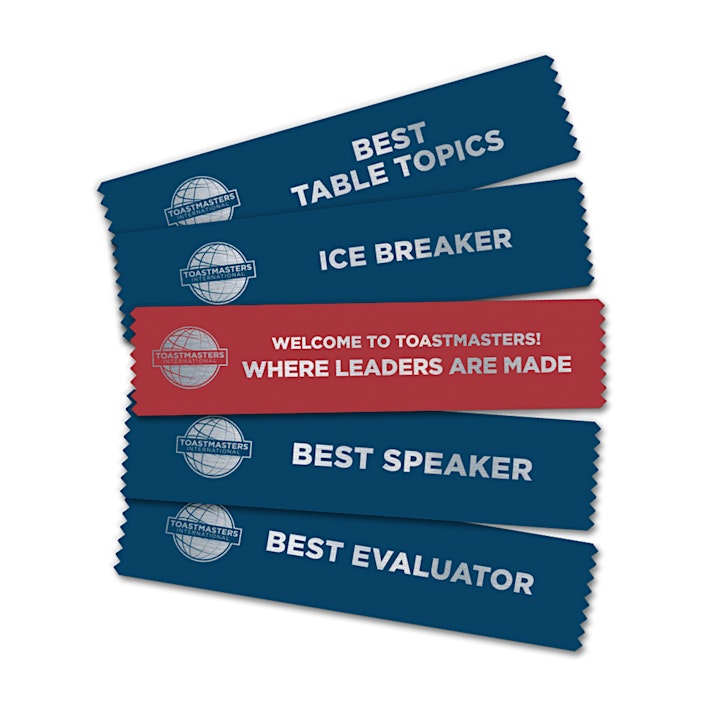 QUOTES from the 2020-2021 Toastmasters International President, Richard E. Peck, DTM:
• If you don't invest in yourself who will?
• The best you have ever done does not have to be the best you will ever do!
• Nothing was ever accomplished by saying 'maybe'!
• Will you make an impact on the world today? Will you be the one that changes someone's life…changes their World forever?
• Attitude is altitude…you can't soar to great heights if your attitude is constantly bringing you down!
• Opportunities does not knock or ring the doorbell, it plays 'hide and seek'…it is up to you to find your opportunities.
• Create memories that will last forever…you never know when they will be all you have left.
• Words are amazing…They have the abbility to heal like a gentle touch or cut as deep as the sharpest knife! Choose them very carefully.
• Use your YOUniqueness to make a positive impact on those around you.
• Let's start with the purpose of our communication-what do we want to achieve?
• You write the story of your life one day at a time. Keep your pencil sharp, writing with purpose. Make it a great novel for all to read.
• Did you know persuasive speaking is one of the most challenging rhetorical exercises?
The 2020-2021 Toastmasters International President, Richard E. Peck, DTM QUOTES from TOASTMASTERS MAGAZINE:
*Our meetings are designed to have a purpose, they also need to have a level of fun and excitement.
*Are you there? There has never been a time when we have been required to stay so far apart yet needed to be so close together.
*How is the audience reading your body language? Consider how gestures are interpreted in other cultures. Is a peace sign conveyed differently? Are your words and phrases being interpreted the same way from country to country?
*You will gain tremendous insights speaking globally, and the exposure to other cultures will be eye-opening.
*Together, we can make a positive, lasting impact on the world.
*Undeterred, Unwavering, Unstoppable ... We are Toastmasters!
Your dedication, diligence, and ability to combat the hardship of this global pandemic prove that Toastmasters are unstoppable.
*"In the years to come we will look back on decisions made in difficult times and know that we rose to the challenge, that we put our members first, and that we faced the unknown and stood strong."
*"Leadership is not about being the center of attention, it's about being the epicenter of action."