Description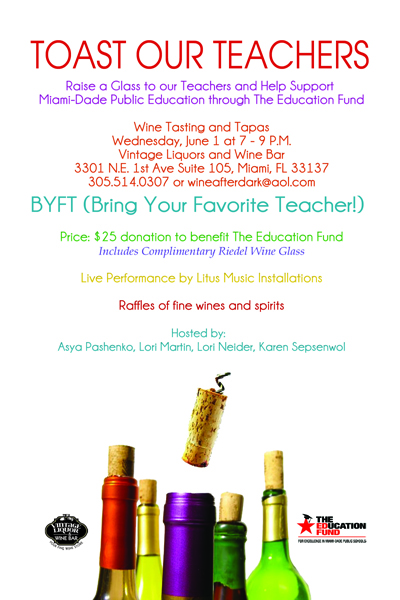 Raise a glass and Toast our Teachers!
Support Miami-Dade public education through The Education Fund!
What: Wine tasting and tapas
When: Wednesday, June 1st from 7:00 - 9:00 PM
Where: Vintage Liquors & Wine Bar
3301 N.E. 1st Avenue
Miami, FL 33137
305.514.0307, wineafterdark@aol.com
Hosted by: Asya Pashenko, Lori Martin, Lori Nieder, Karen Sepsenwol

Tickets: $25 donation

Includes a complimentary Riedel wine glass
Live performance by Litus Music Installations

Raffles of fine wines and spirits
And more....
Say "Thank You" and BYFT
(Bring Your Favorite Teacher)