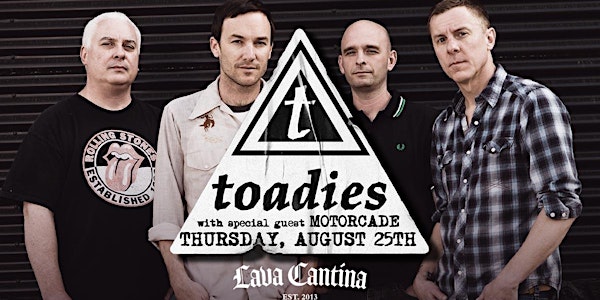 Toadies with Motorcade - Live at Lava Cantina
Presented by Lava Cantina
Location
Lava Cantina, The Colony
5805 Grandscape Blvd
The Colony, TX 75056
Get ready to ROCK!! Toadies come to Lava Cantina The Colony on Thursday, August 25th starting at 7:00 pm!
About this event
We're bringing Rock n' Roll to the main stage at Lava Cantina!! Toadies take over on Thursday, August 25th starting at 7:00 PM! Get ready to "Play.Rock.Music." and have fun with your Lava Family all night long!
**About Toadies**
It's been 26 years since the Toadies started playing rock music in Fort Worth, Texas. Toadies burst through the national scene with their breakthrough album Rubberneck, which included their signature single "Possum Kingdom", along with other favorites.
A one-off show in Dallas in 2006 became a full-fledged reunion with the addition of former Hagfish bassist, Doni Blair. Ever since, the Toadies have steadily built momentum. Through lineup changes, shelved albums, member departures, band break-ups, one-off reunions and full-on reformations, the Toadies are an act that has experienced nearly everything.
Despite all of this, Toadies KEEP ON ROCKING and are taking it to the main stage right here at Lava Cantina The Colony!!!
**About Motorcade**
Motorcade are a band from Dallas, Texas. Members include James Henderson, Andrew Huffstetler, John Dufilho and Jeff Ryan. All four members have recorded and/or toured with (St. Vincent, The Apples in Stereo, The War on Drugs, The Deathray Davies, Baboon and Daniel Johnston) and have joined together to make their debut album, proving that the whole is definitely greater than the sum of their parts.
General Admission for this show is charged. Reserved seating on our VIP Patio and Balcony is available for purchase; Limited availability. All reserved seating is priced PER SEAT along the railing and tables.