To Wake You + David Leon Zink @ Norton Buffalo Hall

Saturday, January 27, 2018 from 7:00 PM to 10:00 PM (PST)
Event Details
Norton Buffalo Hall
- Presents - 
To Wake You
Songs in the key of wonder, mystery, and the subconscious
from the San Luis Obispo duo of Mark Davis & Karoline Hausted 
and
David Leon Zink
Big-souled folk for the heart, head and heels
--
Saturday, January 27, 2018 at 7PM
Doors open at 6:30PM.  Seating is limited.
Tickets are $15, available online or at the door.
Refreshments will be served / Drinks for Purchase
---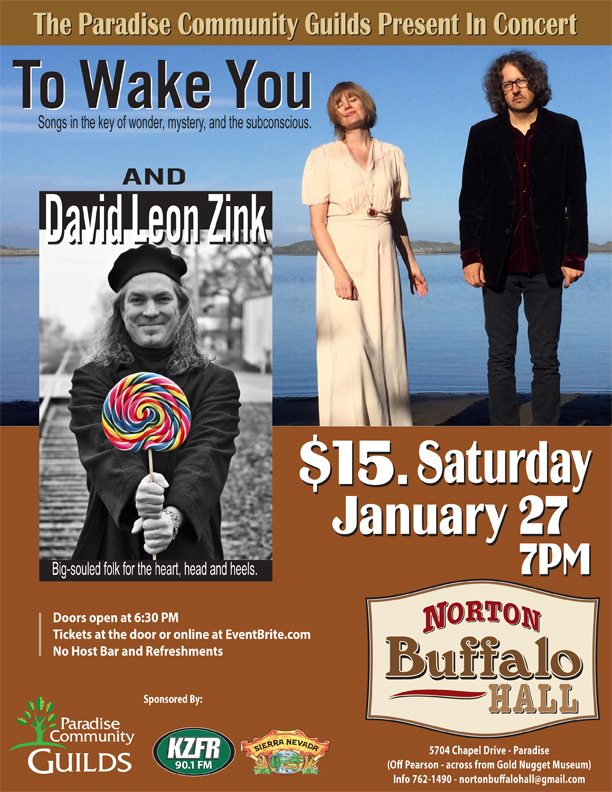 To Wake You 
 To Wake You is the richly creative duo of critically-acclaimed songwriters Mark Davis (U.S.) and Karoline Hausted (Denmark), playing a music that combines lilting Scandinavian folk influences with rumbling American folk-rock sensibilities.  Their songs are a brand of "good medicine" that bring us to the land of wonder, of mystery, of the subconscious (think The Swell Season with a dash of Radiohead), that reveal beauty where we hadn't seen it before, immersing us in a realm of musical harmony that comforts and encourages.
Praise for Mark Davis: 
"Davis is truly a master of his craft… able to lift spirits even while supporting the weight of the world." -Orange County Register

"Getting at large truths with songs full of human-scale detail and unsentamentalized beauty." -Los Angeles Times
Praise for Karoline Hausted: 
"Here is something as rare as an original artistic temperament at play. Hushed, special and urgent, she is addictive as a drug and completely impossible to get out of the system." -Klaus Lynggard, Information

 "… magnificent musical landscapes that are bright, futuristic, sophisticated and enchanting." -Sabine De Greef, With Music In My Mind

 "Harmonic fullness and startling beauty…" -Jean Pierre Moya , Rockomondo

 "A voice that can melt the darkest of hearts…" -Music From Another Surface 
Don't miss this chance to catch this extraordinary duo in concert at Norton Buffalo Hall! 
---
David Leon Zink
"[Zink] engages audiences with the untethered power of his voice, agile spirit and total artistic commitment. And when he's really riding the inspiration wave, there's a burning soulfulness about his music that's utterly compelling." —Pasadena Weekly

"…a songwriter with a keen sense for making songs work. Every tune sounds totally unique from the one before it. Creativity abounds... slightly off-kilter, original, eccentric and wildly appealing. It's about time someone made music that was more experimental by nature. Zink has done just that." —Independent Songwriter Web Magazine

"With music like this, the nation is in good hands." —WESS-FM "Roots and Wings"
---
With an eclectic blend of genres – acoustic folk, rock, blues, gospel, country, jazz and world beat influences – David Leon Zink has developed a style that is at once distinctive and familiar, intelligent, earnest and playful.  Known for his expressive voice, guitar artistry and adventurous songcraft, fans have described him as "spellbinding... a consummate songwriter... a powerful presence...intellectually stimulating with a large dose of fun!"
David got his professional start as director of The New Christy Minstrels in 1986, playing to audiences all across the United States and British Columbia.  Since then he's toured as a solo artist in the U.S., Scandinavia, Netherlands, Belgium and France, logging thousands of performances at venues, festivals, home concerts and music industry conferences. He has twice been a featured artist at the Copenhagen Songwriters Festival (DK).  He has recorded several critically acclaimed solo albums.  David was the third member of the vocal trio Big Wide Room (with Mark Davis, Brett Perkins), which produced two critically acclaimed albums and toured in Scandinavia, Germany, Ireland and the U.S.  As an actor, David held central roles in many productions of Open Gate Theatre (Los Angeles), and has logged more than a few moments on the silver screen in indie features.  
David and his soul mate make their home in Magalia, where he works and writes songs.  He is a member of Paradise Community Guilds, and helps to present both local and touring artists at Norton Buffalo Hall.
---
Coming up:
• Friday, Jan. 26 7:30 PM | Chuck Brodsky at Chico Community Guilds, 2775 Old Nord Rd., Chico, CA.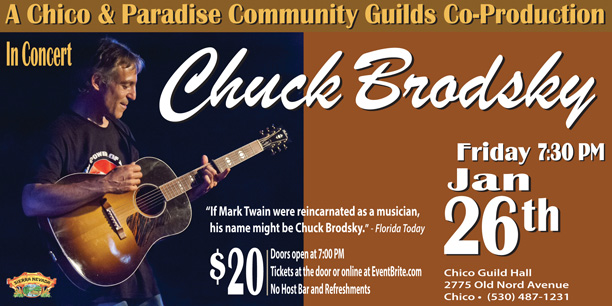 Also:
• Saturday, Mar. 10 7 PM | Eric Anderson
• Sunday, Apr. 15 7 PM | Ian Ethan Case
• Saturday, Apr. 28 7PM | Berkley Hart
For more info call 762-1490.
When & Where

Norton Buffalo Hall
5704 Chapel Drive
Paradise, CA 95969


Saturday, January 27, 2018 from 7:00 PM to 10:00 PM (PST)
Add to my calendar
Organizer
Located at the Chico Guild Hall, 2775 Nord Ave in Chico.
Norton Buffalo Hall was the home of Paradise Community Guilds, an historic, non-profit, community-based service organization promoting the values of sustainability and stewardship.
Chico Community Guilds has graciously allowed us to honor our music events at Chico Guild Hall under the name "Norton Buffalo Hall WEST" while we pull together the resources to rebuild in Paradise.
Membership is open to all, and the public is generally welcome to attend all Guilds events.
Photos and other media support can be found at https://www.facebook.com/pcgevents/.