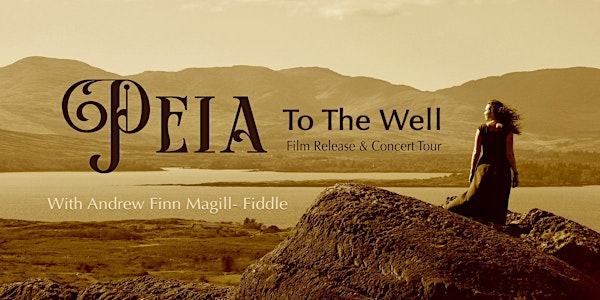 "To The Well" Concert & Film Release with Peia @ BALLARD HOMESTEAD
Abbey Arts presents: "To The Well" Concert & Film Release with Peia, accompanied by Fiddler Andrew Finn Magill live at Ballard Homestead
When and where
Location
Ballard Homestead 6541 Jones Avenue Northwest Seattle, WA 98117
Refund Policy
Refunds up to 7 days before event
About this event
"To the Well" Concert & Film Release with Peia: 
"I could sing in over 20 languages yet I knew not a single song from my family nor one word from their ancestral language. I lacked true north and something in me remained searching and rootless."
With equal parts thirst, gratitude, and the kind of urgent, grief-soaked willingness to peer into a deep well after long pilgrimage, Peia stood on the west coast of County Kerry, Ireland and held the songs of her ancestors in her mouth like so much bread after generations of famine. The result of years of study, this is the tale of finding the source of an erased origin: a holy well of songs still as alive and vibrant as the good green hills, as sturdy as the standing stones.
It is said culture can be forgotten in but two generations. Every modern person in the so-called west suffers from the legacies of colonization: a sense of separation from place-based lifeways that erupt from the land itself, manifesting in the forms of dance, foods, rituals, ceremonies, folk arts – and song.
Amnesia is a hallmark of our species, but so is remembering.
And to remember, we must listen deeply.
For Peia's To The Well Film Release and Concert Tour, we invite you to come and to drink deeply from an ancient shared source. While we are all descendants of lands that gave shape and sound to our cultures, we also need courage to confront what is reflected in the water. To go to the well is to take the long road back to ourselves. It is not an endeavor to do alone: this kind of healing happens in community. For this journey, we will accompany you with some new and favorite songs, yes, but also a viewing of the short film followed by some Q&A from the audience.
-Artist Bio
"For twenty years fiddler and composer Andrew Finn Magill (Finn) has been pursuing parallel careers in traditional Irish music, Brazilian choro, jazz and American fiddle, the result of many years living abroad and a childhood growing up at The Swannanoa Gathering in Asheville, North Carolina where he studied every summer with dozens of Irish, old-time, bluegrass and swing fiddle masters. His six albums constitute thousands of hours dedicated to each genre and the basis of Finn's original music which is founded on the principle of collaboration. Over the last ten years he has performed with John Doyle, Rising Appalachia, Charm City Junction, Open the Door for Three, Greg Ruby, The Paul McKenna Band, and Peter Mawanga in venues that include Milwaukee Irish Fest, Celtic Connections, Olympia Hall in Paris, France, DisneyWorld, and Malawi's Lake of Stars Festival."
-Artist Bio
@ Ballard Homestead
7p doors, 7:30p show
Film screening: 20 minutes
Q + A: 15 minutes w/ Peia
Intermission
Concert: 60-75 minutes
All ages, mostly seated
--------------------------------------------------
EVENT & VENUE INFO:
Check tickets for show times
Ballard Homestead is ADA accessible
Service animals as defined by the ADA are allowed. Service animals are defined as dogs that are individually trained to do work or perform tasks for people with disabilities.
Please refrain from talking during songs.
Please enter quietly if the show has already begun.
Please leave quietly, it's a very quiet neighborhood. I sense a trend here.
Quiet Picnics Welcome. Big surprise there right?
Light snacks & non-alcoholic beverages may be available for purchase, but no other food or bar service at Ballard Homestead shows.
We have a mix of normal chairs, some tall chairs, and standing room in back.
Seating is not reserved unless noted.
Please limit photos during the show so as to not distract other attendees from the experience.
We are an all ages venue. Kids 10 & under are free at Abbey Arts concerts & arts events unless noted.
Entering the venue indicates agreement to adhere to the Abbey Respect Policy. All are welcome.
--------------------------------------------------
ABOUT ABBEY ARTS, SEATTLE:
NONPROFIT 501C3, NON-RELIGIOUS, EST. 2005
Presenting welcoming music, arts & cultural experiences for people of all ages & incomes.
Home Venue: Fremont Abbey, 4272 Fremont Ave North, Seattle, WA 98103 / 206-414-8325 Ballard Homestead: 6541 Jones Ave NW, Seattle | + South Park Hall, Woodlawn Hall Greenlake, UHeights Auditorium (UDistrict), St Mark's Cathedral (Capitol Hill), & more
--------------------------------------------------
See Updated Public Health Safety Info at the bottom of this page under Abbey Arts Presents. All Abbey Arts venues adhere to WA State & King County health guidelines. Thanks for helping keep our community safe!
--------------------------------------------------