To The Bridge Presents: Sims & Astronautalis
Description
*** Tickets still available at the door day-of show for $15***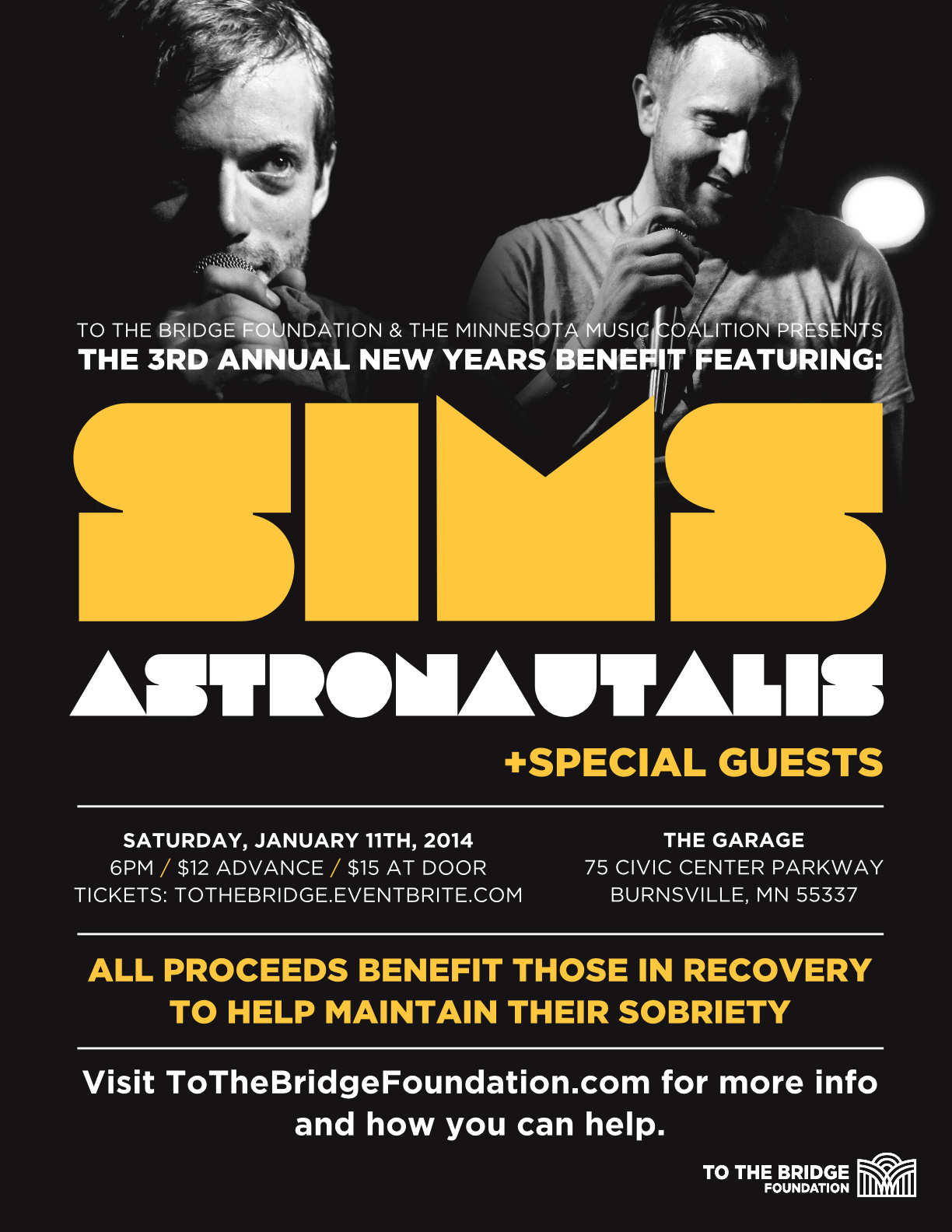 This is the Third Annual New Year's Benefit for the To The Bridge Foundation.
Each year we organize and host a concert to raise money for the foundation. To the Bridge Foundation is committed to helping those that need a helping hand move to the next step in their sober life including education, occupation and even living environment.
TTB was founded by the Dolski family, who lost a son and brother in 2011 to a battle with addiction. Tony Dolski was a contributor to the local music scene and these events provide friends and family an opportunity to honor his name in a way that seems fit, as well as give others a chance to learn more about what TTB does and how their contributions can help our cause.

This year we have partnered up with the Minnesota Music Coalition who have been a huge help in promoting this event and getting us in touch with the right people, as well as Doomtree, who have a roster of artists that Tony amired and was inspired by. This is an amazing opportunity for us and we couldn't be more excited to get everyone together.
There's a lot of ways you can help.
All of the proceeds from the event go directly to TTB and are used to directly help those who are transitioning into sobriety. In addition to the money raised at the door, there are other opportunities to give.

We have been collecting a ton of great prizes and items that have been donated from businesses who are kind enough to want to be a part of this movement. All the prizes will be offered in a raffle that will take place during the event. Check back to see updates on what we have to be given away.


Open donations are also always accepted and appreciated. There will be opportunities to contribute this way as well.


Let's make this huge. It's what Tony would want.
The past few years have been great, and this event has grown into something that is a part of the community. It's a night of celebration, a night of honor, and a night to just enjoy ourselves.
Pass this event along to friends, family, co-workers. Let's pack the place and have a good time.


For more information on TTB, what other events we'll be planning and how you can contribute, visit us at ToTheBridgeFoundation.com