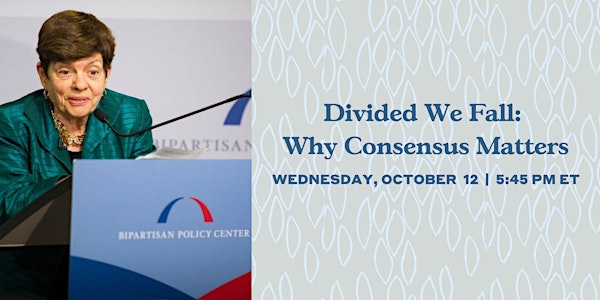 To Save Democracy, Make It Worth Saving: Get More Done
Alice Rivlin's final book, Divided We Fall: Why Consensus Matters, will be discussed by co-authors Sheri Rivlin and Allan Rivlin.
About this event
Former Vice Chair of the Federal Reserve Alice Rivlin's posthumous book, Divided We Fall contains an urgent message to the American public: Get involved in making democracy work better or risk losing it.
Alarmed at the state of American politics and policy, Ms. Rivlin combined scholarship with personal experience to call on political leaders of both parties to break stalemates and make the compromises necessary to reach bipartisan agreements. Following her passing in 2019, Ms. Rivlin's son and daughter-in-law, Allan and Sheri Rivlin, completed her manuscript.
Join BPC for a discussion on the state of politics and public policy, as well as the legacy of the late Alice Rivlin.
Featured Participants
Allan Rivlin | Co-Author, Divided We Fall; Son of Alice Rivlin
Sheri Rivlin | Co-Author, Divided We Fall; Daughter-in-Law of Alice Rivlin
Panelists:
Bob Reischauer, Ph.D. | Former Director, Congressional Budget Office; Former President, Urban Institute; Senior Fellow of Economic Studies, Brookings Institution
Bill Kristol | Editor-at-Large, The Bulwark; Former Founder and Editor-at-Large, The Weekly Standard
Isabel Sawhill, Ph.D. | Senior Fellow, Former Vice President and Director of Economic Studies, Brookings Institution; Associate Director, Office of Management and Budget
Carolyn J. Lukensmeyer, Ph.D. | Former Executive Director, National Institute of Civil Discourse
Anthony Williams | Former Mayor of Washington, DC; Board Member, BPC
Moderator:
Ruth Marcus | Associate Editor & Columnist, Washington Post