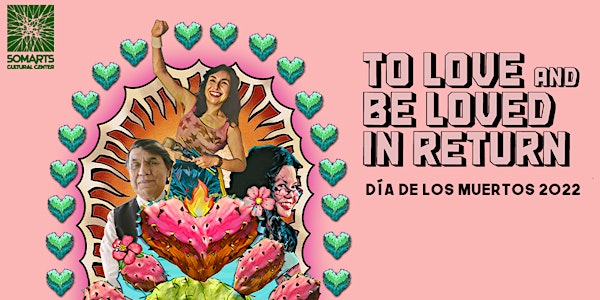 To Love and Be Loved in Return: Día de Los Muertos 2022 Opening Reception
RSVPs are at capacity, please visit the exhibition during gallery hours: https://somarts.org/visit-us/
When and where
Location
SOMArts 934 Brannan St San Francisco, CA 94103
Refund Policy
Contact the organizer to request a refund.
About this event
Join us for the all-ages exhibition unveiling and opening reception on Friday, October 7, 6–9 PM PST!
Curated by Rio Yañez and Anaís Azul, To Love and Be Loved in Return: Día de Los Muertos 2022 exemplifies how the love between us and our dead continue to help us to navigate the world. This year, artists to reflect on how those we have lost have taught us to love and be loved in return. As we navigate a world troubled with war and injustice, we are more connected to each other than we ever thought possible. Love is the orchestrator connecting us to our departed and the action grounding our communities in healing.
Dedication
This year's exhibition is dedicated to Japanese American poet and educator Janice Mirikitani who advocated for the City's historically marginalized communities. She was the San Francisco poet laureate from 2000–2002 and she has spent nearly 60 years with Glide Foundation, a "radically inclusive, just and loving community mobilized to alleviate suffering and break the cycles of poverty and marginalization".
Health & Safety
This event requires all guests to present proof of full COVID–19 vaccination. Masks are recommended when guests are not drinking.
Those who are unable to receive the COVID–19 vaccination must bring a negative PCR test taken 48 hours prior to the day of event. If you currently have COVID–19/Monkeypox symptoms, tested positive, or have been around anyone who tested positive for COVID-19/Monkeypox, we ask that you do not attend this event.
While at SOMArts, guests must follow health & safety signage and safety instructions per SOMArts' staff persons. Please note that additional safety precautions may change based on City and State guidelines.
Learn more about our Health & Safety guidelines by visiting: somarts.org/healthsafety
Exhibiting Artists
Adrian Arias
Alica Cruz
Beth Benson
Crazy IN Style Artists
David Taffola
Gemma Castro
IIona Sturm
Lauren McAvoy
Lena Coletto
Lia Tealdi
Lorraine Bonner
Los Pobres Artistas
Malavika Rao
Mary Jhun
Michelle Bonilla Garcia
Susana Aragón
Victor-Mario Zaballa
Curated by
Rio Yañez
Anaís Azul
Architect
Nick Gomez
Accessibility Needs
Reach out to gallery@somarts.org to inquire about specific accessibility needs