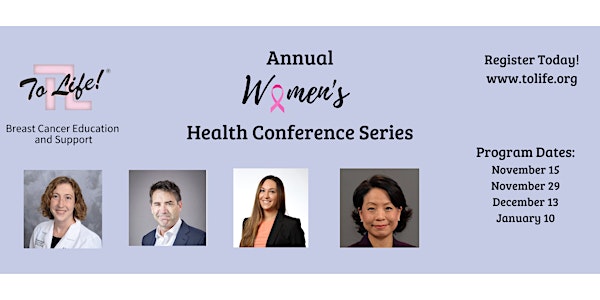 To Life! Twelfth Annual Women's Health Conference
To Life! presents 4 programs dedicated to education on topics related to breast cancer. All portions of the conference are free of charge!
About this event
To Life! presents the twelfth Annual Women's Health Conference, comprised of four programs. All portions of the conference are free of charge, but advance registration is required for each of the four programs.
A series of four presentations, offering the latest on treatment and trends in breast cancer.
Presenters and content are presented so as to be informative to an audience including: cancer survivors and thrivers, healthcare professionals, caregivers and friends interested in hearing from expert professionals in the area of women's health.
Please note the dates for each and plan to sign on at least 5 minutes in advance to get connected and be ready to begin at the specified start time. All programs start at 9:00 AM.
Tuesday, November 15
De-Escalating the Surgical Process
Dr. Sarah Pesek, Breast Surgeon at St. Peter's Health Partners
Dr. Pesek has been a breast surgeon with St. Peter's Health Partners since 2015. She previously served as a surgeon with Memorial Hospital of Rhode Island in Pawtucket. Her professional interests include psychosocial and survivorship issues in breast cancer. Dr. Pesek received her medical degree from the Penn State College of Medicine in Hershey, Pennsylvania. She completed a residency in general surgery at the University of Vermont Medical Center in Burlington, Vermont. Her fellowship training in breast surgery was completed at Care New England's Women & Infants Hospital in Providence, Rhode Island.
Tuesday, November 29
The Latest Research on Breast Cancer
Douglas Conklin, Ph.D. , Associate Professor at the School of Public Health, Cancer Research Center
Dr. Conklin is an Associate Professor in Biomedical Sciences, at the University at Albany's Cancer Research Center where he and his group use high-throughput gene function studies to identify new genes important to human cancer cells. Dr. Conklin is a developer of an RNA-based technology that has revolutionized genetic studies in mouse and human cells. His lab uses this to identify and study druggable targets for breast and other cancers. Dr. Conklin and his research group have also shown that inhibiting the lipogenic pathway kills HER2/neu-positive breast cancer cells and prevents tumor initiation in vivo. They have also identified a novel isoform of the B-cell kinase, BTK, as an attractive solid tumor drug target. Dr. Conklin received his Ph.D. from the University of Wisconsin-Madison and completed his Postdoctoral at Cold Springs Harbor Laboratory. His areas of expertise include cancer genomics, functional genomics, genetics; and breast cancer. He teaches in both the School of Public Health and the College of Arts and Sciences at the University at Albany.
Tuesday, December 13
Cardio-Oncology and Patient Care
Dr. Heather Stahura, Cardiologist at Capital Cardiology Associates
 Dr. Heather Stahura was born and raised in Amsterdam, New York. She graduated summa cum laude from the University at Albany with a major in biology and a dual minor in chemistry and physics. She attended Stony Brook School of medicine. While at Stony Brook Medical School she was a recipient of the gold humanism Honor Society. She completed her internal medicine residency at Northwell Health formally known as North Shore -Long Island Jewish hospital system. After her postgraduate training downstate, she returned home to the capital District to train further in cardiovascular disease at Albany Medical Center. During her fellowship in cardiovascular disease, Dr. Stahura was the recipient of the Biddle award which is given annually to a fellow in cardiology who represents a caring, humanistic, sensitive approach to patient care and patient advocacy in 2018. She remains a member of the American Medical Association and a fellow of the American College of Cardiology. She has a passion for preventative Cardiology, women's heart health, valvular heart disease, congestive heart failure, and coronary artery disease, as well as spearheading the development of the Cardio-Oncology division at CCA. Dr. Stahura is Chief of Cardiology at Samaritan Hospital in Troy, New York.
Tuesday, January 10
How to Read Your Breast Pathology Report
Dr. Sandra Shin, Breast Pathology at Albany Medical Center
Dr. Sandra Shin is one of the nation's leading experts in breast pathology. She serves as chair of the Department of Pathology and Laboratory Medicine at Albany Med and has a long record of providing excellent care and diagnostic interpretation to patients. Dr. Shin serves on the expert breast pathology committee for the National Cancer Institute. She has also served as co-principal investigator or co-investigator on several multi-million-dollar grants funded by the National Institutes of Health. Studies conducted in her research program in breast disease have appeared in more than 100 scientific journals, invited reviews, books, and book chapters. She is also the editor of "A Comprehensive Guide to Core Needle Biopsies of the Breast," a 900-page textbook published by Springer. Dr. Shin earned her medical degree from Albany Medical College through its joint degree program with Siena College. She completed her residency and breast fellowship training at New York Presbyterian Hospital and Weill Cornell Medical College, where she went on to serve as vice-chair for Education, chief of Breast Pathology, and director of the pathology residency training program and the breast pathology fellowship program before coming to Albany Med.