Event Information
Location
The Drake Hotel
140 East Walton Place
Chicago, IL 60611
Description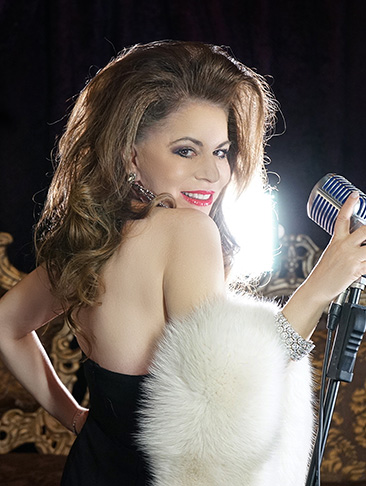 "TO CHICAGO WITH LOVE"
One night only concert at the Historic Drake Hotel Grand Ballroom
Saturday, October 7th 2017
Chicago's Cabaret Queen Denise Tomasello will celebrate 40 years of entertaining Chicago, with a very special concert To Chicago With Love, at the Gold Coast's Drake Hotel Grand Ballroom.
Denise will be joined with the 17-piece Denise Tomasello Orchestra. This 90 minute concert will be a retrospective of Denise's remarkable and enduring 40 year career that made her the toast of Chicago. Featuring an evening of her fan-favorite signature songs, classics from the great American songbook and show-stopping Broadway numbers, as well as a special video and photo presentation of career highlights. This promises to be an unforgettable evening.
"let's make one thing clear about Denise Tomasello: "She was cabaret before cabaret was cool." Chicago Tribune
About : -
Denise's musical journey began at age 19, performing with top show bands in the suburbs, to eventually playing the Playboy Clubs in Lake Geneva and Chicago, where she opened for James Darren (Moondoggie from the Gidget movies). In 1979, she got her big break at Sages, at the time the city's most prestigious cabaret. What started out to be a two week contract turned into an unprecedented six year run – the longest run ever for a female nightclub singer in Chicago history. Denise Tomasello was THE must-see performer in Chicago and became a celebrity among celebrities entertaining VIPs Elizabeth Taylor, Tony Bennett, Mary Tyler Moore, Tom Dreeson, Dennis Farina, Mayor Daley, Irv Kupcinet, Harry Carey, Jack Brickhouse and many others who flocked to see her.
Crowned Chicago's Cabaret Queen" by The Tribune, Sun Times, Daily Herald, Skyline, BroadwayWorld and WGN Radio, Denise is the recipient of Chicago Cabaret Professionals Gold Coast Award and winner of the After Dark Award for "Outstanding Cabaret Performer." She has headlined with show biz icons Don Rickles, Alan King, and Jackie Mason. Mason was so impressed by Tomasello's talent he demanded that Denise have equal billing alongside his name at The Tropicana/Atlantic City. Mason went on to say "She is an amazing singer and a brilliant comedian. She is so natural onstage. She is the female Dean Martin."

She went onto headlining and selling out in the city's most prestigious nightclubs and concert halls: The Chicago Theatre, Park West, the Empire Room, The Pump Room, Arnie's, George's, Byfields, Davenport's and an unprecedented, record-breaking six-year engagement at Sage's.
And now 40 years after embarking on her music career, Chicago's love affair with Denise Tomasello continues, proving she is the one and only Cabaret Queen of Chicago. In the past two years Denise has performed triumphant SRO concerts at The Auditorium, The Metropolis Performing Arts Center, Empire Room, The Drake Hotel's Grand Ballroom, two sold out shows at The Skokie Theatre, and memorable concerts at Festa Italiana.
From belting a Broadway show-stopper, to her spine-tingling delivery of an emotional ballad, or her sultry way with a jazz standard, Denise possesses a rare and unique musical versatility, putting her indelible stamp on every song she sings. And the way she engages the audiences with her spontaneous, sharp, quick-witted repartee, Denise makes every performance a unique and special experience.
Date
Saturday, October 7 , 2017
Time
Check in : 7.30PM
Reception : 8:00PM – 9:00PM
Showtime : 9.00PM
Package
General Admission: $65.00 plus ticket fees
---
Sample Menu to Include:
Gelato Station – Champagne, Chocolate Peanut Butter, Crème Brulee, Grand Manier
Selectin of stationed desserts - Sweet Verrine, Red Velvet Cake, Carrot Cake, Chocolate Crème Brulee, Vanilla Pana Cotta, Seasonal Compote
Sparkling Champagne, White Wines, Soda and Juices (8pm to 9pm)
Cash Bar available
*Tickets are fully pre-paid and non-refundable
---
Date and time
Location
The Drake Hotel
140 East Walton Place
Chicago, IL 60611