Sales Have Ended
Ticket sales have ended
Thank you so much for registering for our Hot Cocoa Family 5K Run/Walk! Hi Everyone, - Is your walking/running outfit or ugly sweater ready? - Do you have a hydration plan? - Will your camera be fully charged? - Will you go to bed at a decent hour? - LOL. These are just reminders for Sunday's cozy run! So far, we're about 35 participants. This means we need everyone to be on time :) Start time is 10AM... Below, we've included some information that should be helpful. TRANSPORTATION If you're taking public transportation, the C train stops at West 86th Street and Central Park West. (The B doesn't run on the weekend.) Just check http://www.mta.info to be sure for the updated status. If you're new to the area, and you want to take a taxi or Uber, tell the driver you want to go to West 85th Street and Central Park West. START/FINISH Enclosed is a map (JPG) of the start location. It is also the finish location. Once we all huddle before the 5K starts, we'll hand out route maps so you know where to go in case you miss our volunteers along the way. From the street, you can enter the park at West 85th Street and Central Park West. You'll stay on the walking path and head directly east (across the park). You'll see swings and picnic tables after you cross the three-lane road called the Inner Drive. On the map below, walking paths are represented by the narrow, white lines. STUFF There will be someone at the start/finish area. You are more than welcome to leave your belongings under one of the picnic tables at your own risk. So, keep your valuables at home and/or use your running packs and armbands to carry must-haves. BATHROOMS The bathrooms within the park are a short walk from the start/finish. There are park bathrooms along the route. The closest facilities to the start are at Delacorte Theater, at about West 81st Street, just south of where we'll be. ROUTE This is the fun part! (See the attached PDF.) Essentially, the start is inside the Pinetum. From there, the route follows the west side of Inner Drive of the park. You will walk/run around its southern-most part and then head back north on its east side. It is one big loop! The only turn is LEFT at the second traffic light, near East 85th Street. And then it is pretty much a straight 2/10 mile to the finish. We'll review this again in the morning, so if you're new to the park, fret not :) TIMING As mentioned, we'll have an official clock for walkers and runners -- it will be on our tablet. So you're responsible for looking at the clock at the finish. It will keep running until the last entrant comes in. There will not be an online list of times afterward. (This is a fun 5K that is really just an excuse to exercise and drink some gourmet hot cocoa...) RECOVERY SNACK Have we mentioned that we'll serve gourmet hot cocoa? Our Hot Cocoa Bar is amaze-balls -- none of that instant stuff! Make sure you have some water with you in case you need it. FROSTY PHOTO OP Make sure your cameras are charged because Frosty the Snowman will greet you at the finish line! We are happy to snap a few pics for you with your camera/phone. Just let one of us know. FAMILY AND FRIENDS** Your family and friends can meet you at the finish location. Not a problem! If they're running late, give them our number. We'll do our best to text back. **Just know that our priority for supplies and hot cocoa are held for all participants with bib numbers. If we haven't answered your question, please give us a call or text. We cannot guarantee that we'll check e-mail after 9:00PM on Saturday. Thank you for registering. We love creating fun experiences for people, so we're really happy you're joining us. If you have questions beforehand, please give us a call or email: (917) 830-6485 or familyfun@tnfnyc.com. We'll do our best to respond within 24-48 hours. On the morning of, call or text only. (You know, because we'll be in the midst of prepping and making that awesome batch of gourmet hot chocolate we're famous for.:) We love what we do, and we look forward to sharing the fun with you! Cheers, lisa and lee Think 'N' Fun NYC www.TNFNYC.com (917) 830-6485
Event Information
Location
Central Park
Exact location is in your confirmation email
New York, NY 10024
Sales Have Ended
Ticket sales have ended
Thank you so much for registering for our Hot Cocoa Family 5K Run/Walk! Hi Everyone, - Is your walking/running outfit or ugly sweater ready? - Do you have a hydration plan? - Will your camera be fully charged? - Will you go to bed at a decent hour? - LOL. These are just reminders for Sunday's cozy run! So far, we're about 35 participants. This means we need everyone to be on time :) Start time is 10AM... Below, we've included some information that should be helpful. TRANSPORTATION If you're taking public transportation, the C train stops at West 86th Street and Central Park West. (The B doesn't run on the weekend.) Just check http://www.mta.info to be sure for the updated status. If you're new to the area, and you want to take a taxi or Uber, tell the driver you want to go to West 85th Street and Central Park West. START/FINISH Enclosed is a map (JPG) of the start location. It is also the finish location. Once we all huddle before the 5K starts, we'll hand out route maps so you know where to go in case you miss our volunteers along the way. From the street, you can enter the park at West 85th Street and Central Park West. You'll stay on the walking path and head directly east (across the park). You'll see swings and picnic tables after you cross the three-lane road called the Inner Drive. On the map below, walking paths are represented by the narrow, white lines. STUFF There will be someone at the start/finish area. You are more than welcome to leave your belongings under one of the picnic tables at your own risk. So, keep your valuables at home and/or use your running packs and armbands to carry must-haves. BATHROOMS The bathrooms within the park are a short walk from the start/finish. There are park bathrooms along the route. The closest facilities to the start are at Delacorte Theater, at about West 81st Street, just south of where we'll be. ROUTE This is the fun part! (See the attached PDF.) Essentially, the start is inside the Pinetum. From there, the route follows the west side of Inner Drive of the park. You will walk/run around its southern-most part and then head back north on its east side. It is one big loop! The only turn is LEFT at the second traffic light, near East 85th Street. And then it is pretty much a straight 2/10 mile to the finish. We'll review this again in the morning, so if you're new to the park, fret not :) TIMING As mentioned, we'll have an official clock for walkers and runners -- it will be on our tablet. So you're responsible for looking at the clock at the finish. It will keep running until the last entrant comes in. There will not be an online list of times afterward. (This is a fun 5K that is really just an excuse to exercise and drink some gourmet hot cocoa...) RECOVERY SNACK Have we mentioned that we'll serve gourmet hot cocoa? Our Hot Cocoa Bar is amaze-balls -- none of that instant stuff! Make sure you have some water with you in case you need it. FROSTY PHOTO OP Make sure your cameras are charged because Frosty the Snowman will greet you at the finish line! We are happy to snap a few pics for you with your camera/phone. Just let one of us know. FAMILY AND FRIENDS** Your family and friends can meet you at the finish location. Not a problem! If they're running late, give them our number. We'll do our best to text back. **Just know that our priority for supplies and hot cocoa are held for all participants with bib numbers. If we haven't answered your question, please give us a call or text. We cannot guarantee that we'll check e-mail after 9:00PM on Saturday. Thank you for registering. We love creating fun experiences for people, so we're really happy you're joining us. If you have questions beforehand, please give us a call or email: (917) 830-6485 or familyfun@tnfnyc.com. We'll do our best to respond within 24-48 hours. On the morning of, call or text only. (You know, because we'll be in the midst of prepping and making that awesome batch of gourmet hot chocolate we're famous for.:) We love what we do, and we look forward to sharing the fun with you! Cheers, lisa and lee Think 'N' Fun NYC www.TNFNYC.com (917) 830-6485
Description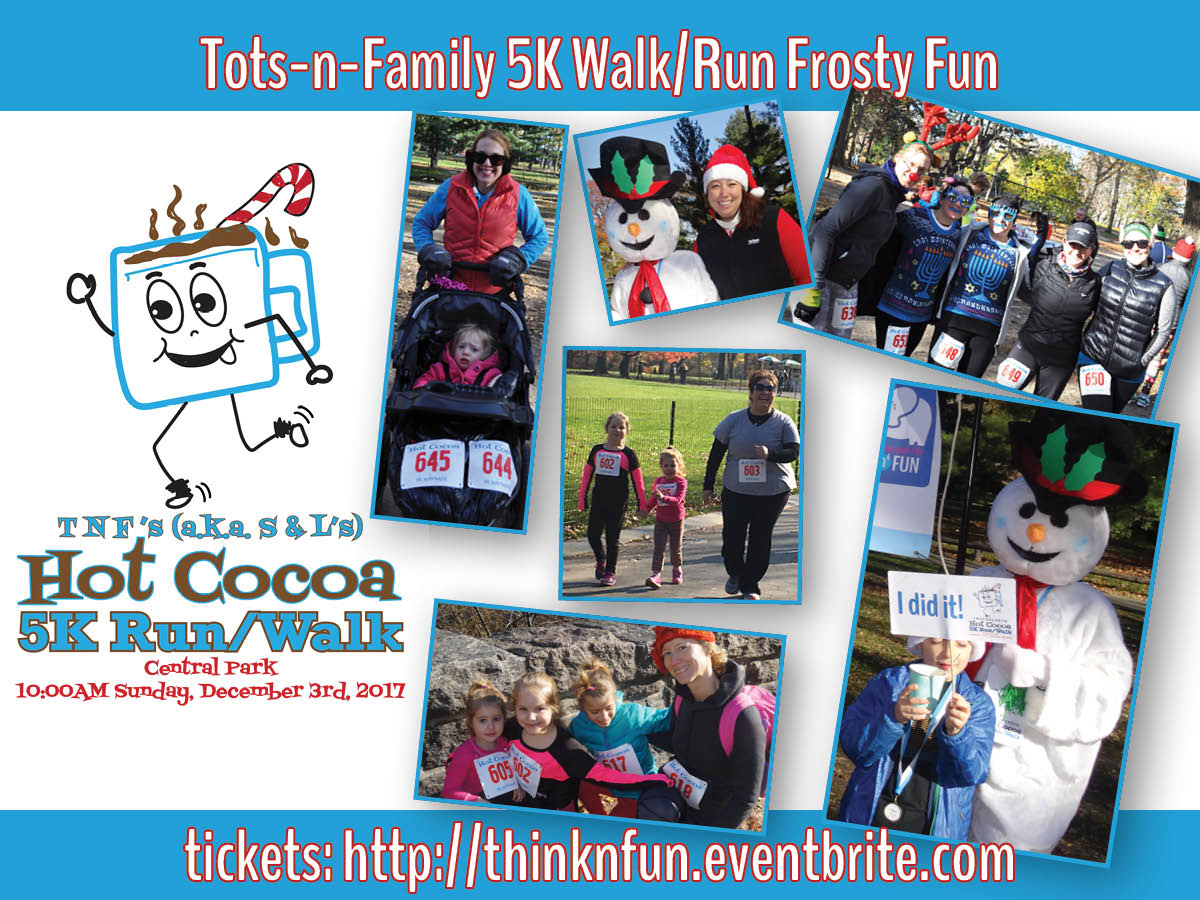 CALLING ALL UGLY HOLIDAY SWEATERS!

We cordially invite you to our third annual Family Sports Day Hot Cocoa 5K Run/Walk!!!
ALL AGES WELCOME! -- C'mon, we're New Yorkers, walking a mere 5K is a piece a cake for us! Of course strollers are welcome, too. Walk or run at your own pace.
Click here to check out a short video about it!

Thus, come out with your ugliest - or jolliest - holiday sweater and enjoy the merry-merry of the holiday season . Then, join us for gourmet-ish hot chocolate afterward. None of that instant stuff for us! Ick.
We'll provide our signature Finishers' Hot Cocoa Bar -- while supplies last, so it's important to register**! Additionally, all registrants will receive a bib and a finisher's medal. Wa-hoo!
For the pro-racers in your family, a word about timing: Official timing will be done with a timer app and a tablet. (Participants will be responsible for looking at the timer and noting their start/finish times.)
So friendly a "race" this is that we'll gather round before heading out!
*ALL SALES ARE FINAL. There are no refunds. This event is rain, snow, or shine.*
Finally, PLEASE let us know your pace so we can determine whether we need to make start heats. And please note: If we have to change the start location, we'll e-mail you before Sunday, December 3rd!

**P.S. Frosty the Snowman will greet all walkers/runners at the finish line, so don't miss out on this special photo-op (and make sure your phone is charged to take pics)!

Cheers,
lisa and lee
L & L's Think 'N' Fun NYC, LLC
(917) 839-6485
familyfun@tnfnyc.com

**P.S. If the idea of doing a short triathlon scares yet excites you, see Lee to get your first one done!
F.A.Q.s
Q: What do I need to bring?
A: A smile. Your ugly sweater. Some friends. Oh, and a running pack with only your essentials: ID, money, insurance card, keys, charged up smartphone. Please leave any valuables at home (if you cannot carry them on your person).
Q: Is there a bag check?
A: Unfortunately, we cannot be held responsible for belongings. Thus, there is no bag check.
Q: Is there a stroller check?
A: Unfortunately, we cannot be held responsible for strollers. Thus, there is no stroller check.
Q: Are there bathrooms?
A: Yes, there are bathrooms a short walk away next to the Delacorte Theater.
Q: Will there be water?
A: We will have small cups of water at the start.
Q: What about the timing clock?
A: We'll have a small tablet with a running clock. Please look for it next to the finish line if you want to check your finish time.
Q: What if I'm slow as molasses?
A: Finishing is what counts.
Q: What's in the hot cocoa?
A: Um, yummy gourmet chocolate-y goodness...LOL. Whole milk, a dash of cream, sugar, cocoa/chocolate, smidge of salt. There will be various toppings at the hot cocoa bar. YUM!
Q: Who is the fun guest at the end?
A: Must you ruin the surprise? LOL. Come and finish to find out!
Date and Time
Location
Central Park
Exact location is in your confirmation email
New York, NY 10024