TNF's (a.k.a. S & L's) 2nd Annual Hot Cocoa Family 5K Walk/Run
Actions and Detail Panel
TNF's (a.k.a. S & L's) 2nd Annual Hot Cocoa Family 5K Walk/Run
Sun, December 4, 2016, 10:00 AM – 11:30 AM EST
Sales Have Ended
Ticket sales have ended
Thank you so much for registering for our Hot Cocoa Family 5K Run/Walk! We'll send you an email just before December 4th with information and details. If you have questions beforehand, please give us a call or email: (917) 830-6485 or info@thinknfunnyc.com. We'll do our best to respond within 24-48 hours. On the morning of, call or text only. (You know, because we'll be in the midst of prepping and making that awesome batch of gourmet hot chocolate we're famous for.:) We love what we do, and we look forward to sharing the fun with you! Cheers, lisa and lee Think 'N' Fun NYC
Event Information
Location
Central Park
Exact location is in your confirmation email
New York, NY 10024
Sales Have Ended
Ticket sales have ended
Thank you so much for registering for our Hot Cocoa Family 5K Run/Walk! We'll send you an email just before December 4th with information and details. If you have questions beforehand, please give us a call or email: (917) 830-6485 or info@thinknfunnyc.com. We'll do our best to respond within 24-48 hours. On the morning of, call or text only. (You know, because we'll be in the midst of prepping and making that awesome batch of gourmet hot chocolate we're famous for.:) We love what we do, and we look forward to sharing the fun with you! Cheers, lisa and lee Think 'N' Fun NYC
Description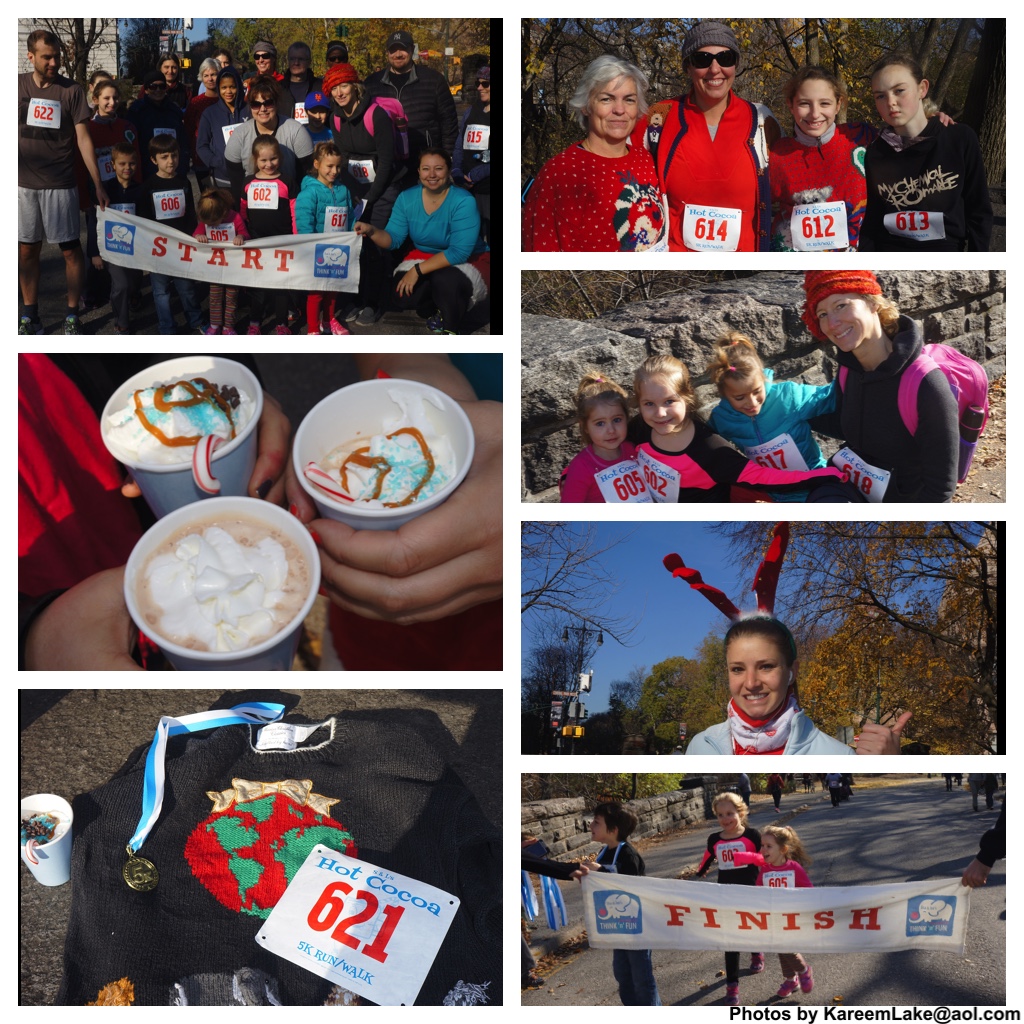 We cordially invite you to our second annual Hot Cocoa 5K Run/Walk!!!
The origin behind this cozy 5K is that for the first one, S & L ("L" being "lee" from "lisa and lee") wanted to sign up for a Hot Cocoa Run but every running organization in town wanted (and still does) a $35-$45 registration free. INSANE! -- especially for crappy, instant hot chocolate....(At that time, S & L wanted to get started on their training for that spring's triathlon** season in a fun way -- as they said they were horribly out of shape...)
It was so much fun, that we're continuing the now-tradition of a hot cocoa walk/run!

Click here to check out a short video about it!

Thus, come out with your ugliest holiday sweater and join our family 5K fun run/walk to enjoy the merry-merry of the holiday season AND then have hot chocolate afterward.
We'll provide our signature Finishers' Hot Cocoa Bar -- while supplies last, so it's important to register**! Additionally, all registrants will receive a bib and a finisher's medal. Wa-hoo!
For the racers in your family, a word about timing: Official timing will be done with a timer app and a tablet. (Participants will be responsible for looking at the timer and noting their start/finish times.)
(So friendly a "race" this is that we'll gather round before heading out!

ALL AGES WELCOME! -- C'mon, we're New Yorkers, walking 5K is a piece a cake for us! Of course strollers are welcome, too. Walk or run at your own pace.

**Those who arrive on time (10AM) will receive a tiny piece of fun.**
Finally, PLEASE let us know your pace so we can determine whether we need to make start heats. And please note: If we have to change the start location, we'll e-mail you before Sunday, December 4th!
Cheers,
lisa and lee
L & L's Think 'N' Fun NYC, LLC
(917) 839-6485
info@thinknfunnyc.com

**P.S. If the idea of doing a short triathlon scares yet excites you, see Lee to get your first one done!
Date and Time
Location
Central Park
Exact location is in your confirmation email
New York, NY 10024