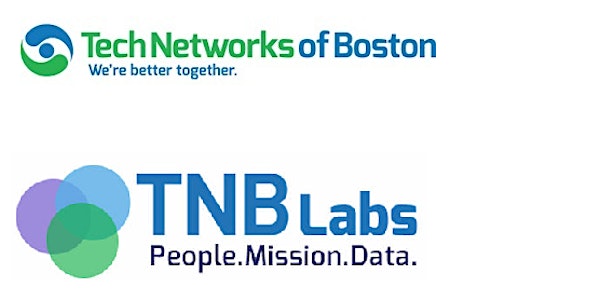 TNB Roundtable: Librarians As Allies To Nonprofits That Are Seeking Grants
Location
Kirstein Library at Boston Public Library
Exchange Room, Johnson Building, Basement
700 Boylston Street
Boston, MA 02116
Sales Have Ended
Registrations are closed
Thank you for your interest in Tech Networks of Boston's Roundtable series! We are sorry to inform you that this TNB Roundtable session is currently booked to capacity. We strongly urge you to add yourself to the waiting list; we have a very good track record of finding seats for nonprofit professionals on the waiting list.
Description
Dear Colleagues and Friends,

Tech Networks of Boston (also known as "TNB") and TNB Labs are pleased to invite nonprofit professionals to a Roundtable session on November 16th at 10:00 am. The session will take place at the Kirstein Center of Boston Public Library in Copley Square, and will focus on how professional librarians can serve as data, information, and knowledge allies to nonprofit organizations that are seeking grant funding.
Nonprofit professionals who are charged with securing funding for their organizations need to know how to find and sift through data, information, and knowledge about grant opportunities; they also need to understand the funders who make decisions about who gets the money. This entails solid search skills and excellent judgement in identifying the optimal matches between a nonprofit organization's programs and the priorities of grant makers. In some cases, nonprofit professionals can master these skills; in others, they can enlist professional librarians as allies to assist them in information searches.
We have recruited a distinguished panel of librarians and development professionals who will engage w you in a conversation about best practices:
o Georganna Woods, Program Coordinator and Lead Researcher, Associated Grant Makers (M.L.S., Simmons College of Library and Information Sciences)

o Betsey Lippmeier, Curator, Kirstein Library at Boston Public Library (M.L.S., University of Hawaii)

o Natasha Kahn, Prospect Research Officer, Perkins School for the Blind (M.A., Library and Information Science, University of Iowa)

o Ginny Mazur, MA, LMHC, ATR, Community Partnerships Director, Goddard House

Please note:

1) In keeping with the spirit of the TNB Roundtable series, this session will NOT be a sales pitch for any product or service. This will be a professional development opportunity for nonprofit professionals who want to learn with and from their peers in other organizations.

2) This session is for employees of nonprofit organizations; professional librarians who wish to assist nonprofit organizations are also welcome. The session is not designed to meet the needs of vendors, volunteers, students, consultants, job-seekers, and others.

3) Priority in registration will be given to those who are employed by nonprofit organizations that hold full membership in the Massachusetts Nonprofit Network.

4) Participation in this session is free of charge for nonprofit professionals. However, you must have a confirmed reservation in order to attend.

5) If this session is booked to capacity by the time you seek to register for it, please go ahead and put yourself on the waiting list. We have a good track record of finding seats for nonprofit professionals on the waiting list.

We hope that you can join us for a vigorous and informative conversation, in which you will be welcome to share your knowledge and experience with your peers.

Best regards from Deborah