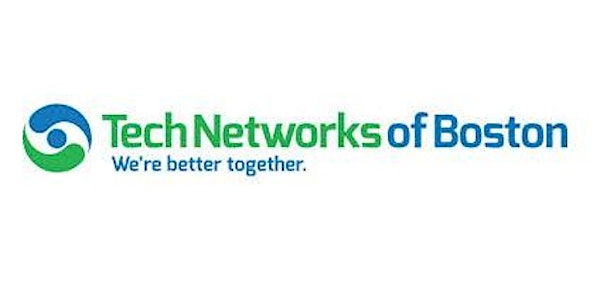 TNB Roundtable: It's Legal for Nonprofits to Lobby, Organize, and Advocate!...
Location
Boston NonProfit Center
89 South Street
Boston, MA 02111
Sales Have Ended
Registrations are closed
Thank you for your interest in Tech Networks of Boston's Roundtable series! We are sorry to inform you that this TNB Roundtable session is currently booked to capacity. We urge you to add yourself to the waiting list; we have a very good track record of finding seats for nonprofit professionals who want to participate.
Description
Dear Colleagues and Friends,

Tech Networks of Boston (TNB) is pleased to invite nonprofit professionals to a Roundtable session on how nonprofits can lobby, organize, and advocate without jeopardizing their tax-exampt status. Our featured guest will be Jeff Berry, a professor of political science at Tufts University and co-author of "A Voice for Nonprofits."

Here is what Jeff says about this session:

"How strong is your organization's voice before government? Is your nonprofit an effective advocate before the state legislature and the agencies that regulate it? Although some 501(c)3s are effective in influencing government officials, too many nonprofits do a poor job in representing their clients and constituents. In many ways this is understandable. With scarce resources, devoting money and energy to lobbying the glacially moving state government may seem like a poor return on investment. Yet inactivity by nonprofits is frequently the result of not understanding the basics of nonprofit law. Too many nonprofit leaders neuter their own organization because they believe that they are not allowed to lobby because they have c3 status.

"These are tough times and we need nonprofits that are active and effective in the policymaking process. Let's talk about this!"

Here's a little more about Jeff:

Jeffrey Berry is John Richard Skuse Professor of Political Science at Tufts University. He is an expert on both national and local politics and has a strong research focus on nonprofits, advocacy, and foundations. Having served as chair of the board of directors of the Alzheimer's Association of Massachusetts and New Hampshire, Berry is a practitioner as well as an academic analyst. In addition to "A Voice for Nonprofits," his books include "The Outrage Industry," "The Rebirth of Urban Democracy," and "Lobbying and Policy Change." He is a frequent commentator on Massachusetts politics with local media. Berry is the recipient of the Distinguished Scholar Award from Tufts and of many book awards from the American Political Science Association. His current research examines the response (or lack thereof) of foundations to the Trump administration.

Please note:

1) In keeping with the spirit of the TNB Roundtable series, this session will NOT be a sales pitch for any product or service. This will be a professional development opportunity for nonprofit professionals who want to learn with and from their peers in other organizations.

2) This session is for employees of nonprofit organizations. It is not designed to meet the needs of vendors, volunteers, students, consultants, job-seekers, and others.

3) Priority in registration will be given to those who are employed by nonprofit organizations that hold full membership in the Massachusetts Nonprofit Network.

4) Participation in this session is free of charge for nonprofit professionals. However, you must have a confirmed reservation in order to attend.

5) If this session is booked to capacity by the time you seek to register for it, please go ahead and put yourself on the waiting list. We have a good track record of finding seats for nonprofit professionals on the waiting list.

We hope that you can join us for a vigorous and informative conversation, in which you will be welcome to share your knowledge and experience with your peers!

Best regards from Deborah

Deborah Elizabeth Finn | Senior Strategist
Tech Networks of Boston
1 Wadleigh Place | South Boston, MA 02127
Phone: 617.504.8188 | Fax: 888.527.9333
deborah@techboston.com | techboston.com
We are a Certified B Corp! | Visit our Boston Techie Blog
Follow us on Facebook, Twitter, and LinkedIn!