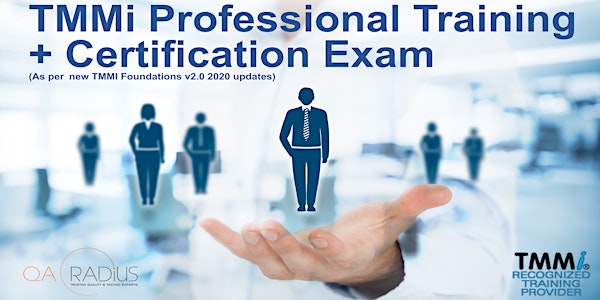 TMMi Professional Certification Training + Optional Exam November
TMMi® is the world-leading model for test process improvement. Organizations can improve their test process and become certified.
About this event
Schedule: 2 days, 16 Hours
11/4: 8AM CST to 4PM CST
11/5: 8AM CST to 4PM CST
Learning objectives:
Explain to management the business importance of test process improvement.
Guide and advise an organization or project when using the TMMi model as a basis for their test process improvement, both in traditional lifecycle environments as Agile context.
Provide support in the interpretation and understanding of the TMMi model, including the relationship of the TMMi to the CMMI model.
Act as a co-assessor in informal TMMi assessments.
Participate in programs for improving the test process within an organization or project and can identify critical success factors.
Topics Covered
Context of test improvement
Introduction to the TMMi model
Overview of the TMMi maturity levels
Structure and components of the TMMi model
TMMi model in detail
Applying and using TMMi in an Agile context
TMMi formal and informal assessments
Implementation of the TMMi (incl. critical success factors)
Test improvement manifesto
(Includes of new TMMi Foundations v2.0 2020 updates)
Who should attend ?
The TMMi Professional course and qualification is aimed at anyone involved in using the TMMi model. This includes people in roles such as test process improvers, test consultants, TMMi (lead-)assessors, business stakeholders, test managers, and members of a Test Process Group. The TMMi Professional course is appropriate for anyone who wants an understanding of the TMMi model. Holders of the TMMi Professional certificate will be able to demonstrate a level of knowledge required as a prerequisite to become an accredited TMMi lead-assessor or assessor.
TMMi Professional course attendees have the option to purchase the TMMi Professional exam. The mock exam will take place on 4th day of the course and will consists of 40 multiple choice questions whereby 26 correct answers are required to pass the exam.
How does this certification benefit me?
With the TMMi® Test Maturity Model Integration Professional certification:
You will have an internationally recognized certification.
You will be able to explain the importance of test management improvements to management.
You will be able to take the lead and advise on the use of the TMMi® model for improving test management processes in organizations and projects.
You will be able to help others interpret and understand the model.
You will be qualified to take part in programs for improving test processes within an organization or project.