Sales Have Ended
Registrations are closed
Thank you for registering for this event. We look forward to seeing you there! If you have any questions or would like to get in contact with a representative, please visit www.tmtel.com
Sales Have Ended
Registrations are closed
Thank you for registering for this event. We look forward to seeing you there! If you have any questions or would like to get in contact with a representative, please visit www.tmtel.com
Description
ONLINE REGISTRATIONS IS CLOSED BUT WALK-INS ARE WELCOME ON THE DAY OF THE SHOW!
The TM Television Tech Expo is back and better than ever!
The Expo will feature manufacturers and product experts from across the country demonstrating the most advanced media workflow solutions in the industry. Here's a partial list of this year's exhibitors: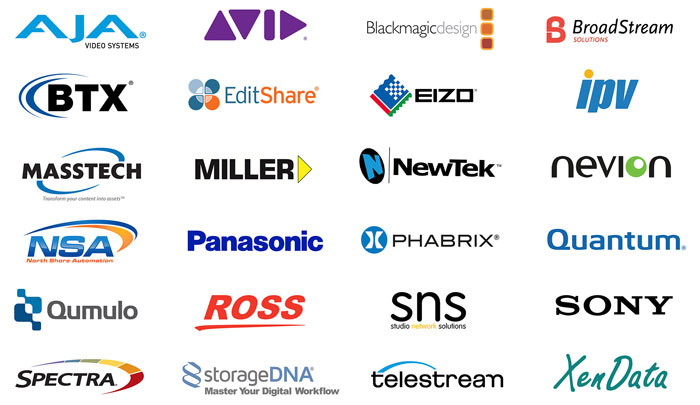 With your free registration you'll have full access to exhibit booths, seminars and demonstrations of advanced workflows as well as special keynote speakers from the media production industry. All guests will receive free lunch, a chance to win some awesome prizes, and the ability to connect with media professionals from across the entire spectrum of advanced video and audio production.
EXPO SCHEDULE:

Thursday, March 1, 2018
9:00AM – 4:00PM Exhibits Open
10:00AM – 10:30AM: Seminar 1 – Andrew Brown I
"Rethinking Storage for the Modern Era"
To thrive in the new world of modernization – media and entertainment businesses must adopt technologies that are open, efficient, provide on-going value and control over their content. Updating outdated legacy systems and workflows enables organizations to focus their resources where they really matter – acquiring, creating and delivering content to consumers. During this session you will learn how to modernize your video lifecycle with a solution that is simple, cost-effective and stores content on multiple tiers of storage based off of business needs.
Presented by Spectra Logic
11:00AM – 12:00PM: Keynote Address – Andrew Brown I
"Climbing a Mountain of Media"
Come hear practical lessons from a journey managing the video assets of two popular media companies. Daniel Rosenberg has worked for both Time Inc. as well as WWE and will be sharing what he's learned through his experiences with managing the enormous mountains of media at these companies.
Presented by Daniel Rosenberg – Time Inc. Studios
12:00PM – 1:00PM: Lunch
1:00PM – 1:30PM: Seminar 2 – Andrew Brown I
"4K/UHD and Beyond: Tips to Prepare to Work with Higher-Quality Video"
The increasing availability of 4K/ultra-high-definition (UHD) TVs, computer displays, and cameras is driving the adoption of new, higher-quality video specifications for video production. To create more engaging experiences, video producers are capturing and generating content with greater resolution, frame rates, dynamic range, color depth, and color gamut. How ready is your organization? Whether you are ramping up production to 4K/UHD today or preparing for the future, consider these tips as you reevaluate your storage needs.
Presentation by Steve D'Agostino – Quantum
2:00PM – 2:30PM: Seminar 3 – Andrew Brown I
"How Avid is Evolving. The migration of our Industry"
Presentation by John Proctor – Avid
3:00PM – 3:30PM: Seminar 4 – Andrew Brown I
"Your Place in the Landscape of Collaborative Workflows"
Identifying needs for your production application sets. See examples of networked shared storage and asset management workflows for sports, broadcast, government, and education that include file ingest, acquisition, archiving, and remote access file delivery and automation.
Presented by Jeffrey Barnes – Editshare
4:00PM – Expo Closed