Location
Esperanto Bar @ Carlton Beach
10 Eliezer Peri Street
Tel Aviv-Yafo, Tel Aviv District 63416
Israel
Speakers, cocktails and young TLV community hanging by the beach : Happy Hour, but better...
About this event
Tribe Tel Aviv's Sunset Series: Happy Hour Drinking & Hanging
In partnership with The Tikvah Fund
Topic: Digital Big Bang: Technology, Politics & War
Discussing the high-stakes global struggle for power and the cyberwar brewing between Western democracies and the authoritarian regimes of China and Russia that could potentially crush democracy.
With: Michael Eisenberg (Aleph VC), Jacob Helberg (Author, Wires of War) & Miami Mayor Francis Suarez
Venue: Esperanto Bar at Carlton Beach, 10 Eliezer Peri St, Tel Aviv
When: Monday, July 18th 7pm
Who: Young Professionals, 20s & 30s (all are welcome)
Cost: FREE, plus discounted drinks at the bar
RSVP: Register above on Eventbrite
What: Meet young Internationals & Israelis from TLV and beyond. Hear from influential writers, thinkers, professionals, and decision makers impacting Israel, Zionism & Jewish life. Our keynote speakers will schmooze for a bit followed by a Q&A session and then, its time to enjoy the mingling again (think beverage in hand?).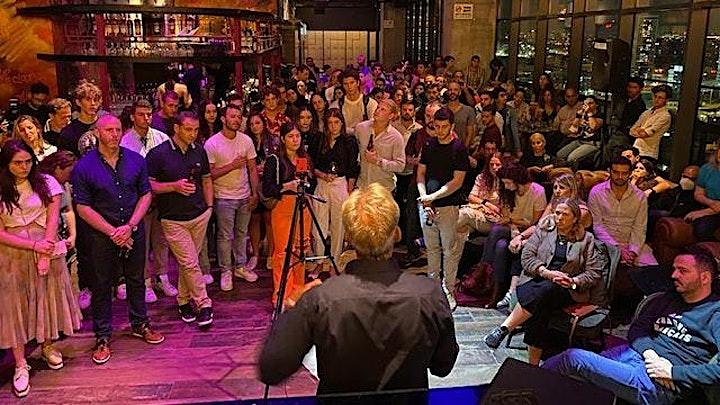 About Our Speakers:
Michael Eisenberg is one of the most successful venture capitalists in Israel, and first investors in Lemonade and Wix. Michael is Co-Founder and General Partner at Aleph, an early stage venture capital fund with over $850 million under management. He has been a venture capitalist for 25 years. Aleph focuses on partnering with great Israeli entrepreneurs to build large, meaningful companies and impactful global brands. He is a contributor to Calcalist and TheMarker, Israel's Hebrew-language daily business newspapers, and is the author of the "The Hummus Manifesto," the seminal piece on Israel's innovation scene. Michael has also published five books in Hebrew. He lectures frequently on venture capital, Israel, and entrepreneurship. He serves on the board of the nonprofit organization Yeshivat Har Etzion and is the chairman of HaShomer HaChadash. He lives in Jerusalem with his wife and eight children. Most recently, Michael published "The Tree of Life and Prosperity: 21st Century Business Principles from the Book of Genesis," about the eternal principles for successful business, economics, and negotiation hidden in the Torah, and show their relevance to the modern world we live in.
Jacob Helberg is a venture capital investor and the author of The Wires of War: Technology and the Global Struggle for Power (Simon & Schuster, October 2021). Helberg is a Senior Advisor at the Stanford University Center on Geopolitics and Technology and co-chair of the Brookings Institution China Strategy Working Group and the U.S.-France Working Group on China. He is a member of the Manufacturing Leadership Council at the National Association of Manufacturers. From 2016 to 2020, Helberg was Google's global lead for the company's internal global product policy efforts to combat foreign interference. Prior to joining Google, Helberg was a member of the founding team of GeoQuant, a geopolitical risk forecasting technology company backed by Swiss Re's venture capital arm, one of the world's largest reinsurers. Jacob received his M.S. in cybersecurity risk and strategy from New York University.
Mayor Francis Xavier Suarez is the 43rd mayor of Miami. He was elected on November 7, 2017 with 86 percent of the vote and was re-elected on November 2, 2021. He is a registered Republican, but the office of the Miami mayor is nonpartisan. He previously served as City of Miami Commissioner for District 4, a position he held since he was elected in a runoff election on November 17, 2009. Suarez is the son of former Miami mayor and former Miami-Dade County Commissioner Xavier Suarez. In June 2020, he was elected by American mayors to serve as the Second Vice President of the United States Conference of Mayors and in June 2021, he was elected as the First Vice President of the organization. He is currently serving as the president of the US Conference of Mayors for the 2022–2023 term.
About Our Partner: The Tikvah Fund
The Tikvah Fund is a philanthropic foundation and ideas institution committed to supporting the intellectual, religious, and political leaders of the Jewish People and the Jewish State. Tikvah runs and invests in a wide range of initiatives in Israel, the United States, and around the world, including educational programs, publications, and fellowships.

About Our Organization: Tribe Tel Aviv
Tribe Tel Aviv's vision is to offer opportunities for young Jews in Tel Aviv to engage in Jewish life and learning in an open and friendly community of like-minded peers. We believe Jewish tradition and wisdom can inform and enrich our fast-paced lives, and enhance our role in contributing to Tel Aviv's Jewish character and to the building of Israel as a Jewish state. Be part of the flourishing of Jewish life in Tel Aviv and a revitalization of the Zionist enterprise. Tribe Tel Aviv's mission is to take the next step forward and cultivate the existing and diverse community of English-speakers into a more cohesive community centered around Jewish life, because after all, Judaism is a team sport.
Web: www.Tribe.org.il
Email: TLV@Tribe.org.il
Follow: www.facebook.com/tribe.org.il
Tribe Tel Aviv is generously supported by Am Yisrael Foundation // www.AmYisrael.com