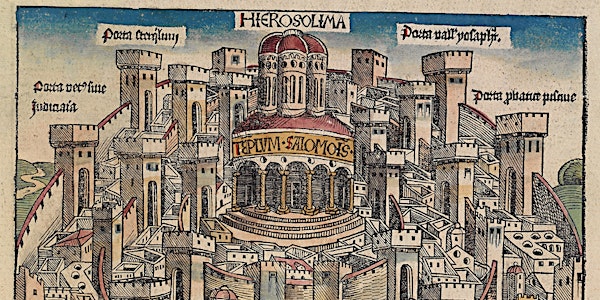 TLRH | Jerusalem's Holy Places: sustaining, safeguarding, and respecting
TLRH | Jerusalem's Holy Places: sustaining, safeguarding, and respecting - talk by Dr Edward Kessler (University of Cambridge)
When and where
Location
Trinity Long Room Hub College Green Dublin 2 Ireland
About this event
A talk by Dr Edward Kessler (University of Cambridge) organised by the School of Religion, Theology, and Peace Studies, and kindly supported by the Trinity Long Room Hub.
Description:
The centrality of Jerusalem makes its holy places sites of contention for Jews, Christians and Muslims. Jerusalem represents the divine–human encounter, linking heaven and earth. Here for Jews, the Temple stood and the Presence of God dwelt; for Christians, the Word of God became flesh in Jesus and the crucifixion and resurrection took place; and from here, the Prophet Muhammed journeyed to paradise and met Moses and other prophets. Ed Kessler has spent many years visiting the region and engaging with local actors. His talk will explore the significance of Jerusalem's Holy Places and the role they play today.
Biography:
Dr Edward Kessler, MBE is Founder President of the Woolf Institute and a leading thinker in interfaith relations, primarily, Jewish-Christian-Muslim Relations. He founded the Woolf Institute, originally called the Centre for Jewish-Christian Relations, 1998 and was elected Fellow of St Edmund's College in 2002; in 2007, Dr Kessler was described by The Times Higher Education Supplement (London) as 'probably the most prolific interfaith figure in British academia' and in 2011 was awarded an MBE for services to interfaith relations. He has written or edited 12 books, including An Introduction to Jewish-Christian Relations (Cambridge, 2010), Jews, Christians and Muslims in Encounter (SCM, 2013) and Jesus (The History Press, 2016). He is presently editing a Documentary History of Jewish-Christian Relations (Cambridge, 2023). He was Convenor and Vice-Chair of the Commission on Religion and Belief in British Public Life (2013-15), which published a major policy report entitled, Living with Difference and Principal Investigator of the Woolf Diversity Study, a study of diversity in England and Wales (2017-19), which published a major policy report entitled, How We Get Along.
Disciplines: Theology and Religious Studies, History, Sociology and PoliticsAudience: research community, faith leaders and those interested in diplomacy and foreign serviceCampus Location: Trinity Long Room Hub Arts and Humanities Research InstituteAccessibility: YesRoom: Neill Lecture TheatreEvent Type: Lectures and SeminarsType of Event: One-time eventAudience: Researchers, Postgrad, Alumni, Faculty & Staff, PublicCost: Free but registration is requiredContact Name: Dr Andrew PierceContact Email: piercean@tcd.ie
Image citation: (one of the two) depictions of Jerusalem from The Liber Chronicarum (Chronicle of the World or Nuremberg Chronicle) (1493)