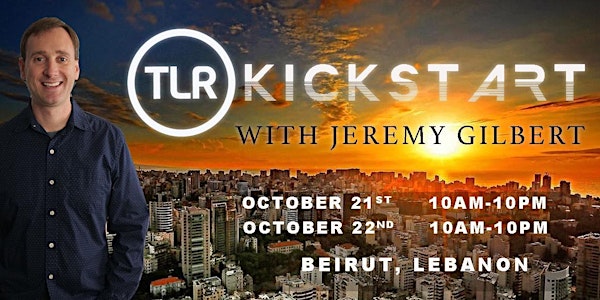 TLR Kickstart: Beirut, Lebanon: Oct 21st - 22nd, w/ Jeremy Gilbert
Please join us for this Kickstart led by Jeremy Gilbert and TLR team! Live like an early disciple in the Book of Acts!
When and where
Location
Lebanon Lebanon Bayrut, Beirut Governorate Lebanon
About this event
Please email Kickstart4eventdetails@yahoo.com for event location
*** THIS IS A FREE EVENT***
In the Book of Acts, we read that God was using ordinary people to do extraordinary things. The early disciples were healing the sick, casting out evil spirits, preaching the Kingdom and baptizing new converts at a rapid pace all by the power of the Holy Spirit.
This event will be an experience similar to the Book of Acts. There will be solid Bible teaching with prayer, healing, deliverance, baptisms, outreach, discipleship & more!
The apostle Paul emphasizes the importance of acting in (supernatural) power:
"My message and my preaching were not with wise and persuasive words, but with a demonstration of the Spirit's power, so that your faith might not rest on human wisdom, but on God's power." (1 Cor. 2:4-5)
This was the "normal Christian life" for a disciple of Jesus Christ. Is this kind of life still for today? Are we as disciples of Jesus still called to do these same "Acts"?
Yes! We believe this is still for today and for every believer who wants to be a disciple of the Lord Jesus.
TEACHER: Jeremy Gilbert
(Torben Søndergaard will not be at this event)
Jeremy is a graduate of Luke 10 school from The Last Reformation in 2020 and has had the opportunity to conduct several Kickstarts & teach at multiple TLR Luke 10 Schools. Jeremy used to be a pastor, then transitioned to an evangelist doing revivals and saw the desperate need for the church to be discipled and equipped. He now devotes most of his time to disciple-making in house fellowships and equipping the church for the work of the ministry.
PROGRAM SCHEDULE:
This event will be 2 full days on October 21st - 22nd, 2022
The teachings will be very practical and will include going out on the streets, healing the sick, and sharing the gospel. It will be focused on making disciples and fulfilling the Great Commission.
Baptisms will also be available, so be sure to bring extra clothes if you are intending to get baptized.
FRIDAY - October 21st
9:30AM - Doors Open
10:00AM Teachings
1:00PM Outreach begins. Create small teams and sent out on the streets to share Jesus, and pray for others. Getting lunch while out.
7:00PM Teachings
Saturday - October 22nd
9:30AM - Doors Open
10:00AM Teachings
3:00PM Baptisms
7:00PM Teachings
Location & Details:
Please email Kickstart4eventdetails@yahoo.com for event location
- Participants are required to find their own lodging. There are several hotels & Airbnb in the vicinity.
- The event is free, and we will take up a gift in the evening to help the team to cover the costs of the event.
- There will not be childcare. Children are welcome, provided they do not disrupt the seminar and that the children must be accompanied by a parent or guardian at all times during the event.
What can I bring into the event?
You may bring your own notebooks and Bible. We will do water baptisms so please bring some extra clothes and a towel if you plan to get baptized.
If you have any further questions feel free to contact Colby Hall or Jeremy Gilbert
colbyahall@yahoo.com (Colby will be hosting the event & lives in the local area)
JeremyGproductions@gmail.com (Jeremy Gilbert will be teaching the event)
kickstart4eventdetails@yahoo.com (email this address for event location)
Sign up today for this TLR Kickstart here on this Eventbrite page!
To learn more about The Last Reformation, a ministry that has reached people all over the world through YouTube videos, movies and the Pioneer Training School, all of which are available on our website, go to thelastreformation.com. Here you can find many other free resources as well.
If you are new to a Kickstart Weekend, below you will find some videos to give you more of an idea the experience you will have and a list of upcoming Kickstarts and events...
https://thelastreformation.com/upcoming-events/