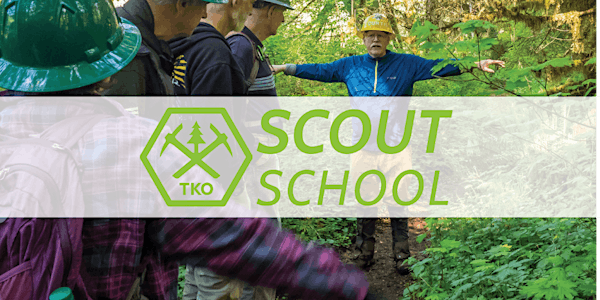 TKU Scout School: Scout Lab - Mt. Talbert
Join us as we learn to identify and document trail maintenance needs using GAIA gps!
By Trailkeepers of Oregon
When and where
Date and time
Friday, February 17 · 9:30am - 1:30pm PST
Location
Mount Talbert Nature Park 10945 Southeast Mather Road Clackamas, OR 97015
About this event
Crew Leader: Susan S.
Hike Distance: less than 2 miles
Elevation Gain: less than 500 ft
Hike Difficulty: Moderate
Work Difficulty: Easy
This event is a Scout Lab. At this event we will learn:
What makes for a sustainable trail and why trails need maintenance
How to identify trail maintenance issues
How to use the Gaia or similar GPS apps to record maintenance issues and their locations.
Hiking information:
We'll be hiking a portion of the trail system at Mount Talbert Nature Park. The hike is just under 2 miles with an elevation gain of ~450 feet.
COVID-19 Information:
**You will be asked to electronically sign the e-waiver for this event, provide proof of vaccination or recent negative COVID-19 test result, and perform a self-assessment health screening within the 24 hours preceding the event.** The crew leader for this event will verify that you have completed these requirements at the trailhead safety talk before the trail party begins. The registration confirmation and pre-event emails will contain further details and links.
What to bring:
Lunch
Plenty of water
Snacks
Cell phone with Gaia or other GPS app (optional)
What to wear:
Boots (Please wear something sturdy that will provide good traction)
Long sleeved shirts and pants.
Rain gear, insulating layers, sun protection, etc. as appropriate for the weather
Directions:
Directions will be supplied to registrants via email 48 hours before event
LAND ACKNOWLEDGEMENT: TKO recognizes that the trails we work on travel through the traditional lands of many Indigenous tribes. In every corner of what we now call Oregon, these people were forced to cede their land, their home, to the US government at various times from 1853 – 1871. We are privileged to be here today and we express gratitude to these tribes and their descendents for being the original and continuing stewards of these spaces.
EQUITY & INCLUSION: TKO seeks to make Oregon's trails a place where people can go to connect with nature & one another. Not everyone feels safe or welcome in the outdoors due to issues that include racism, bias, and hate. We commit to being part of the solution to this problem and to enact change. Conduct, speech, or expressions that target any individual or group will not be tolerated by TKO, regardless of whether they are based on age, citizenship, disability, ethnicity, gender identity/expression, geographic origin, language, marital status, nationality, race, religion, sexual orientation, socioeconomic status.
PERSONAL SAFETY: Your physical and emotional safety is our number one priority. If a person's actions or comments make you feel uncomfortable or unsafe, you may: interrupt directly, tell a crew leader, and/or inform TKO staff via the post-event survey.
About the organizer
Website: https://www.trailkeepersoforegon.org/organizer/trailkeepers-of-oregon/