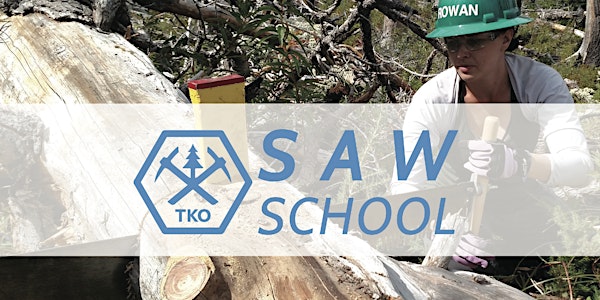 TKO Saw School - Crosscut Saw Training Course (2 Days)
USFS-sanctioned Crosscut saw - bucking only - Certification Course (2 days)
When and where
Location
Emigrant Springs State Heritage Area 65068 Old Oregon Trail Meacham, OR 97859
About this event
USFS-sanctioned Crosscut saw – bucking only – Certification Course (2 days)
Saw Instructors: Vito P. - Josh D. - Holly H.
Max Size of Crew: 16
Hike Distance: 2 miles
Elevation Gain: (in ft) approx 700
Hike Difficulty: Moderate
Work Difficulty: Moderate
Work Description: Sawyer Certification
First Day: 5-6 hrs of classroom and 2 hrs hands-on instruction
Second Day: 2 hrs review and 4-6 hrs field certification on the trail
Land Manager: Emigrant Springs State Heritage Area
For volunteers and land managers that regularly perform saw work in National Forest lands.
This TKO Saw School training event is in partnership with the Wallowa-Whitman National Forest, Eastern Oregon Visitors Association (EOVA) and Wallowa Mountain Hells Canyon Trails Association. Special thanks to EOVA, our sponsor for this event, providing scholarships for all volunteer participants. The ticket price for volunteers is optional, email vito.perrone@trailkeepersoforegon.org for access to a registration code for a free ticket type. For those with the means to pay the volunteer ticket price, you'll be paying forward other volunteers access to training sessions such as these.
Initial Crosscut Saw Bucking Certification (2 days): You must be at least 16 years old to attend. Every saw operator must be certified to ensure safe and quality work. This session is for those who do not have a USFS saw certification card or those who are pursuing advancement in current certification from an "A" to a "B". The course will cover key safety procedures and best practices for clearing trails effectively in challenging and potentially hazardous situations. Day one is a 5-6 hr classroom (PowerPoint and video instruction) followed by a 2 hr hands-on logout instruction. Day two is a 2 hr review followed by a 4-6 hr field certification. Candidates typically receive an "A" level certification. Candidates who demonstrate extensive skill and leadership with considerable hands-on saw experience may receive "B" level certification. There will also be opportunities for "C" sawyers to recertify.
A current First Aid and CPR certification is required to participate in the field evaluations and for a saw certification to be valid. TKO staff, volunteers, and USFS staff cannot use crosscut saws or chainsaws unless they hold a recognized and valid sawyer certification, First Aid, and CPR card. After completing your online application, applicants will be required to forward or upload photocopies of their First Aid and CPR certifications.
Note: Please bring work gloves, safety glasses, hard hats, face coverings, and hand sanitizer- all your new normal trail work PPE. Due to COVID-19 restrictions, TKO cannot provide any of this equipment.
Potential cancellation: We will not work in the field if the weather is not safe for our team.
Directions: Directions will be provided to participants as we get closer to the scheduled event dates.
What to bring:
Food for the two day event.
Plenty of water for the two day event.
Snacks
Gloves, Safety Glasses, Hard Hat
Hand Sanitizer
What to wear:
Boots (Please wear something sturdy that will protect your toes from sharp tools. Boots must cover your ankles. No tennis shoes allowed.)
Work gloves
A long-sleeved shirt is a requirement
Long pants are required
Face Mask (optional for outdoors)
Rain gear as appropriate for the weather
Accommodations:
More information will be sent out in emails as we get closer to the scheduled event dates.
Questions?
Please contact Vito Perrone at vito.perrone@trailkeepersoforegon.org.  Send me an email if you want to join our waitlist for this workshop.
Additional Information:
Check out the TK-U Saw School page for more info.
Free online crosscut course from the University of Montana.
Saws That Sing. A guide to using crosscut saw.
COVID-19 Information:
**You will be asked to electronically sign the e-waiver for this event, provide proof of vaccination or recent negative COVID-19 test result, and perform a self-assessment health screening within the 24 hours preceding the event.** The crew leader for this event will verify that you have completed these requirements at the trailhead safety talk before the trail party begins. The registration confirmation and pre-event emails will contain further details and links.
• Volunteers must bring their own gloves, cloth masks, hand sanitizer, and hardhat.
• No carpools will be arranged by TKO for the time being.
For a complete list of Covid specific safety measures, see our safety manual, available here.
LAND ACKNOWLEDGEMENT: TKO recognizes that the trails we work on travel through the traditional lands of many Indigenous tribes. In every corner of what we now call Oregon, these people were forced to cede their land, their home, to the US government at various times from 1853 – 1871. We are privileged to be here today & express gratitude to the descendants of these tribes for being the original stewards of this land.
EQUITY & INCLUSION: TKO seeks to make Oregon's trails a place where people can go to connect with nature & one another. Not everyone feels safe & welcome in the outdoors due to racism, bias & hate. We commit to being part of the solution to change that. Conduct, speech, or expressions that target individuals or groups will not be tolerated by TKO, regardless of whether they are based on age, citizenship, disability, ethnicity, gender identity/expression, geographic origin, language, marital status, nationality, race, religion, sexual orientation, or socioeconomic status.
PERSONAL SAFETY: Your physical & emotional safety is our number one priority. If a person's actions or comments make you feel uncomfortable/unsafe – interrupt directly, tell a crew leader &/or complete the post-event survey.