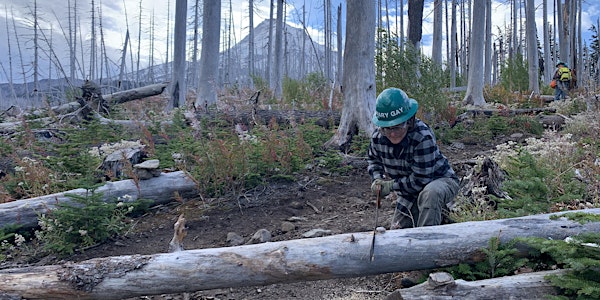 TKO Saw Refresher Discussion! (Zoom Gathering)
An opportunity for anyone to join in a Zoom meeting where we will be discussing Saw Policy-related topics and updates.
About this event
Saw Instructors: Guy H., Pat K., Vito P.
Work Type: Online Zoom Saw Refresher Discussion
Event Information:
TKO Saw Program Coordinators are hosting a Zoom gathering for anyone that is interested in saw work. This will also qualify as a "knowledge refresher" for those folks seeking a saw recertification at the upcoming Saw Refresher Campout.
Zoom link will be sent out in an email to all that register.
Here is a list of topics that will be discussed:
National Saw Program Updates
Personal Protective Equipment (PPE)
Refresher on body mechanics and proper body positioning for sawyer efficiency
Review of the safe use of the crosscut saw (sheaths, storage, passing, carrying)
Safe use of the chainsaw
Situation Awareness Review
Go / No-Go Review
Spring pole evaluation and how to handle them with pruning saws or a chainsaw
Proficient use of wedges. Types of wedges.
Axe overview and field training
USFS Rapid Lesson Sharing (RLS)
Questions?
Please contact Vito Perrone at vito.perrone@trailkeepersoforegon.org. 
Additional Information:
Check out the TK-U Saw School page for more info.
Free online crosscut course from the University of Montana.
Saws That Sing. A guide to using crosscut saw.
LAND ACKNOWLEDGEMENT: TKO recognizes that the trails we work on travel through the traditional lands of many Indigenous tribes. In every corner of what we now call Oregon, these people were forced to cede their land, their home, to the US government at various times from 1853 – 1871. We are privileged to be here today and we express gratitude to these tribes and their descendants for being the original and continuing stewards of these spaces.
EQUITY & INCLUSION: TKO seeks to make Oregon's trails a place where people can go to connect with nature & one another. Not everyone feels safe or welcome in the outdoors due to issues that include racism, bias, and hate. We commit to being part of the solution to this problem and to enact change. Conduct, speech, or expressions that target any individual or group will not be tolerated by TKO, regardless of whether they are based on age, citizenship, disability, ethnicity, gender identity/expression, geographic origin, language, marital status, nationality, race, religion, sexual orientation, socioeconomic status.
PERSONAL SAFETY: Your physical and emotional safety is our number one priority. If a person's actions or comments make you feel uncomfortable or unsafe, you may: interrupt directly, tell a crew leader, and/or inform TKO staff via the post-event survey.