Description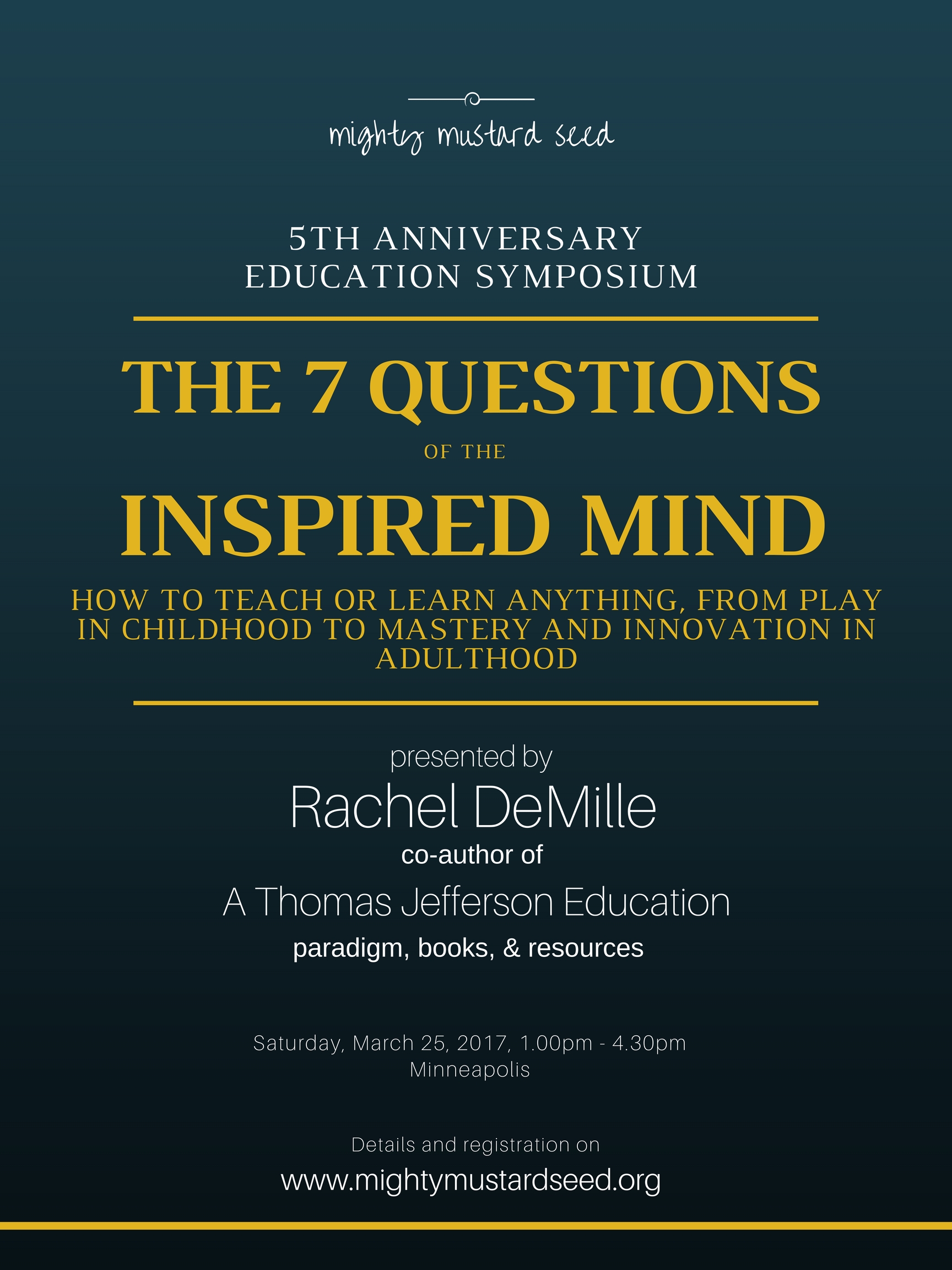 2017 KEYNOTE SPEAKER: Rachel DeMille, co-author of the Thomas Jefferson Education paradigm, books, and resources.
Afternoon session, 1:00-4:30pm:
The 7 Questions of the Inspired Mind: How to Teach or Learn Anything From Play in Childhood through Mastery and Innovation in Adulthood
Quality education is marked by myriad questions, and the pursuit of their answers. Indeed, it might well be argued that no knowledge can be meaningfully acquired or applied if there is no curiosity, no wonder, no void to fill. All great learning starts with a question. The 7 Questions for the Inspired Mind are a progression of interrogatives that mark a path of inquiry from early learning through world-class mastery.
Rachel DeMille is a homeschooling mom of 8+ kids, with lots of successes under her belt! Her household is a grab-bag of giftedness, disabilities and divergent learning styles. Her mentorship of literally thousands of homeschooling parents has been hailed as academically inspiring, intellectually challenging, emotionally healing and personally empowering. If you've ever wondered how TJEd might fit with your family learning, come find out - straight from the source! Rachel is the co-author, with her husband Oliver, of the TJEd paradigm and resources.
Youth Breakout Session: Rachel will lead the youth in a discussion about Scholar Phase and answer their questions, inspiring them in their own educational journey.
Morning Session, 10-11:30am:
5 Habits of Highly Successful Homeschoolers: An intimate coaching session with Rachel DeMille
5 Habits of Highly Successful Homeschoolers will have a huge positive impact on your home, family and the education of all your children—young and old.
Homeschoolers who implement these 5 Habits will see the educational quality of their home soar. Each Habit is based on a core principle of successful learning, meaning that they all have universal application for all of us.
Does the TJEd paradigm resonate with you, but you aren't sure how to apply some (or all) of the keys of great mentorship? Unsure which phase of learning your children are in, or what learning looks like in each phase? Do you want personalized feedback on your specific situation from the source of the TJEd philosophy? Do you want ideas for how to inspire your children to fall in love with learning?
Join this more intimate group of home educators for an introductory coaching session to nail TJEd basics (whether you are new to TJEd or following for years) and take away a plan for your next step.
About the Event:
We are so grateful that Rachel DeMille has accepted our invitation to speak in Minnesota this year! There is an inspiring and motivating energy about hearing her speak live, and answering our questions in person that doesn't compare to reading the books. This is an event not to be missed! Let's give her a warm Minnesota welcome!
We have a block of 10 rooms reserved for our group at the DoubleTree for a reduced rate of $109, if you are driving far. Just call the DoubleTree and tell them you are attending the Mighty Mustard Seed Symposium. (952) 542-8600
This event is for registered adults and mature youth. Lap babies are also welcome (no ticket required).
You may register at the door for $30.
You have the option of attending the main event only, or both the main event and an exclusive pre-lunch session for an additional fee.
9:30am--morning check-in
10:00am--morning session begins
11:30am--lunch (not provided; we will be walking across the street to a variety of restaurants to choose from)
12:30pm--Check-in for afternoon session begins
1:00pm--Main Symposium begins
3:30pm--breakout sessions; socializing (including a group just for youth, led by Rachel DeMille)
4:30pm--End of Symposium
Please choose one of the following breakout sessions (difficult to choose, I know!), so that the hotel can set up the right # of chairs for each group:
1.

Time Travel Revisited (Jim Van Heel)
Time is the inexplicable raw material of everything and how we use it makes all the difference.
Jim will share one principle that will radically transform the way you and your children travel through time in this life, that will help you live a more impactful, meaningful and happy life.
Jim was a home school dad of now adult children, along with his wife, Barbara. He has run his own business for over 30 years, from which he learned how to be the master of his time. He is currently writing the book Time Travel Made Easy: How to get a lot more done in less time while greatly reducing your stress. Those who attend the break out session will receive a digital copy of "Time Travel 101"--part one of his book Time Travel Made Easy.
Jim will take personal questions to help you determine your first steps in achieving your goals and solving your time issues.
2.
Seeing Strengths, Releasing Untapped Potential (DeAnna Murphy)
This interactive breakout session will offer participants an opportunity to:
Discover fundamental keys to releasing untapped potential in themselves and their children
Explore their own strengths, and how they lead to their highest performing and fulfilling experiences
Learn the SIGNs of strengths, and how to spot strengths in others.
DeAnna Murphy is founder and president of Strengths Strategy, an international speaker and author of the book Unlocking Strengths: A new approach to empowering performance, energy and relationships.
3. You are Enough: Uncovering the joy of no fear homeschooling (Rebecca McAllister)
Rebecca McAllister is the mother of five children, nine year veteran of homeschooling, and president of Mighty Mustard Seed. Educating her kids at home is something she never thought she would do and for years, lovingly referred to the homeschoolers she came across as "crazy homeschool ladies." What began as an inspired attempt to rescue her son who was drowning in the public education system has now turned into a joy and a passion. A native of the Northwest, she grew up on a small island in the Puget Sound of Washington state. Rebecca studied music and theater in college where she met her husband.
4.

Valuing the Self and Care (Jen Aronson)

"Your visions will become clear only when you can look into your own heart. Who looks outside, dreams; who looks inside, awakes." - Carl Jung

Self-care is more than doing for the self, it is the way we turn on the light and shine forth our vision. This breakout session will include valuing one's self through caring for one's self. You will receive simple, practical ideas for self-care. We will also look at what caring for the self will create when practiced over a longer period of time and how it affects those we care for. This session will be informative, conversational, and inspirational.

Jen Aronson is a homeschool mother of three, currently living in Minnesota. After earning her graduate degree in Theology - Pastoral Ministry, she and her husband spent 7 years in Alaska working with traumatized youth. She continued her work on the island of Maui as a psycho-therapist working with families and children. Working within a trauma environment, Jen has learned to implement her own self-care practice as well as teach the value of self-care to others.
5. Youth Breakout: Taking ownership of YOUR education (Rachel DeMille)
Rachel will take questions from the youth and facilitate discussion, inspiring them in their educational journey.
6. For Parents of Scholars
This breakout session will be led by Rachel DeMille's son-in-law, who is currently being mentored by Oliver DeMille and has run TJEd scholar classes and owns a mentoring business for youth and adults. In this breakout, he will help parents of scholars navigate their role.