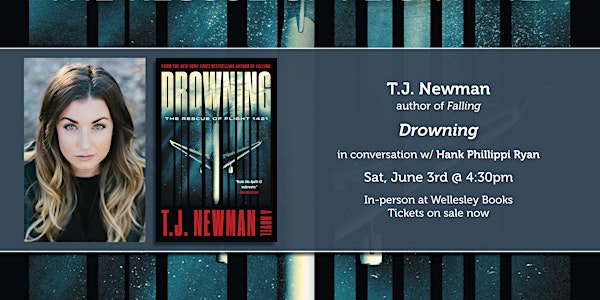 T.J. Newman presents "Drowning" with Hank Phillippi Ryan
The author of "Falling" joins us to discuss her new thriller in conversation with Hank Phillippi Ryan, author of "The House Guest".
Date and time
Saturday, June 3 · 4:30 - 5:30pm EDT
Location
Wellesley Books 82 Central Street Wellesley, MA 02482
Refund Policy
Contact the organizer to request a refund.
About this event
If you would prefer to order your ticket by phone, you may call Wellesley Books at 781-431-1160.
Your $5 ticket can be put towards a copy of the author's book bought at the event. Alternatively, you can buy the book now and your entry ticket will be free. Books will be available for pickup at the event. Please note that you must have bought your copy from Wellesley Books in order to have the author sign it at the event.
Please note that we cannot issue refunds within 48 hours of the event.
COVID Protocols
• Masks are NOT required, but they are encouraged.
ABOUT THE BOOK
Flight attendant turned New York Times bestselling author T. J. Newman—whose first book Falling was an instant #1 national bestseller and the biggest thriller debut of 2021—returns for her second book, an edge-of-your-seat thriller about a commercial jetliner that crashes into the ocean, and sinks to the bottom with passengers trapped inside, and the extraordinary rescue operation to save them.
Six minutes after takeoff, Flight 1421 crashes into the Pacific Ocean. During the evacuation, an engine explodes and the plane is flooded. Those still alive are forced to close the doors—but it's too late. The plane sinks to the bottom with twelve passengers trapped inside.
More than two hundred feet below the surface, engineer Will Kent and his eleven-year-old daughter Shannon are waist-deep in water and fighting for their lives.
Their only chance at survival is an elite rescue team on the surface led by professional diver Chris Kent—Shannon's mother and Will's soon-to-be ex-wife—who must work together with Will to find a way to save their daughter and rescue the passengers from the sealed airplane, which is now teetering on the edge of an undersea cliff.
There's not much time.
There's even less air.
With devastating emotional power and heart-stopping suspense, Drowning is an unforgettable thriller about a family's desperate fight to save themselves and the people trapped with them—against impossible odds.
ABOUT THE AUTHOR
HANK PHILLIPPI RYAN is the USA Today bestselling author of 14 psychological thrillers, winning the most prestigious awards in the genre: five Agathas, five Anthonys, and the coveted Mary Higgins Clark Award. She is also on-air investigative reporter for Boston's WHDH-TV, with 37 EMMYs and dozens more journalism honors. National book critics call her "a superb and gifted storyteller"; she's the only author to win the Agatha in four categories: Best First, Best Novel, Best Short Story and Best Non-Fiction. Her newest is the page-turning standalone thriller The House Guest—a story of psychological manipulation that explores the dark heart of marriage and friendship—it's Gaslight meets Thelma & Louise. Bestselling author Lisa Scottoline says, "Ryan is one of my favorite authors and The House Guest shows why," EMMY-winning host Tamron Hall says, "The House Guest kept me on the edge of my seat…" and the Publishers Weekly rave review says, "Ryan is a master of suspense!" and the Library Journal starred review calls it "Binge-worthy."
Hank is a founder of MWA University, host of CRIME TIME on A Mighty Blaze, and co-host of First Chapter Fun and The Back Room. Visit Hank online at HankPhillippiRyan.com, on Twitter @HankPRyan, on Instagram @hankpryan and Facebook at HankPhillippiRyanAuthor