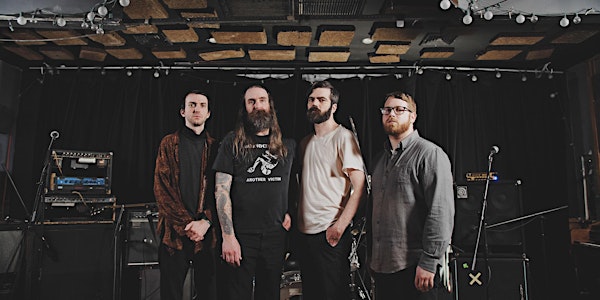 Location
Showcase Lounge
1214 Williston Road
South Burlington, VT 05403
Titus Andronicus Performing The Monitor w/ Disq at Higher Ground
About this event
$20 advance | $23 day of show
http://www.titusandronicus.net
https://www.facebook.com/TitusAndronicusOfficial
https://www.twitter.com/titusandronicus
https://www.instagram.com/titusandronicusofficial
An Obelisk is the sixth album from Titus Andronicus, which finds the noted rock band under the stewardship of producer and legendary rocker Bob Mould (Hüsker Dü, Sugar, et al.). This trans-generational meeting of the minds has yielded the most immediate, intense, and unadorned Titus Andronicus record to date. Clocking in at a brisk 38 minutes and change, it is also the shortest. Recorded over six breathless days at Steve Albini's world-renowned Electrical Audio studio in Chicago, An Obelisk presents the sound of Titus Andronicus, rock band, at its most irreducible, as monolithic as the album's titular monument.
Curious listeners old and new can take their first careful steps into the shadow of An Obelisk today with the newly unleashed lyric video for lead single "(I Blame) Society." Directed by longtime collaborator Ray Concepcion, this video brings to life some of the most unsparing verses yet to drip from the poison pen of singer-songwriter Patrick Stickles, leaving just enough room to showcase the majesty of two of America's most notable obelisks, Cleopatra's Needle in New York City and the District of Columbia's Washington Monument.
An Obelisk functions as a kind of companion piece to last year's A Productive Cough. Taken together, these two records present a panoramic view of Titus Andronicus' musical interests. If A Productive Cough left listeners wondering what happened to all the fast songs, An Obelisk offers an answer—they are here. Whereas A Productive Cough was slathered with every available bell and whistle, very much a product of the studio and a demonstration of its capacity for "magic," An Obelisk is built for the stage, the most faithful and true reflection of the Titus Andronicus live sound yet put to tape.
Thusly, An Obelisk has all the trappings of a classic punk album, though, to hear Stickles tell it, it is moreso an album about punk. "The ideology of 'punk' supports the elevation of our own interior authority and the degradation of exterior authority, which we recognize to be arbitrary, a tool by which the many are subjugated under the few," Stickles explains, growing noticeably short of breath. "While the common 'punk rocker' will take this as license to piss on the street and generally pursue a lifestyle of nihilistic hedonism, the true 'punk' will recognize the price of this freedom. An Obelisk tells the story of one particular individual, someone maybe a lot like you but certainly a lot like me, scouring linty pockets, trying to pay that bill."
https://www.facebook.com/thisisdisq
https://www.instagram.com/newphonewhodisq
https://twitter.com/NewPhoneWhoDisq
Disq have assembled a razor-sharp, teetering-on-the-edge-of-chaos melange of sounds, experiences, memories, and influences. Due out March 6 on Saddle Creek, Collector ought to be taken literally — it is a place to explore and catalogue the Madison, Wisconsin band's relationships to themselves, their pasts, and the world beyond the American Midwest as they careen from their teens into their 20s. This turbulence is back-dropped by gnarled power pop, anxious post-punk, warm psych-folk, and hectic, formless, tongue-in-cheek indie rock.Collector, like the band itself, is defined and tightly-contoured by the ties between the five members. Raina Bock (bass/vocals) and Isaac deBroux-Slone (guitar/vocals) have known each other from infancy, growing up and into music together. Through gigging around Madison, they met and befriended Shannon Connor (guitar/keys), Logan Severson (guitar/backing vocals), and Brendan Manley (drums) — three equally dedicated and adventurous musicians committed to coaxing genre boundaries.Produced by Rob Schnapf, Collector is a set of songs largely pulled from each of the five members' demo piles over the years. They're organic representations of each moment in time, gathered together to tell a mixtape-story of growing up in 21st century America. The songs are marked by urgency, introspection, tongue-in-cheek nihilism, and a shrewd understanding of pop and rock structures and their corollaries — as well as a keen desire to dialogue with and upset them.