Event Information
Performers
Location
Globe Hall
4483 Logan Street
Denver, CO 80216
About this event
An Obelisk is the sixth album from Titus Andronicus, which finds the noted rock band under the stewardship of producer and legendary rocker Bob Mould (Hüsker Dü, Sugar, et al.). This trans-generational meeting of the minds has yielded the most immediate, intense, and unadorned Titus Andronicus record to date. Clocking in at a brisk 38 minutes and change, it is also the shortest. Recorded over six breathless days at Steve Albini's world-renowned Electrical Audio studio in Chicago, An Obelisk presents the sound of Titus Andronicus, rock band, at its most irreducible, as monolithic as the album's titular monument.
Curious listeners old and new can take their first careful steps into the shadow of An Obelisk today with the newly unleashed lyric video for lead single "(I Blame) Society." Directed by longtime collaborator Ray Concepcion, this video brings to life some of the most unsparing verses yet to drip from the poison pen of singer-songwriter Patrick Stickles, leaving just enough room to showcase the majesty of two of America's most notable obelisks, Cleopatra's Needle in New York City and the District of Columbia's Washington Monument.
An Obelisk functions as a kind of companion piece to last year's A Productive Cough. Taken together, these two records present a panoramic view of Titus Andronicus' musical interests. If A Productive Cough left listeners wondering what happened to all the fast songs, An Obelisk offers an answer—they are here. Whereas A Productive Cough was slathered with every available bell and whistle, very much a product of the studio and a demonstration of its capacity for "magic," An Obelisk is built for the stage, the most faithful and true reflection of the Titus Andronicus live sound yet put to tape.
Thusly, An Obelisk has all the trappings of a classic punk album, though, to hear Stickles tell it, it is more so an album about punk. "The ideology of 'punk' supports the elevation of our own interior authority and the degradation of exterior authority, which we recognize to be arbitrary, a tool by which the many are subjugated under the few," Stickles explains, growing noticeably short of breath. "While the common 'punk rocker' will take this as license to piss on the street and generally pursue a lifestyle of nihilistic hedonism, the true 'punk' will recognize the price of this freedom. An Obelisk tells the story of one particular individual, someone maybe a lot like you but certainly a lot like me, scouring linty pockets, trying to pay that bill."
16 and over. All sales are final. Review your order carefully, there are no refunds for any reason. Tickets are non-transferable. No tickets are mailed to you, your name will be on the will call list night of show. Night of show (1) bring a valid government issued ID and (2) print your confirmation e-mail and bring with you night of show. Come hungry! Check out Globe Hall's award winning BBQ
Control Top:
Covert contracts rule our world: manipulative relationships, encoded social norms, opaque technologies. "With a covert contract, the trick is that the agreement is only known by the person who makes it," says Ali Carter, singer and bassist of Philly post-punk trio Control Top. "The other person is oblivious. Consent is impossible. A void of communication opens up a world of misunderstanding."
In an era of such impossibilities, Control Top—Carter with guitarist Al Creedon and drummer Alex Lichtenauer—rip open space for catharsis. Their explosive songs are a synthesis of varied interests and backgrounds: Carter's innate sense of new wave melodies, Creedon's sirening noise guitars, Lichtenauer's feverish hardcore drumming.
On their debut full-length Covert Contracts, out now via Get Better Records, the songwriting is fully a collaboration of Carter and Creedon. Carter's voice thumps and screams and deadpans while her driving, hooky basslines play out like guitar leads. Creedon, also the band's engineer and producer, balances composition and chaos, equally inspired by pop and no-wave.
With her lyrics, Carter responds to feeling trapped and overwhelmed in a capitalist patriarchy, offering indictments of wrongdoing and abuse of power, odes to empathy and ego death, as well as declarations of self-determination.
These songs hit even harder when you consider how close this band came to not existing at all. Despite being involved in underground music communities for years, Carter didn't start Control Top (her first band) until age 25: "It took me that long to believe in myself enough to take the plunge." Disillusioned by punk, Creedon had all but abandoned guitar: "Playing guitar in a rock band felt like writing poetry in Latin in 2019, using a dead language to convey ideas." But Control Top felt exciting, a chance to experiment: to rethink the relationship between guitar and bass and use samplers to add new dimensions. Meanwhile, Lichtenauer had quit playing drums after an abusive situation in a previous band that had ruined playing music for them: "I thought I was done playing live music forever, but joining Control Top was sort of a rebirth for me."
At once anthemic and chilling, Covert Contracts puts words to today's unspoken anxieties. Brimming with post-punk poetry for 2019, it's the sound of agency being reclaimed.
Covert Contracts was recorded and mixed in Philadelphia by Al Creedon (Priests, Pouty, Taiwan Housing Project) and Jeff Zeigler (Kurt Vile, The War On Drugs, Allison Crutchfield). The album was mastered by Emily Lazar.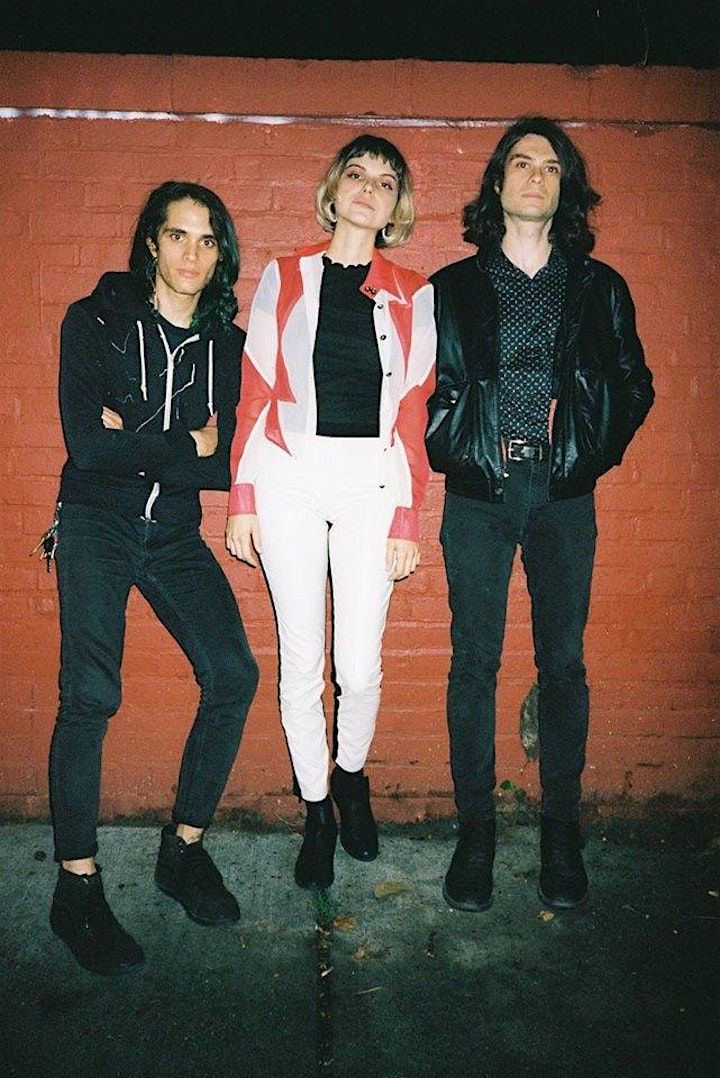 Performers
Date and time
Location
Globe Hall
4483 Logan Street
Denver, CO 80216
Refund policy