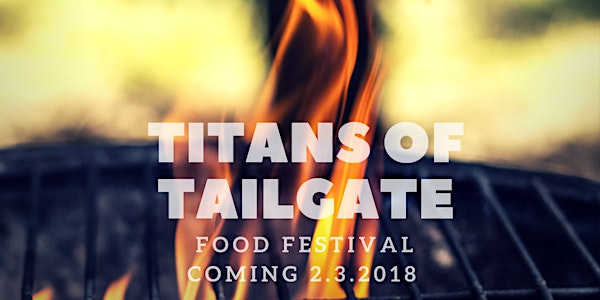 When and where
Location
Sunken Garden Theater 3875 North Saint Mary's Street San Antonio, TX 78212
Description



Titans of Tailgate
Chef Showcase and Throwdown
Chef Jason Dady and his team are reinventing the century-old tradition of tailgating in the heart of San Antonio at the famed Sunken Garden Theatre on Saturday, February 3, 2018. With 30 renowned Chefs from around the country to compete for who's got the best game!
Attendees will enjoy samplings from every chef, the premium wines and craft brews, chef demos, and classic tailgating games, with the longest football throw, corn hole competition, washers, and more!


Distinguished Chefs from around the country include:
Shota Nakajima, Adana, Seattle
Dean Fearing, Fearing's, Dallas
RJ Cooper, Henley, Nashville
Tim Hollinsworth, Otium, Los Angeles
Matt McCallister, FT33, Dallas
Rebecca Masson, Fluff Bake Bar, Houston
Robbie Nowlin, B&N Kitchen, Dallas
Michale Fojtasek, Olamaie, Austin
Phillip Speer, Bonhomie, Austin
…and more


Plus local Cheflebrities include:
Stefan Bowers, Battalion
Johnny Hernandez, La Gloria
Steve McHugh, Cured
Jeff Balfour, Southerleigh
Chad Carey, Hot Joy
Diego Galicia, Mixtli
Peter Sysptein, Cookhouse
Mark Weaver, Periphery
….and more


As the San Antonio Culinary Scene continues to thrive and gain national attention, there isn't a better community-building experience than bringing people together through live cooking! Titans of Tailgate has partnered with Culinaria to create the Chef Jason Dady Scholarship Fund at The Culinary Institute of America, where a portion of the proceeds from the festival will go to help continue culinary education.


Tickets:
General Admission - $75
VIP Tickets - $150 to include VIP Tasting and Private Event, Chef Meet and Greet and Swag