2021 Holiday Jazz Concert featuring Pamela Hart, Ari Carvajal, Melissa Briggs, and Michael "MykeJay" Johnson
About this event
Women in Jazz Association, Inc. presents
'Tis the Season to be Jazzy
December 12, 2021, 3:00 – 5:00 pm
The Gallery at Chez Zee
5406 Balcones Dr., Austin, TX 78731
Featuring
Pamela Hart, Ari Carvajal, Melissa Briggs, and Myke Jay
With Ryan D. Howard, Chris Jones, Andre Hayward and Charles "Swift" Phillips
Tickets $25 plus fees, available at https://jazzyholiday21.eventbrite.com and $30 at the door.
This project is supported in part by the Cultural Arts Division of the City of Austin Economic Development Department and a grant from the Texas Commission on the Arts and National Endowment for the Arts.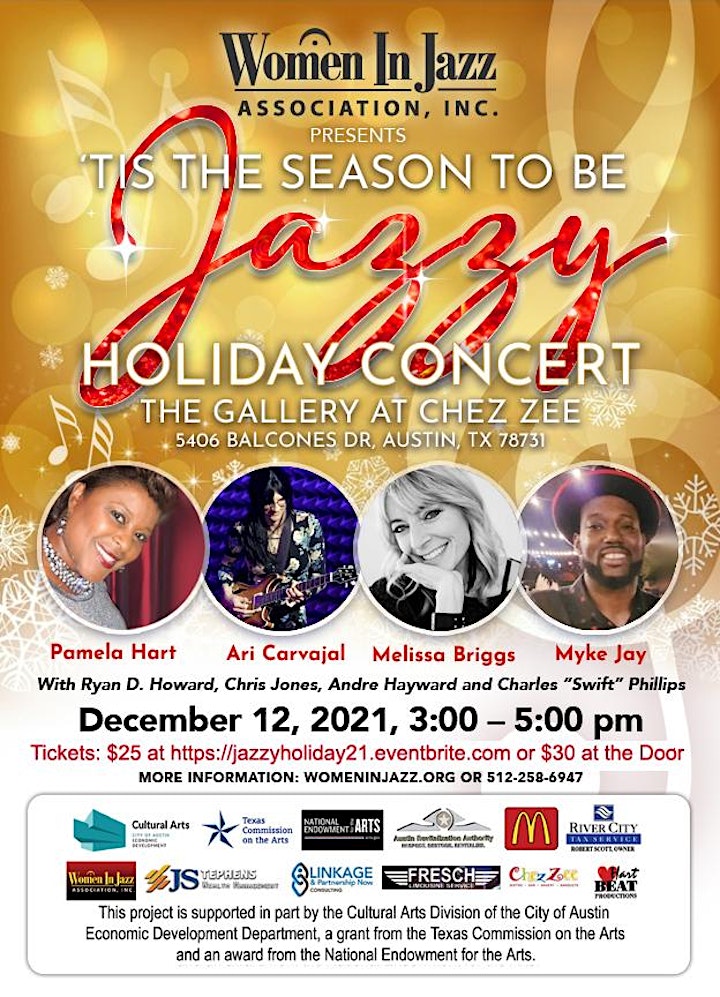 Melissa Briggs, Michael "MykeJay" Johnson, Ari Carvajal and Pamela Hart have an outstanding, jazz holiday concert planned. Support band is Ryan D. Howard-piano; Chris Jones-bass; Charles "Swift" Phillips - drums; and Andre Hayward-trombone!!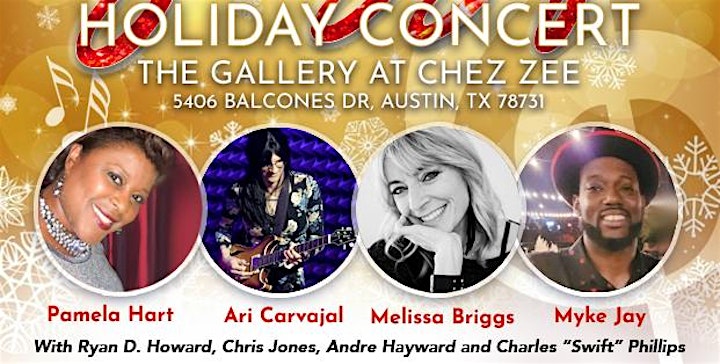 Organizer of 'Tis The Season to be Jazzy
Non-profit, tax-exempt organization that raise funds by producing concerts and workshops. The purpose of Women in Jazz Association is to perpetuate the appreciation and performance of traditional jazz vocal and instrumental music. As vocal jazz is a declining art form, this purpose is charitable -- the protection and preservation of a valuable art form called jazz; that is, vocal jazz. It is through concerts, educational workshops, and performance opportunities of singers that provide the means to the end -- perpetuate vocal jazz music.
Contact:  512-258-6947