'tis the season.... For the Float Pool's 1st Annual Holiday Party!

Thursday, December 7, 2017 from 6:00 PM to 9:00 PM (PST)
Ticket Information
This event is invite-only
You need an invitation to register for this event.
Contact the host
to find out more.
Event Details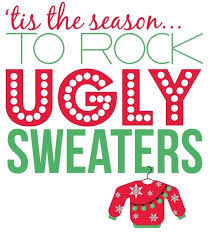 Please join us for the 1st Annual Float Pool Holiday Party!
May your sweaters be tacky, ugly, and bright! 
Of all of the ugly sweatered elves... one shall be named the winner, but remember, the prize be better the uglier the sweater.
When: Thursday, December 7th, 2017, 6:00pm - 9:00pm
Where: Mas Malo Resturant, Mezzanine Level (look for us upstairs!)
Address: 515 West 7th Street Los Angeles, CA 90014
Cost: $46.00 per person
---
Dress code: Wear your finest, or your worst. We don't care as long as you're there!
Timeliness: The party starts at 6pm and we only have the party space for three hours... dinner is planned for around 6:45pm, so please plan to be there as close to 6:00pm as possible.
Guests: Your significant other or friend are more than welcome! Just keep in mind that due to limited space, we ask that you limit your guests to one per float pool employee (if we have additional tickets closer to the date of the party, we will open ticket availability to additional guests). 
WHAT TO BRING:
1. A white elephant gift worth $10 or less (if you want to participate in the gift exchange)
2. A terribly tacky, despicable holiday sweater (you can still come if you don't wear one... but you'll be the rare one)
3. Your appetite (menu selections below)!
Dinner Menu
Menu to include fountain sodas and our cucumber infused water 
Apetito:
Salsa Flight
burnt habanero & cream, serrano chili & tomato, salsa verde
Guacamole
avocado, onion, tomato, jalapeno, cilantro
Salad (choose one):
Tijuana Caesar
romaine, pepitas, cotija cheese, radish
 Spinach Salad
avocado, cotija cheese, oil and vinegar
Entrée (choose one):
Chicken Yucateca
chicken breast marinated in achiote and orange juice 
Birria de Res
shredded beef in a savory broth of mild chili
Coke Carnitas
orange juice, coke, guacamole, sour cream
Cheese Enchiladas
red or green
Served with the entrée:
Spanish Rice and Pinto Beans Corn and Flour Tortillas
Postre
Tres Leches Cake