Tips & Techniques for Photographing an African Safari // PROCAM Detroit
Description
If you've ever dreamed of going on an African safari and photographing its majestic animals or want to know what it's like to be on safari, this course if for you. In addition to photo techniques we will talk about trip planning, what to pack, where to visit, what time of year to travel, what to look for in a camp and guides. This course is designed for the casual photographer through professional. Whether you wish to observe the animals and capture your memories in your mind, your smartphone, point-and-shoot camera or a professional DSLR, you will find this course helpful. This course covers equipment selection, settings, storage, back up, budgeting and more.
PURCHASE YOUR TICKET ON OR BEFORE 11/1 AND GET $10 OFF! USE DISCOUNT CODE "TENOFF" AT CHECKOUT!
ABOUT PETER
Peter Balunek is an avid conservationist and professional wildlife photographer. He strives to capture the emotions and family dynamics of the animals. His passion led him to establish Peter's Wildlife Safaris, built upon his mission to create awareness about the threats facing the world's wildlife from the illegal wildlife trade and poaching, loss of habitat and human/animal conflict. As a Wildlife Ambassador, he leads small group, private and conservation safaris to Africa and other parts of the world so others can witness and experience these animals in their natural habitat.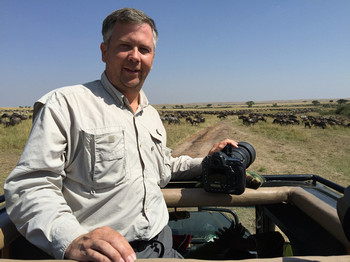 He is a frequent speaker to community groups, schools and universities to educate and increase awareness of these threats. In 2015, he established the Satao Wildlife Foundation, a 501c3 public charity, whose mission is to "Improve the lives of wildlife" by improving the lives of people. The foundation focuses on community conservation projects in Africa which improve and mitigate the human animal conflict in the areas around the wildlife's traditional range.
Peter lives in Cleveland, OH with his wife Molly and their two daughters, Emma and Sophia. Both girls are following in Dad's footsteps with a passion for photography and wildlife.