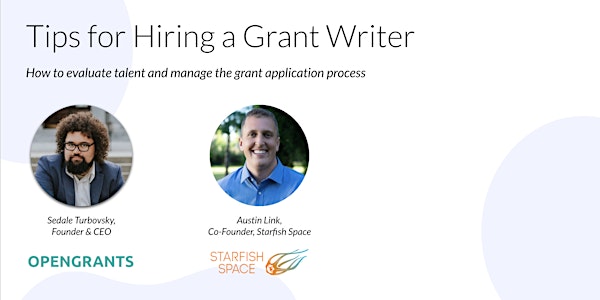 Tips for Hiring a Grant Writer
Join us for a fireside chat with SBIR recipient Austin Link and OpenGrants CEO, Sedale Turbovsky, on November 17th!
About this event
This webinar will peel back the layers of hiring and managing a grant writer for your project. This is great information for grant seekers of all types including for-profit startups and nonprofits. Sedale and Austin will discuss -
How to vet grant writing talent
Setting expectations and tracking progress
Tools and resources
Mistakes to avoid
Join us on November 17th,11am(PT) and bring your questions!
Speaker Information
Sedale Turbovsky, CEO & Co-Founder, OpenGrants
Sedale Turbovsky is the CEO and co-founder of OpenGrants, a venture-backed startup focused on building modern infrastructure for funding. He has been an entrepreneur since childhood. After honing his leadership skills as an outdoor guide in his younger years, he started his professional career as an independent consultant focused on delivering data products and digital strategies to enterprise clients in South America.
He is experienced in independent grant writing and public/private partnerships at the highest level, having worked directly with OpenGrants' current strategic partner, Momentum.
Austin Link, Co-Founder, Starfish Space
Austin Link is a co-founder at Starfish Space where he's giving life to on-orbit services. Originally from Iowa, he then went to Stanford for a B.S. in Physics and later Purdue for an M.S. in Aerospace Engineering. In the Aerospace industry, Austin has worked at Lockheed Martin on THAAD and at Blue Origin on a variety of launch vehicles and engines. His particular focus has been on space system architecture, modeling, and operating under uncertainty, all tools that are being applied at Starfish Space. Outside of aerospace, Austin lives in Kent, Washington with his fiancé Jess and their three basset hounds. He also occasionally coaches high school basketball.