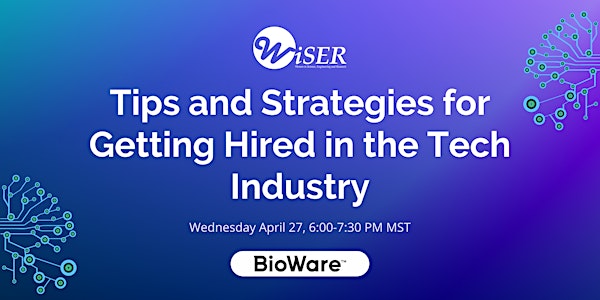 Tips and Strategies for Getting Hired in the Tech Industry
BioWare and WiSER present a discussion of tips and strategies for getting hired and advancing in the Tech Industry.
About this event
ABOUT THE EVENT
BioWare and WiSER (Women in Science, Engineering and Research) is presenting a panel discussion and networking event on advancing your career in the tech industry. Join us as our panelists give their perspectives on how to kickstart your career in the gaming and tech sector. Our panelists can speak to a variety of concerns from getting hired to crafting your career journey. Get your questions answered at a live, virtual Q & A with our panelists and a networking session to follow.
Meet our panelists:
Shannon Allen (Senior Data Analyst),
Danielle Enns (Franchise Development Director), and
Shanda Hancock (Talent Sourcing Consultant).
Join Us Wed. April 27th, 6:00-7:30 PM MST.