Tipping the Scales for Children: From Ethics to Action to Wellbeing
Description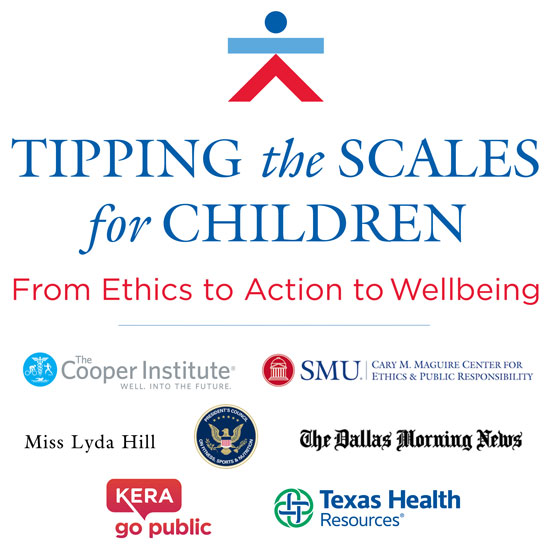 Goals
On May 3, 2016, The Cooper Institute and SMU's Maguire Center for Ethics & Public Responsibility will bring together respected and impactful thought leaders to tackle one of the most pressing ethical issues of this era: the health of our children.
The conference aims to harness the expertise, skill set and commitment of those in attendance to set specific, achievable goals to improve the physical health of children residing in Dallas County; educate and inform conference participants of the issues; and inspire integrated and sustainable solutions to get Dallas healthy.
Important Time Details

Doors open at 9:00 am. Guests will be seated in the auditorium at 9:45 am. Please arrive early to meet our exhibitors and community organizations and to allow time for valeting or parking your vehicle.

Featured Speakers
Dan Buettner, New York Times Bestselling Author of "Blue Zones"
Kenneth H. Cooper, Founder of the Cooper Institute
William M. Fraser III, General, U.S. Air Force (Ret)
Douglas D. Hawthorne, Founding CEO Emeritus of Texas Health Resources
Michelle Kinder, Executive Director of Momentous Institute
Rita Kirk, Director of the Maguire Center for Ethics & Public Responsibility at SMU
Michael Minor, Undershepard of Oak Hill Baptist Church
Nancy Cain Marcus, Dallas Civic Leader and Philanthropist
Regina Montoya, Chair of the Dallas Mayor's Task Force on Poverty
Shellie Pfohl, Executive Director of the President's Council on Fitness, Sports & Nutrition
Mike Rawlings, Mayor of the City of Dallas
Peter Roberts, President of Population Health & Insurance Services, Children's Health
Michael Sorrell, President of Paul Quinn College
Directions
From U.S. Highway 75 (North Central Expressway)
Exit SMU Boulevard and turn west onto the SMU campus. The George W. Bush Presidential Center is located immediately on your left at the southwest corner of SMU Boulevard and North Central Expressway. Turn left onto Bush Avenue and The Bush Institute/valet will be on your left.
Social
We are proud to announce that the Tipping the Scales mobile app is now ready for download in the Apple App and Google Play stores! Conference attendees with iPhones, iPads, or Android mobile devices can view and connect with other attendees and speakers, read detailed speaker and exhibitor bios, view materials, and interact in the forum space.

To find the app on your phone, go to the Apple App Store or Google Play and search "Tipping the Scales." Download the app. Once the app is downloaded, you'll type in your email address and use the provisional password "TTS2016" (this can be changed later if you wish). If you opt to connect the app with your LinkedIn page, all of your professional info and LinkedIn photo will be populated.

Please join the social media conversation using the hashtag #TippingTheScales. Follow us on Facebook and Twitter for Maguire Center and conference updates.